2017-18 Panini Cornerstones Basketball Checklist and Details
2017-18 Panini Cornerstones Basketball may be new as a hoops brand but it does have some elements found in the past from other sets.
Besides multiple autographs and memorabilia, Cornerstones also has an insert done on PVC in every box.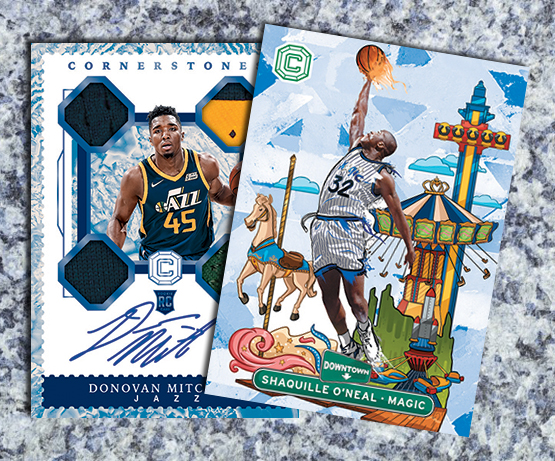 2017-18 Panini Cornerstones Basketball's Cornerstones
2017-18 Panini Cornerstones Basketball gets its name from the autograph quad memorabilia card in each box. This is one of the carryover elements as these types of Cornerstone cards appeared in 2016-17 Panini Grand Reserve. These come an on-card autograph and four swatches laid out in four different corners. Base versions have no more than 199 copies each.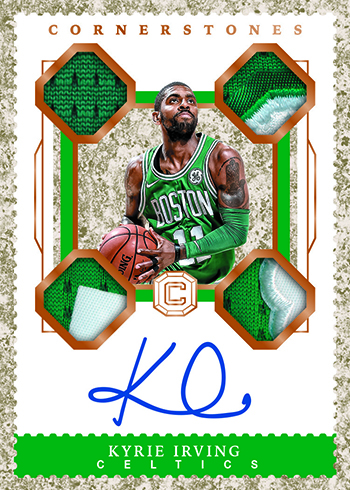 Parallels stick with the stone theme, coming in Crystal (/75), Quartz (/49), Granite (/25), Marble (/10) and Onyx (1/1). Besides the lower numbering, all parallels have at least one Prime swatch with a patch or other premium piece. Marble and Onyx cards are all prime.
The full Cornerstones checklist includes veterans, retired players and rookies.
Autographs, Memorabilia and Other Inserts
Besides the Cornerstones card, each box of the product has two additional hits. At least one of these is an autograph. Signed inserts include Keystone Signatures and Pillars of Power Autographs.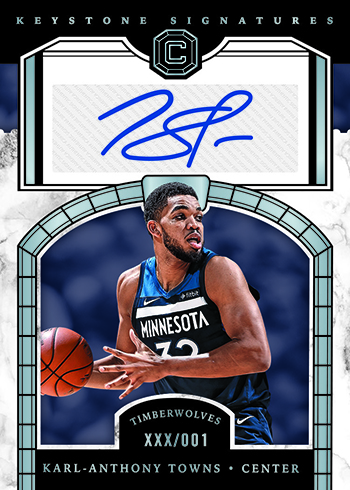 Among the relic offering is Fractured Memorabilia.
Downtown is an off-shoot of the popular From Downtown inserts found in 2016-17 Studio Basketball. The mix of player photo with a location-based cartoon returns. Like all regular inserts in 2017-18 Panini Cornerstones Basketball, they're done on PVC.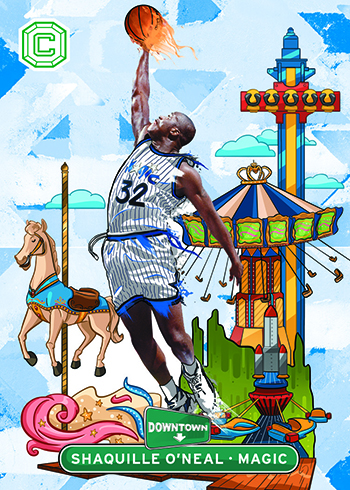 Unbreakables and Startups are among the other inserts in the product.
2017-18 Panini Cornerstones Basketball at a glance:
Cards per pack: 6
Packs per box: 1
Boxes per case: 12
Set size: 188 cards
Release date: July 25, 2018
What to expect in a hobby box:
• Cornerstones Autograph Quad Memorabilia Cards – 1
• Additional Autographs – 1
• Memorabilia Cards – 1
• Inserts – 1
2017-18 Panini Cornerstones Basketball Checklist
Base
Autographs
Memorabilia
Inserts
Team Sets