2016-17 Studio From Downtown Goes Uptown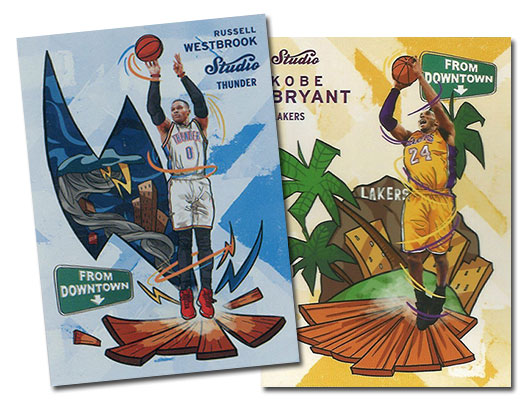 By Ryan Cracknell | Hobby Editor
Occasionally an insert set comes along that doesn't need any autographs or memorabilia to catch on with collectors. Combining rarity with a unique look, 2016-17 Studio From Downtown is one such set.
Even without a lot of flash, most of the individual cards are currently selling for more than $100, some significantly more.
2016-17 Studio From Downtown inserts are kind of like Diamond Kings going to Who Framed Roger Rabbit?'s Toon Town. Players are shown with an action photo. Everyone's in a similar shooting pose, which is appropriate seeing as how the set is dedicated to basketball's top shooters.
It's the backgrounds where things get more interesting and original. Players are surrounded by a drawn interpretation of their team's city. That means buildings, monuments and other local symbols done with big, exaggerated lines, lots of color and plenty of visual flair.
The whimsical illustrations can be seen as a mix of cartoonish fun and a little bit of urban art edge.
Landing just one per 2016-17 Studio Basketball case, From Downtown cards are not easy to find. And that's a big reason why they're so expensive now. But that's not the only reason. Most products have case hits and not a lot of them catch on. From Downtown captures a certain originality. While there are some comparisons to Panini's Kaboom! inserts, these are different in tone and overall style.
Here's a look at the entire 2016-17 Studio From Downtown set.
2016-17 Studio From Downtown Checklist
Looking for a particular card? Click on the links to see what's currently available on eBay.
FD1 Stephen Curry, Golden State Warriors
FD2 James Harden, Houston Rockets
FD3 Karl-Anthony Towns, Minnesota Timberwolves
FD4 Yogi Ferrell, Dallas Mavericks
FD5 Russell Westbrook, Oklahoma City Thunder
FD6 Damian Lillard, Portland Trail Blazers
FD7 LeBron James, Cleveland Cavaliers
FD8 Jimmy Butler, Chicago Bulls
FD9 Kristaps Porzingis, New York Knicks
FD10 Ben Simmons, Philadelphia 76ers
FD11 Isaiah Thomas, Boston Celtics
FD12 Kyrie Irving, Cleveland Cavaliers
FD13 Kevin Durant, Golden State Warriors
FD14 Devin Booker, Phoenix Suns
FD15 Andrew Wiggins, Minnesota Timberwolves
FD16 Dirk Nowitzki, Dallas Mavericks
FD17 J.J. Redick, Los Angeles Clippers
FD18 Kobe Bryant, Los Angeles Lakers
FD19 Gary Payton, Seattle Supersonics
FD20 Allen Iverson, Philadelphia 76ers
2016-17 Studio From Downtown Gallery
Comments? Questions? Contact Ryan Cracknell on Twitter @tradercracks.