2016 Upper Deck Goodwin Champions Autograph Inscriptions List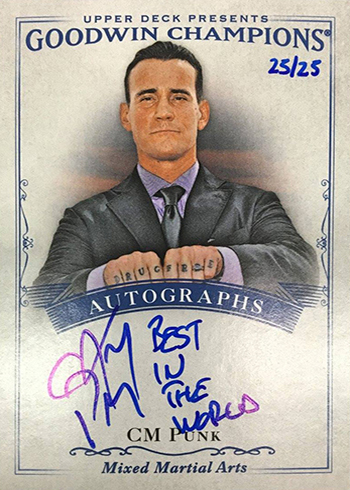 By Ryan Cracknell | Hobby Editor
Some of the 2016 Upper Deck Goodwin Champions autographs come with something a little extra, inscriptions. In addition to the regular signature, athletes and other pop culture personalities added a small note like an accomplishment, nickname or shout out to their school.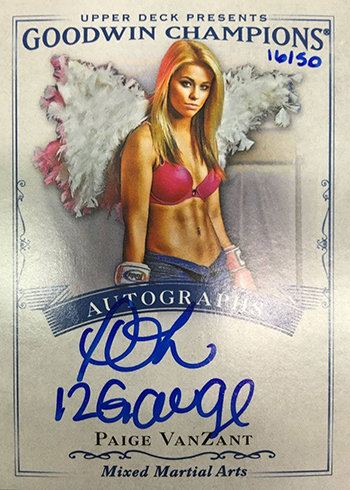 Besides being more limited in nature, it helps set the card apart and bring collectors a smidgen closer. Simply put, it makes the cards different. That said, this marks the first time many of these people have had autograph cards as Upper Deck reaches deep into the world of more obscure sports.
Among the most notable 2016 Upper Deck Goodwin Champions Inscription Autographs is Ben Simmons, the first overall pick in the 2016 NBA Draft. This is his first product with a certified autograph. It also marks the launch of Upper Deck's autograph exclusive with Simmons, despite not having an NBA license.
For movie fans, director Kevin Smith added "Silent Bob" to 25 of his cards, a nod to the recurring character he's played in several of his movies. He's signed cards for a couple of other sets before but this is a new spin.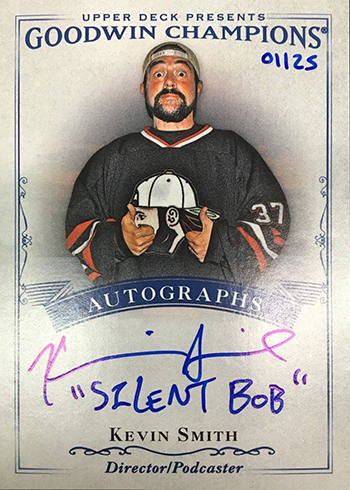 It's worth noting that archer Khatuna Lorig does not have regular autographs in the product. Instead, she appears to have inscribed all 500 of her cards. By far, it's the most common of the inscriptions. Overall, it should even out due to her not being in the main autograph group.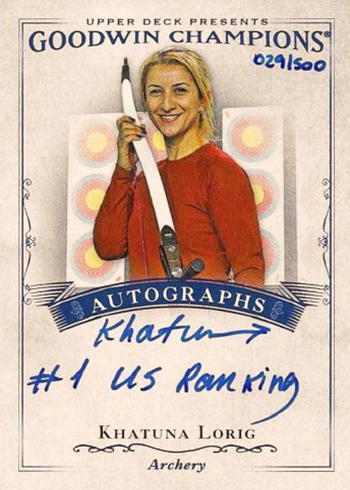 2016 Upper Deck Goodwin Champions Inscriptions Checklist
Here's the full list of athletes and signers that have inscribed autographs in the product. The inscriptions themselves are noted along with the individual print runs.
If you're looking to add some of these inscriptions to your collection, here's what's currently listed on eBay.
A-AB Amanda Bingson, Hammer Throw – 75.73 M /50
A-AR Aly Raisman, Gymnastics – 2x World Champ /50
A-BH Bret Hart, Wrestling – Hitman /25
A-BO David Boudia, Diving – 16 National Titles /50
A-BS Ben Simmons, Basketball – #25 /25
A-CL Camille Leblanc-Bazinet, Cross Fit – 2014 Champ /50
A-CM Courtney Mathewson, Water Polo – World Champion /50
A-CP CM Punk, MMA – Best in the World /25
A-CR Christie Rampone, Soccer – 300 Caps /50
A-DB Daniel Berger, Golf – 2014 ROY /50
A-DW Damian Warner, Decathlon – 2015 Champion /50
A-EE Erica Enders, Motorsports – 2x 215.55 /50
A-FP Felix Potvin, Hockey – The Cat /25
A-HA Haley Anderson, Swimming – Open Water Champ /50
A-HH Holly Holm, MMA – Preachers Daughter /10
A-IA Aito Iguchi, Hockey – Go Rivermen /50
A-IP Inbee Park, Golf – 7x Major Winner /50
A-JB Johnny Bucyk, Hockey – Chief /25
A-JG Justin Gatlin, Track & Field – 9.74 100M /75
A-JH John Havlicek, Basketball – Hondo /25
A-JK Joe Kovacs, Track & Field – 2015 World Champ /50
A-JL John LeClair, Hockey – 406 Career Goals /25
A-JM John Moonlight, Rugby – Mooner /50
A-JT Justin Thomas, Golf – Tour Winner /50
A-KL Khatuna Lorig, Archery – #1 US Ranking /500
A-KO Jessica Korda, Golf – 4 Tour Wins /50
A-KS Kevin Smith, Culture – Silent Bob /25
A-MB Melissa Baker, Model – 08 Swimsuit Model /50
A-ME Troy Merritt, Golf – Course Record 61 /50
A-MT Miesha Tate, MMA – Cupcake /50
A-PM Phil Mack, Rugby – Little Magician /50
A-PS Paige Selenski, Field Hockey – 2015 Champion /50
A-PV Paige VanZant, MMA – 12 Gauge /50
A-RC Randy Caballero, Boxing – El Matador /50
A-RS Robert Streb, Golf – Go Wildcats /50
A-SD Sasha Digiulian, Climbing – World Champion :) /75
A-SJ Stefanie Johnson, Bowling – 5x World Champion /50
A-SM Michal Smolen, Kayak – 2x National Champ /50
A-TA Tony Azevedo, Water Polo – 8x World Champ /50
A-TJ Tommy Jones, Bowling – 32 Perfect Games /50
A-TS Tom Shields, Swimming – Sunshine /50
A-VG Vaughn Gittin Jr., Drift Racing – XX IIIII /50
A-ZT Zack Test, Rugby – US Leading Scorer /50
Comments? Questions? Contact Ryan Cracknell on Twitter @tradercracks.