2016 Upper Deck Industry Summit Goodwin Champions Preview Autographs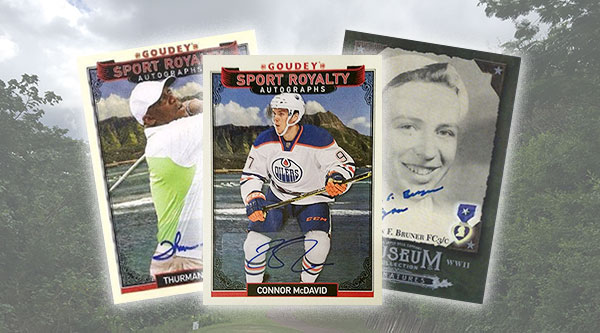 By Ryan Cracknell | Hobby Editor
Like other manufacturers, Upper Deck had some exclusive cards of their own on hand at the 2016 Industry Summit. However, they were only available to those at their invite-only presentation.
The cards are in the form of autographs and are a preview for the upcoming 2016 Upper Deck Goodwin Champions.
Each of the 2016 Upper Deck Industry Summit packs have either two or three cards, all signed. There are a couple of different themes and designs, but all are branded with Goodwin Champions, Upper Deck's eclectic multi-sport and historical line.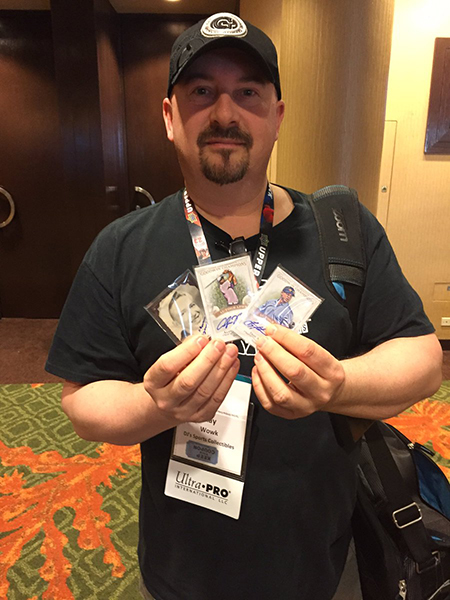 The 2016 Upper Deck Industry Summit exclusives debut the Museum Collection Signatures that pay tribute to World War II veterans. Lauren F. Bruner, a U.S.S. Arizona survivor, is honored on an autograph card that is in every Goodwin Champions Preview pack. The back briefly tells his story of survival during the Pearl Harbor attack.
Bruner was brought to the Industry Summit by GTS Distribution to greet attendees during an island tour that stopped at Pearl Harbor. Bruner is 95-years old and one of just seven U.S.S. Arizona survivors still alive.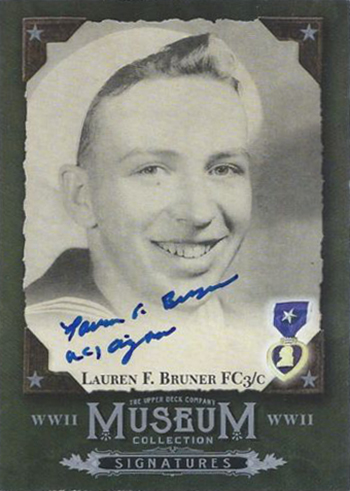 Goodwin Preview Autographs and Goudey Sport Royalty Preview Autographs are where the majority of different signers fall. While some players, particularly hockey stars, are shown playing the sport they're known for, many are pictured golfing. The fit is somewhat natural given the fact that Upper Deck hosted a day of golf during the trade conference.
These autographs are numbered to 15 or less. The 2016 Industry Summit is noted on the back.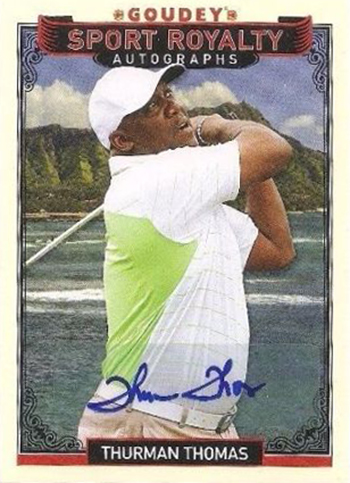 There's also a separate Goudey Preview design for a handful of top athletes like Wayne Gretzky and LeBron James. These are all numbered to 10 or less.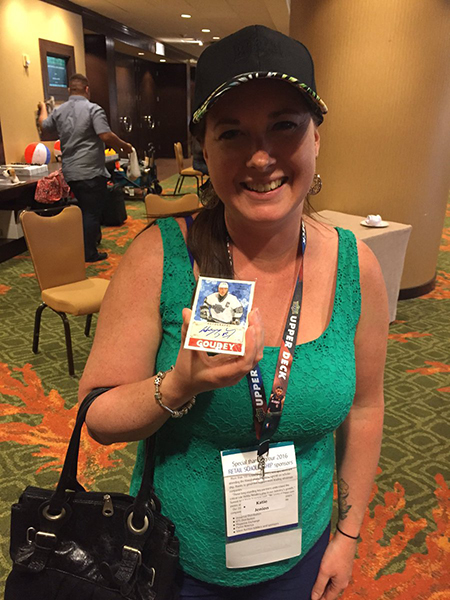 2016 Upper Deck Industry Summit Goodwin Champions Preview Autographs Checklist
Goodwin Preview Autographs
AP-AM Alonzo Mourning /15
AP-DW Dominique Wilkins /15
AP-KG Ken Griffey Jr. /15
AP-KW Kurt Warner /15
AP-LB Larry Bird /13
AP-MA Marcus Allen /6
AP-ML Mario Lemieux /4
AP-PR Patrick Roy /5
AP-TA Troy Aikman /15
AP-TG Tom Glavine /10
Goudey Preview Autographs
GP-JR Jerry Rice /5
GP-LJ LeBron James /5
GP-TW Tiger Woods /2
GP-WG Wayne Gretzky /10
Sports Royalty Preview Autograph
SRP-AO Alexander Ovechkin /10
SRP-BC Bobby Clarke /10
SRP-BH Bobby Hull /10
SRP-CM Connor McDavid /15
SRP-CN Cam Neely /15
SRP-ES Emmitt Smith /6
SRP-GP Gary Player /12
SRP-JH John Havlicek /15
SRP-JR Jeremy Roenick /10
SRP-JS John Stockton /4
SRP-RNH Ryan Nugent-Hopkins /15
SRP-SB Sam Bennett /10
SRP-TT Thurman Thomas /15
World War II Museum Collection Autographs
MCP-LB Lauren F. Bruner