2016 Upper Deck Goodwin Champions Museum Collection Autographs Honor WWII Veterans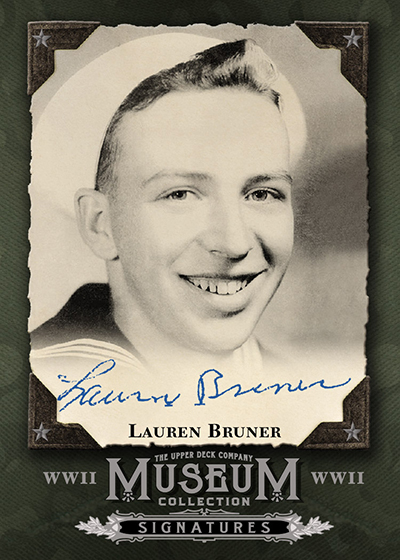 By Ryan Cracknell | Hobby Editor
It's not unusual to look to our cards for heroes. We throw the term around a lot to refer to people and players we look up to. But let's face it, there are different levels of heroes. A part of 2016 Upper Deck Goodwin Champions is looking at some other types of heroes. Many would refer to them as real heroes that don't came with fame, fortune or millions of dollars.
2016 Upper Deck Goodwin Champions Museum Collection Autographs will honor the accomplishments and stories of World War II veterans.
More than a dozen veterans are slated to be featured in the set. All of these cards are hard-signed.
Not only will the cards pay tribute to these veterans, but it will help tell their stories and offer direct connections to history. Lauren Bruner, the first of the people announced, has his story posted online.
This isn't the first set to feature signatures from WWII veterans. A few years ago, a small company called iCardz produced a set highlighting the real-life men portrayed in Band of Brothers. One of the chase sets was a series of autographs. Boxes might be tough to find now, but they are selling singles and sets through their website. Lynn "Buck" Compton, Amos "Buck" Taylor, William "Wild Bill" Guarnere, Edward Heffron, Clancy Lyall, Donald Malarkey and Earl McClung are among the available cards.