2016 Topps Star Wars: The Force Awakens Series 2 Autographs checklist taking shape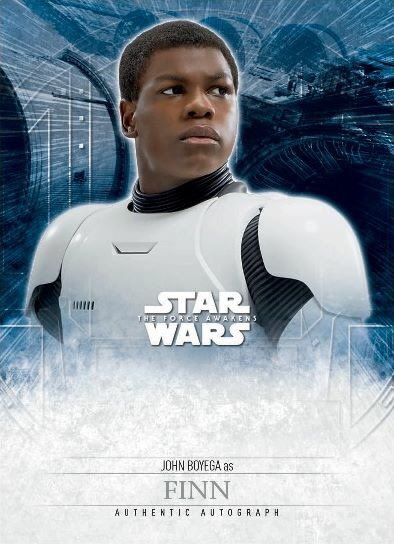 By Ryan Cracknell | Hobby Editor
Let's face it, for the most part, the autographs in Star Wars: The Force Awakens Series 1 was centered on the familiar names. While few are going to ever complain about getting a Carrie Fisher, Harrison Ford or Peter Mayhew signature, there wasn't much in the way of new names in the Star Wars Universe outside of John Boyega (Finn). As the 2016 Topps Star Wars: The Force Awakens Series 2 Autographs checklist is being rolled out, there is definitely a sense of new when it comes to signed cards for the franchise.
In fact, most of the names announced so far are new signers when it comes to Star Wars autograph cards.
Of the new "big four" of Boyega, Daisy Ridley (Rey), Oscar Isaac (Poe Dameron) or Adam Driver (Kylo Ren), only Boyega is confirmed so far. He also signed for Series 1.
For the most part, the new names that are included aren't exactly big names in Hollywood. But there are some key secondary characters and a couple that made short but memorable appearances.
Character-wise, leading the way at this point is BB-8 — at least the robot's operator, Brian Herring. Granted, it might not be quite the same as have an actor inside the droid like Anthony Daniels (C-3P0) and Kenny Baker (R2-D2), but there's no discounting BB-8's popularity.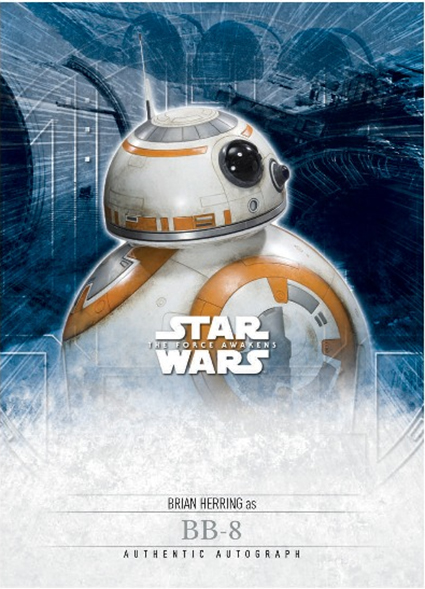 As far as actors go, many should recognize Greg Grunberg. He's worked closely with J.J. Abrams over the years having appeared in LOST, Alias and Felicity. He also had a major spot in Heroes. Grunberg might not be a superstar but his acting resume is long.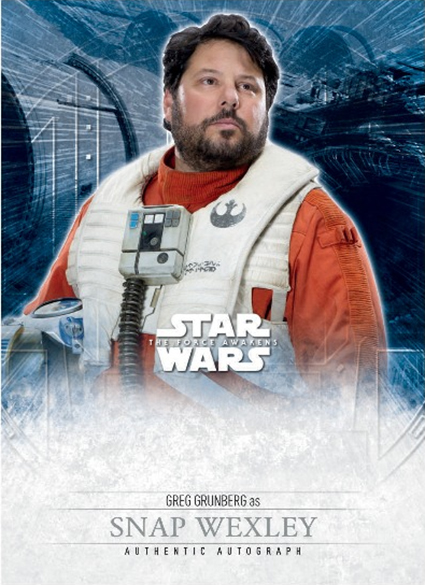 Thomas Brodie-Sangster might be one of the autographs to watch. The young actor has appeared in Game of Thrones and the Maze Runner series. But it's a role that only required his voice that he might be most famous for, playing Ferb on Disney's Phineas and Ferb. Brodie-Sangster is also slated to have an autograph in 2016 Topps Doctor Who Timeless.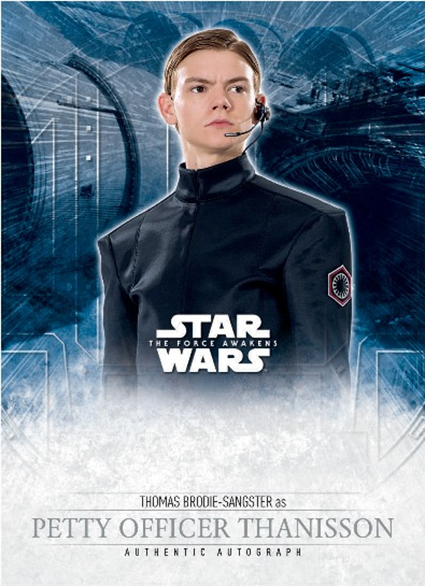 2016 Topps Star Wars: The Force Awakens Series 2 is scheduled to release on March 23.
2016 Topps Star Wars: The Force Awakens Series 2 Autographs Checklist
Here's who is confirmed to be signing for the set so far. We'll add more names as they're announced.
David Acord as FN-2199
Sebastian Armesto as Lieutenant Mitaka
Kenny Baker as R2-D2
John Boyega as Finn
Anna Brewster as Bazine Netal
Thomas Brodie-Sangster as Petty Officer Thanisson
Anthony Daniels as C-3P0
Warrick Davis as Wollivan
Harrison Ford as Han Solo
Greg Grunberg as Snap Wexley
Carrie Fisher as Leia Organa
Kate Fleetwood as Chief Petty Officer Unamo
Jessica Henwick as Jess Testor Pava
Brian Herring as BB-8 (operator)
Rocky Marshall as Colonel Datoo
Peter Mayhew as Chewbacca
Mike Quinn as Nien Nunb
Tim Rose as Admiral Ackbar
Arti Shah as Gwellis Bagnoro
Kiran Shah as Teedo
Brian Vernel as Bala-Tik
Dame Harriet Walter as Doctor Kalonia
Paul Warren as Hassk Triplet
Comments? Questions? Contact Ryan Cracknell on Twitter @tradercracks.