2015-16 Panini Noir Basketball aims to be a successful sequel
Last season, Panini America added a new product to its NBA lineup which was a bit out of the ordinary and it proved to be strong enough to demand a sequel – 2015-16 Panini Noir Basketball.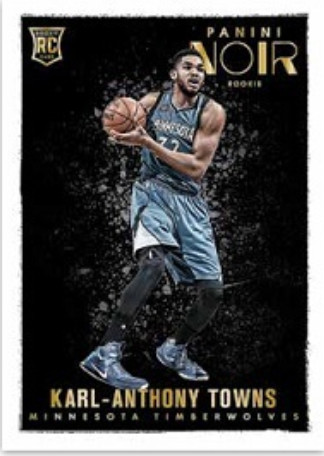 Noir once again sees plenty of strong rookie content along with seven autograph or memorabilia cards in each pack.

Base Set
The main 2015-16 Panini Noir Basketball set has 170 cards. This includes a mix of color and black and white photography.

Autographs and Memorabilia
Every autograph card found in packs of 2015-16 Panini Noir Basketball is limited and are all numbered to 99 copies or less. Spotlight Signatures return this season and there will be plenty of signed memorabilia cards in the lineup as well. Rookie Championship Dreams Tags are sure to attract attention on the secondary market as the embedded swatch of memorabilia is the Larry O'Brien Trophy patch that appears on the back of jerseys from teams that have won an NBA title is joined by a bold signature.
Other announced sets include Autographed Prime and the unsigned Jumbo Materials Prime, but many more could be revealed before release date.
2015-16 Panini Noir Basketball at a glance:
Packs per box: 1
Cards per pack: 12
Boxes per case: 3
Set size: 170 cards
Release date: July 20, 2016
What to expect in a hobby box:
– 7 autograph or memorabilia cards
Stephen Laroche can be found on Twitter @Stephen_Laroche.