2016 Topps Now Election Trading Cards Checklist, Print Runs and Details
The Presidential Election gave us plenty of soundbites and a shocking finish. You know what else it's provided? Trading cards. 2016 Topps Now Election cards follow in the footsteps of their other print-on-demand products, offering cards of Donald Trump, Hillary Clinton and others for just 24 hours.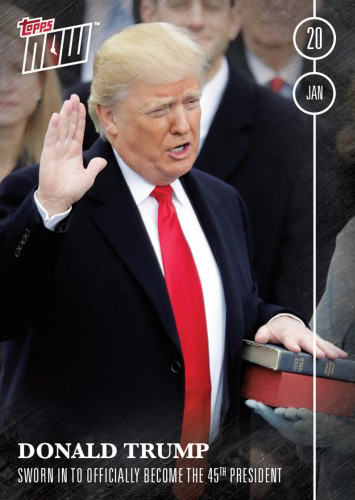 The first three cards all center on their first debate. Others followed for ensuing debates as well as Trump becoming the President-elect.
Each card is available individually through the Topps site. Single cards are $9.99 each. Those looking for bulk discounts can find them in lots of five ($29.99), ten ($49.99) and 20 ($79.99). The three debate cards were also sold as a lot for $24.99, providing a discount of about $5 from ordering individually.
After the initial sales window, Topps declares them sold out. Only ordered cards are printed and print runs are released.
Leaf also produced a card for the first election as part of their ongoing Leaf Live set, although it was put up for sale before the debate started and doesn't use images from the event. On the night of the debate, Topps also released Garbage Pail Kids cards sending up the election. On top of those, multiple sets of Decision 2016 trading cards were released.
2016 Topps Now Election Checklist
New cards and print runs will be added as they're released. If you're looking for specific cards, click on the links to see what's on eBay.
ELECTION16-1 Donald Trump/Hillary Clinton – Candidates Shake Hands to Kick Off the First Presidential Debate (September 26) -277
ELECTION16-2 Hillary Clinton – First Woman to Participate in a U.S. Presidential Debate (September 26) – 328
ELECTION16-3 Donald Trump – Stresses His Points During the First Debate About Why He Should Be Elected (September 26) – 334
ELECTION16-4 Mike Pence/Tim Kaine – V.P. Candidates Shake Hands Before the Debate Begins (October 4) – 71
ELECTION16-5 Tim Kaine – Pushes Mike Pence to Defend Donald Trump's Positions (October 4) – 65
ELECTION16-6 Mike Pence – Poised V.P. Candidate Focuses on Clinton's Shortcomings (October 4) – 65
ELECTION16-7 Donald Trump & Hillary Clinton – Candidates Don't Shake Hands Before Second Presidential Debate (October 9) – 143
ELECTION16-8 Hillary Clinton – Defends Against Donald Trump's Attacks; Criticizes His Behavior (October 9) – 165
ELECTION16-9 Donald Trump – Brushes Off Latest Controversy; Attacks Hillary Clinton (October 9) – 145
ELECTION16-10 Donald Trump – Indicates He Might Not Accept the Results of the Election (October 19) – 158
ELECTION16-11 Hillary Clinton – Says That Trump Is a Puppet for Vladimir Putin (October 19) – 157
ELECTION16-12 Donald Trump & Hillary Clinton – Candidates Meet in Las Vegas for 3rd and Final Debate (October 19) – 144
ELECTION16-13 Donald Trump – Wins the 2016 Presidential Election (November 8) – 2,011
ELECTION16-14 Donald Trump – Sworn in to Officially Become the 45th President (January 20) – 847
ELECTION16-15 Donald Trump – Delivers His Inaugural Address (January 20) – 474
ELECTION16-16 Barack Obama – Leaves the White House for the Last Time (January 20) – 675
ELECTION16-17 Donald & Melania Trump – Assume Residence in the White House (January 20) – 551
ELECTION16-18 Mike Pence – Sworn in as the 48th Vice President (January 20) – 456
Comments? Questions? Contact Ryan Cracknell on Twitter @tradercracks.