NHLPA establishes 2016-17 Rookie Card deadline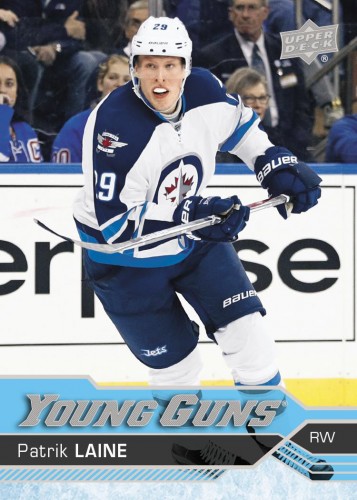 By Stephen Laroche | Beckett Hockey Editor
Beckett Hockey has received confirmation from the National Hockey League Players' Association that the rookie card deadline for 2016-17 NHL products from Upper Deck has been set.
All debuting players that skated in a game or goalies that sat on the bench on January 5, 2017 or earlier are likely to get a Rookie Card this season. Those hitting the ice after that will have to wait until the first 2017-18 releases hit store shelves in the summer.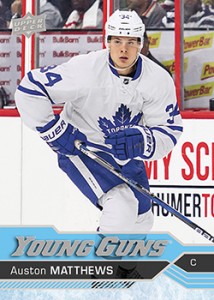 This rookie card deadline helps the early 2017-18 products have strong rookie content inside packs and it is a practice that carries back roughly 15 years. At the time, licensed card companies competed against each other to be the first to get a player into a set and it had an adverse impact on the first releases of the year. In past years, the deadline was often set around the All-Star break, but it has moved earlier into January as of late.
The 2016-17 NHL rookie class is a large one as usual and there are players from all 30 teams. When carryover talents from 2015-16 are combined with those that have debuted in the current campaign, there are 174 to potentially collect. Leading the way are the Toronto Maple Leafs, who have 13 freshman players in sets – including the hot trio of Auston Matthews, William Nylander, and Mitch Marner.
Backup goaltender Adam Wilcox of the Tampa Bay Lightning was the last player to appear when he sat on the bench on January 5. Prospects carrying over into 2016-17 at this time include Nikita Scherbak of the Montreal Canadiens, Christian Fischer of the Arizona Coyotes, and Vladislav Kamenev of the Nashville Predators.
2016-17 Rookie Card Eligible Players
Joseph Cramarossa, Anaheim Ducks
Ondrej Kase, Anaheim Ducks
Jacob Larsson, Anaheim Ducks
Brandon Montour, Anaheim Ducks
Nick Sorensen, Anahein Ducks
Jakob Chychrun, Arizona Coyotes
Lawson Crouse, Arizona Coyotes
Anthony DeAngelo, Arizona Coyotes
Christian Dvorak, Arizona Coyotes
Brendan Perlini, Arizona Coyotes
Dylan Strome, Arizona Coyotes
Anton Blidh, Boston Bruins
Branon Carlo, Boston Bruins
Austin Czarnik, Boston Bruins
Matthew Grzelcyk, Boston Bruins
Danton Heinen, Boston Bruins
Sean Kuraly, Boston Bruins
Zane McIntyre, Boston Bruins
Rob O'Gara, Boston Bruins
Nicholas Baptiste, Buffalo Sabres
Erik Burgdoerfer, Buffalo Sabres
William Carrier, Buffalo Sabres
Brendan Guhle, Buffalo Sabres
Mark Jankowski, Calgary Flames
Matthew Tkachuk, Calgary Flames
Sebastian Aho, Carolina Hurricanes
Jorge Alves, Carolina Hurricanes
Martin Frk, Carolina Hurricanes
Gustav Forsling, Chicago Blackhawks
Lars Johansson, Chicago Blackhawks*
Michal Kempny, Chicago Blackhawks
Tyler Motte, Chicago Blackhawks
Nick Schmaltz, Chicago Blackhawks
A.J. Greer, Colorado Avalanche
Samuel Henley, Colorado Avalanche
Spencer Martin, Colorado Avalanche
Markus Nutivaara, Columbus Blue Jackets
Lukas Sedlak, Columbus Blue Jackets
Zach Werenski, Columbus Blue Jackets
Justin Dowling, Dallas Stars
Julius Honka, Dallas Stars
Gemel Smith, Dallas Stars
Tyler Bertuzzi, Detroit Red Wings
Nick Jensen, Detroit Red Wings
Matthew Benning, Edmonton Oilers
Drake Caggiula, Edmonton Oilers
Jesse Puljujarvi, Edmonton Oilers
Dillon Simpson, Edmonton Oilers
Shane Harper, Florida Panthers
Denis Malgin, Florida Panthers
Patrick Cannone, Minnesota Wild
Joel Eriksson Ek, Minnesota Wild
Zack Mitchell, Minnesota Wild
Artturi Lehkonen, Montreal Canadiens
Mikhail Sergachev, Montreal Canadiens
Frederick Gaudreau, Nashville Predators
Mike Liambas, Nashville Predators
Yohann Auvitu, New Jersey Devils
Nick Lappin, New Jersey Devils
John Quenneville, New Jersey Devils
Blake Speers, New Jersey Devils
Mathew Barzal, New York Islanders
Anthony Beauvillier, New York Islanders
Pavel Buchnevich, New York Rangers
Brandon Halverson, New York Rangers*
Cristoval Nieves, New York Rangers
Jimmy Vesey, New York Rangers
Thomas Chabot, Ottawa Senators
Andreas Englund, Ottawa Senators
Travis Konecny, Philadelphia Flyers
Roman Lyubimov, Philadelphia Flyers
Ivan Provorov, Philadelphia Flyers
Jake Guentzel, Pittsburgh Penguins
Kevin Labanc, San Jose Sharks
Timo Meier, San Jose Sharks
Daniel O'Regan, San Jose Sharks
Wade Megan, St. Louis Blues
Adam Erne, Tampa Bay Lightning
Matthew Peca, Tampa Bay Lightning
Brayden Point, Tampa Bay Lightning
Tanner Richard, Tampa Bay Lightning
Adam Wilcox, Tampa Bay Lightning*
Mitch Marner, Toronto Maple Leafs
Auston Matthews, Toronto Maple Leafs
Nikita Zaitsev, Toronto Maple Leafs
Thatcher Demko, Vancouver Canucks*
Michael Garteig, Vancouver Canucks*
Joseph Labate, Vancouver Canucks
Anton Rodin, Vancouver Canucks
Troy Stecher, Vancouver Canucks
Zachary Sanford, Washington Capitals
Jakub Vrana, Washington Capitals
Kyle Connor, Winnipeg Jets
Patrik Laine, Winnipeg Jets
Carryover Rookies from 2015-16
Niklas Treutle, Arizona Coyotes
Noel Acciari, Boston Bruins
Justin Bailey, Buffalo Sabres
Daniel Catenacci, Buffalo Sabres
Hudson Fasching, Buffalo Sabres
Jason Kasdorf, Buffalo Sabres
Casey Nelson, Buffalo Sabres
Evan Rodrigues, Buffalo Sabres
Cole Schneider, Buffalo Sabres
Turner Elson, Calgary Flames
Garnet Hathaway, Calgary Flames
Oliver Kylington, Calgary Flames
Jakub Nakladal, Calgary Flames
Patrick Sieloff, Calgary Flames
Daniel Altshuller, Carolina Hurricanes*
Trevor Carrick, Carolina Hurricanes
Sergey Tolchinsky, Carolina Hurricanes
Derek Ryan, Carolina Hurricanes
Mark McNeill, Chicago Blackhawks
Chris Bigras, Colorado Avalanche
Roman Will, Colorado Avalanche
Oliver Bjorkstrand, Columbus Blue Jackets
Dean Kukan, Columbus Blue Jackets
Sonny Milano, Columbus Blue Jackets
Jason Dickinson, Dallas Stars
Stephen Johns, Dallas Stars
Esa Lindell, Dallas Stars
Jared Coreau, Detroit Red Wings*
Anthony Mantha, Detroit Red Wings
Mike Matheson, Florida Panthers
John McFarland, Florida Panthers
Kyle Rau, Florida Panthers
Brent Regner, Florida Panthers
Nic Dowd, Los Angeles Kings
Kevin Gravel, Los Angeles Kings
Steve Michalek, Minnesota Wild*
Mike Reilly, Minnesota Wild
Darren Dietz, Montreal Canadiens
Morgan Ellis, Montreal Canadiens
Joel Hanley, Montreal Canadiens
Ryan Johnston, Montreal Canadiens
Brett Lernout, Montreal Canadiens
Charlie Lindgren, Montreal Canadiens
Pontus Aberg, Nashville Predators
Vojtech Mozik, New Jersey Devils
Blake Pietila, New Jersey Devils
Steven Santini, New Jersey Devils
Scott Wedgewood, New Jersey Devils
Miles Wood, New Jersey Devils
Pavel Zacha, New Jersey Devils
Ross Johnston, New York Islanders
Ryan Pulock, New York Islanders
Alan Quine, New York Islanders
Marek Hrivik, New York Rangers
Ben Harpur, Ottawa Senators
Nick Paul, Ottawa Senators
Buddy Robinson, Ottawa Senators
Josh Archibald, Pittsburgh Penguins
Tristan Jarry, Pittsburgh Penguins*
Tom Kuhnhackl, Pittsburgh Penguins
Dominik Simon, Pittsburgh Penguins
Oskar Sundqvist, Pittsburgh Penguins
Aaron Dell, San Jose Sharks*
Connor Brown, Toronto Maple Leafs
Frederik Gauthier, Toronto Maple Leafs
Zach Hyman, Toronto Maple Leafs
Kasperi Kapanen, Toronto Maple Leafs
Brendan Leipsic, Toronto Maple Leafs
Tobias Lindberg, Toronto Maple Leafs
Viktor Loov, Toronto Maple Leafs
William Nylander, Toronto Maple Leafs
Nikita Soshnikov, Toronto Maple Leafs
Rinat Valiev, Toronto Maple Leafs
Alex Friesen, Vancouver Canucks
Nikita Tryamkin, Vancouver Canucks
Chase De Leo, Winnipeg Jets
Scott Kosmachuk, Winnipeg Jets
J.C. Lipon, Winnipeg Jets
Josh Morrissey, Winnipeg Jets
Brandon Tanev, Winnipeg Jets
* – goaltender that sat on bench and did not appear in official NHL game
2017-18 Carryover Rookies (as of January 22, 2017)
Christian Fischer, Arizona Coyotes
Alex Nedeljkovic, Carolina Hurricanes
Nikita Scherbak, Montreal Canadiens
Alexandre Carrier, Nashville Predators
Vladislav Kamenev, Nashville Predators
Blake Coleman, New Jersey Devils
Tim Heed, San Jose Sharks
Jake Dotchin, Tampa Bay Lightning
Stephen Laroche is the editor of Beckett Hockey, Beckett Basketball, and Beckett Sports Card Monthly magazines. Have a comment, question or idea? Send an e-mail to him at slaroche@beckett.com or follow him on Twitter @Stephen_Laroche.