2015 Donruss Football Details
As far as modern brands go, Donruss is one that's familiar with a lot of collectors. And while the name has been used in numerous football sets over the last 15 years, it has been a standalone product just once. That was back in 2002. More often than not, though, in football it has been attached to other sets like Donruss Elite and Donruss Classics. It gets back to its basic roots with 2015 Donruss Football.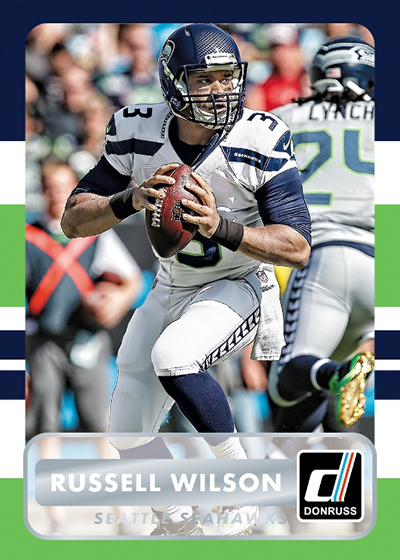 Like recent baseball and basketball releases, the focus is largely a throwback one. Except Donruss and football don't have a lot to throwback to. But those familiar with Donruss baseball history in the 1980s and '90s will recognize many of the insert names and designs.
2015 Donruss Football hobby boxes have 24 packs of eight cards. Promised content includes three total autographs and memorabilia cards, four parallels and 30 inserts and short prints. Retail boxes have the same number of cards but two hits instead of three.
Although not massive, the base set is on the bigger side with 300 cards. The main part of the set has a 1980s feel to it, largely carrying over the designs from both 2015 Donruss Baseball and 2014-15 Donruss Basketball. In addition to the main players cards there are short-printed Rated Rookie (four per box), Gridiron Kings (two per box), Classics (one per box) and Gridiron Legends subsets. All have multiple parallels.
Inserts have a lot of throwback inclusions. Dominators, inserted one per hobby box, bring a patterned shine. The Rookies are a nod to the update sets Donruss made for baseball in the 1980s and '90s. Elite and Elite Rookies both land nine per box. There's also the similarly named Elite Series inserts that are 1:12 packs.
Passing the Torch moves over to Donruss. The long-standing insert has players on both sides of the card. Traditionally it's a veteran or retired player on the front with a young player following in their footsteps on the back. Basic versions are inserted 1:12 packs. They also have autographed and memorabilia versions.
Other autographed inserts in 2015 Donruss Football include Signature Series as well as signed versions of The Rookies and Elite Series. Throwback Rookies Signatures use the 1985 Donruss Baseball design as their basis. Numbered to 25 or less, they're exclusive to hobby packs. For those looking for more of the 2015 draft class, there's New Breed Rookie Jersey Autographs.
2015 Donruss Football at a glance:
Packs per box: 24
Cards per pack: 8
Set size: 300 cards
Tentative release date: September 2, 2015
What to expect in a hobby box:
3 autographs or memorabilia cards
4 parallels
23 additional short prints
7 base set short prints