Dealers offer their take on the 2015 National Sports Collectors Convention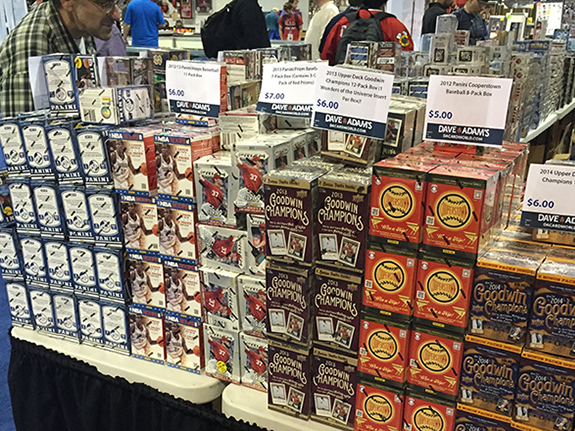 By Ryan Cracknell | Hobby Editor
The 2015 National Sports Collectors Convention has come to a close. Other than Sunday, typically a slow day, the Chicago crowds definitely felt busier than last year in Cleveland. But more people doesn't always translate into more sales.
Talking with several dealers in the show's closing hours, it appears that sports card sales were solid overall. Results varied greatly from dealer to dealer but the majority of the sellers I spoke with felt good about the week.
"It was a fun show," said Floyd Soeder of Let's Play Ball. "It kept five or six people busy during peak hours.
Soeder, who focuses primarily on vintage baseball, thought his diversity of sales was the highlight. He mentioned he moved everything a Mickey Mantle rookie card to off-grade singles.
Just Sports, a booth with lots of current singles, reported their best National ever. They have been doing the show for about 15 years.
The sentiments were echoed by Steve Hart, owner of Baseball Card Exchange. "This was the best National ever," he said. And it wasn't just because of the couple of boxes of Ren and Stimpy cards he bought and sold over the course of the show.
"There was lots of people, lots of buying and lots of selling," Hart noted.
Specializing largely in vintage unopened wax, his top sale was a 1976 Topps Football cello case that topped $100,000.
All of the big online dealers for modern boxes that I talked to were pleased with results.
Tom Fish of Blowout Cards enjoyed the show and said sales for his company were strong. However, he was particularly happy for another reason. "Having that face-to-face interaction with the people we deal with online is what makes the National worthwhile."
"It's like Black Friday everyday — but in a good way," according to Troy Lisastro of Dave and Adam's.
Sean Bennett of Steel City Collectibles said, "It was a very solid crowd. Anything to do with the wrapper redemption sets were moving well."
For Joe Monge, an individual setting up at the show to sell a wide range of modern singles, things weren't so great. "There was lots of foot traffic but nobody was buying," he said.
For Monge, his busiest day was Thursday and not the weekend like many would expect. This was something a couple of dealers mentioned, particularly if their products were centered more around single cards.
With 350,000 square feet of floor space, not all locations on the showroom floor are as good as others. As a result, some didn't do as well as they'd hoped.
Steve Ryaning of SMR Authentics wished that some of the smaller dealers could set up in the middle of the show where it was mostly corporate areas. "It's harder when you're off to the side. We're suffering because we're back here. They're going to the main booths anyway," he said.
Chuck Blue, a vintage dealer reported good sales, particularly for 1950's commons. However, he thinks that location also affected him. Located at the back of the show, he was near Topps.
"All the noise from the Topps booth was scaring customers away," Blue said.
Throughout the show, the manufacturer drew big crowds for their pack wars. The chanting and yelling could often be heard throughout the show and the back of the hall was particularly loud.
Just like most any show, the range of dealer success varied. I spoke with several who had average shows, others who were beaming and some who regretted coming. There was a trend, though, of sales being better at the start of the National versus the end. It's likely that those who came on Wednesday and Thursday were the serious collectors who had specific items in mind and the budgets to go with it.
Were you a dealer at the 2015 National? Let us know your thoughts on the crowds in the comments below.