2015-16 Upper Deck Young Guns checklist announced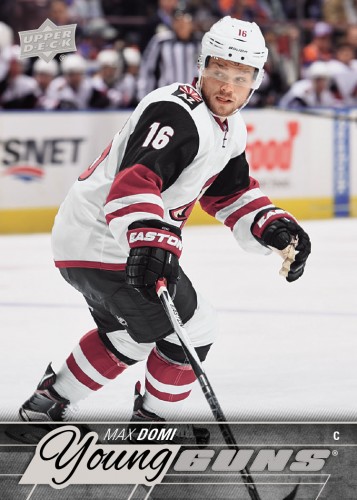 By Stephen Laroche | Beckett Hockey Editor
The wait is over.
With the November 5 release of 2015-16 Upper Deck Series One, the hobby can finally get its hands on a fully-NHL and NHLPA-licensed Connor McDavid card, the most-anticipated Young Guns rookie card since the debut of Pittsburgh Penguins superstar Sidney Crosby a decade ago.
After McDavid's NHL debut on October 8, Upper Deck decided to solicit input from collectors in order to choose the photo that will appear on what is expected to be an expensive piece of cardboard. The subset itself is once again made up of 50 cards and it will also feature a checklist card depicting the Edmonton Oilers rookie with Sam Bennett of the rival Calgary Flames.
Upper Deck's Senior Marketing & Social Media Manager, Chris Carlin, spoke of the effort that his design team and photographers went to in order to get the Young Guns cards ready in time for their early-November release.
"Our team works from opening night through the weekend to acquire imagery and copy to incorporate into 2015-16 Upper Deck Series One Hockey. For the Young Guns and Young Guns Canvas cards we have a window of just a few days to get everything done so these cards can be included in the release. It is by far one of the craziest time schedules we have all year long and requires all the rest of the work on the product to have been completed well in advance."
Who else appears on the checklist? Find out after the jump.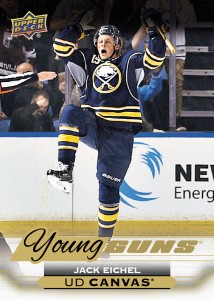 A cursory glance at the list of players selected for the Young Guns subset shows an interesting mix of talent. Some of them may only ever get the proverbial cup of coffee at the NHL level and there are some which are almost certain to be rookie sensations. Beyond McDavid and Bennett, expect to see heavy action on players such as Arizona's Max Domi, Boston's Malcolm Subban, and Winnipeg's Nikolaj Ehlers. Considering that the Jets also have other strong prospects like Connor Hellebuyck, Andrew Copp, and Nic Petan, it may be worth selecting the team in case breaks.
"The initial buzz with shop owners and their customers was around McDavid for sure, but we are seeing this rookie class have the potential to be incredibly special with other rookies coming out and performing right away," said Carlin. "Now collectors and fans alike are getting really excited as you have top prospects like Max Domi, Jack Eichel, Artemi Panarin, Nikolaj Ehlers, Dylan Larkin, Nic Petan, Robby Fabbri, Sam Bennett and more making immediate impacts with their teams! It all helps to create interest and buzz in the hobby."
Putting a set of Young Guns is often a small challenge each year as the cards are seeded once in every four packs at the hobby level and retail tins. The concept dates back to Upper Deck's first year of making hockey cards, 1990-91, and over 1,000 players have been part of the subset. Not every selection turns out to be a hobby sensation, but there is a strong and consistent demand for these cards on the secondary market. While dormant from 1993-94 to 1998-99, the Young Guns came back in 1999-00 and have proven to be the most popular choice among collectors for a player's rookie card.
While Jack Eichel is absent from the main checklist and will be saved for 2015-16 Upper Deck Series Two, he will make an appearance in the UD Canvas insert set. For several years, this attractive collection has been a big part of flagship Upper Deck releases and Eichel will also be joined by Carolina's Noah Hanifin and Vancouver's Jake Virtanen as Young Guns card that collectors will simply have to wait for. Normally found once per box, the UD Canvas Young Guns are a popular alternative for player collectors. Dealers will certainly be glad to see these key rookies being saved for the sequel as it guarantees a major rookie card in Eichel with McDavid's UD Canvas card being an additional bonus.
"We typically try and provide both Upper Deck Series One and Series Two with a key rookie for their respective Young Guns checklists," explained Upper Deck's Director of Product Development, Grant Sandground. "Given the huge swell in demand to see Connor McDavid's Young Guns rookie card as soon as possible, the plan was always to go with Connor for Series One with the assumption that he'd make his NHL debut in the Oilers season opening game. Regarding the decision to hold Eichel for Series Two, it revolves around our belief his rookie card in that product will create more excitement for it than it would have added to also including it in Series One. It is important to remember fans can still find Jack Eichel content in 2015-16 Upper Deck Series One with his Young Guns Canvas card which has an incredible image and should be in high demand!"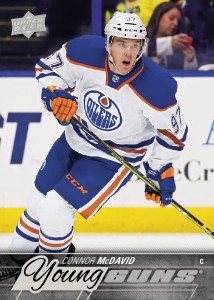 2015-16 Upper Deck Young Guns Checklist
201 Connor McDavid Edmonton Oilers
202 Jordan Weal Los Angeles Kings
203 Sergei Plotnikov Pittsburgh Penguins
204 Max Domi ArizonaCoyotes
205 Andrew Copp Winnipeg Jets
206 Mikko Rantanen Colorado Avalanche
207 Joel Edmundson St. Louis Blues
208 Kevin Fiala Nashville Predators
209 Nick Cousins Philadelphia Flyers
210 Emile Poirier Calgary Flames
211 Malcolm Subban Boston Bruins
212 Jacob de la Rose Montreal Canadiens
213 Henrik Samuelsson Arizona Coyotes
214 Connor Hellebuyck Winnipeg Jets
215 Matt Puempel Ottawa Senators
216 Nick Shore Los Angeles Kings
217 Josh Anderson Columbus Blue Jackets
218 Shane Prince Ottawa Senators
219 Jared McCann Vancouver Canucks
220 Stanislav Galiev Washington Capitals
221 Artemi Panarin Chicago Blackhawks
222 Viktor Arvidsson Nashville Predators
223 Nikolaj Ehlers Winnipeg Jets
224 Slater Koekkoek Tampa Bay Lightning
225 Ronalds Kenins Vancouver Canucks
226 Daniel Sprong Pittsburgh Penguins
227 Nicolas Petan Winnipeg Jets
228 Dylan Larkin Detroit Red Wings
229 Robby Fabbri St. Louis Blues
230 Joonas Donskoi San Jose Sharks
231 Sam Bennett Calgary Flames
232 Ben Hutton Vancouver Canucks
233 Matt O'Connor Ottawa Senators
234 Oscar Lindberg New York Rangers
235 Colton Parayko St. Louis Blues
236 Stefan Noesen Anaheim Ducks
237 Anton Slepyshev Edmonton Oilers
238 Sergei Kalinin New Jersey Devils
239 Mike Condon Montreal Canadiens
240 Antoine Bibeau Toronto Maple Leafs
241 Kyle Baun Chicago Blackhawks
242 Jean-Francois Berube New York Islanders
243 Joonas Kemppainen Boston Bruins
244 Mattias Janmark Dallas Stars
245 Evgeny Medvedev Philadelphia Flyers
246 Keegan Lowe Carolina Hurricanes
247 Colin Miller Boston Bruins
248 Brett Kulak Calgary Flames
249 Connor Brickley Florida Panthers
250 Sam Bennett/Connor McDavid Checklist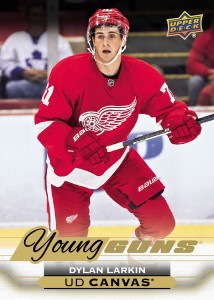 2015-16 UD Canvas Young Guns
C91 Jack Eichel Buffalo Sabres
C92 Emile Poirier Calgary Flames
C93 Colton Parayko St. Louis Blues
C94 Joonas Donskoi San Jose Sharks
C95 Andrew Copp Winnipeg Jets
C96 Max Domi Arizona Coyotes
C97 Kevin Fiala Nashville Predators
C98 Mikko Rantanen Colorado Avalanche
C99 Mattias Janmark Dallas Stars
C100 Malcolm Subban Boston Bruins
C101 Sam Bennett Calgary Flames
C102 Jacob de la Rose Montreal Canadiens
C103 Colin Miller Boston Bruins
C104 Connor Hellebuyck Winnipeg Jets
C105 Nick Shore Los Angeles Kings
C106 Matt Puempel Ottawa Senators
C107 Stanislav Galiev Washington Capitals
C108 Artemi Panarin Chicago Blackhawks
C109 Noah Hanifin Carolina Hurricanes
C110 Daniel Sprong Pittsburgh Penguins
C111 Ronalds Kenins Vancouver Canucks
C112 Dylan Larkin Detroit Red Wings
C113 Antoine Bibeau Toronto Maple Leafs
C114 Jared McCann Vancouver Canucks
C115 Oscar Lindberg New York Rangers
C116 Nikolaj Ehlers Winnipeg Jets
C117 Sergei Plotnikov Pittsburgh Penguins
C118 Robby Fabbri St. Louis Blues
C119 Nicolas Petan Winnipeg Jets
C120 Jack Eichel/Dylan Larkin Checklist
Stephen Laroche is the editor of Beckett Hockey, Beckett Basketball, and Beckett Sports Card Monthly magazines. Have a comment, question or idea? Send an e-mail to him at slaroche@beckett.com or follow him on Twitter @Stephen_Laroche.