At the National: Upper Deck honors Cards2Kids teen founder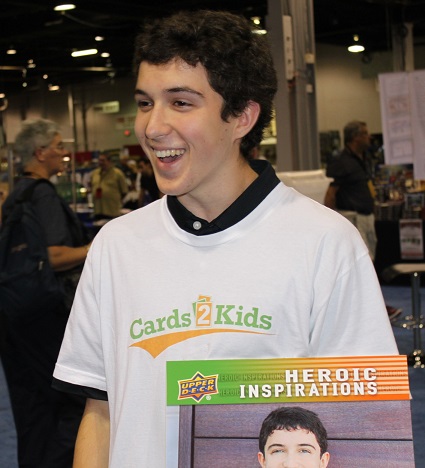 By Susan Lulgjuraj | Beckett Sports Card Monthly Editor
CHICAGO | John Makowiec loves collecting cards – so much so, that he wants other children to feel the same joy.
About four years ago, Makowiec decided to give his extra cards to other children and started the charitable program Cards2Kids. As the company's saying goes, he trades sports cards for smiles.
Makowiec donates cards to schools and hospitals. He also helped create an educational program to help children learn about statistics and math using sports cards. The charity has gone international with cards getting into the hands of children in Canada and Panama as well as those from around the country.
Makowiec, now 17 years old, was honored by Upper Deck at the VIP Reception at National Sports Collections Convention on Wednesday. The company put the young entrepreneur on his own trading card.
"I couldn't stop smiling. This is definitely the coolest thing ever," Makowiec said, as his little sister Juliette giggled in the background. She also paraded around with a sign for people to donate to Cards2Kids – clearly one of her brother's biggest fans.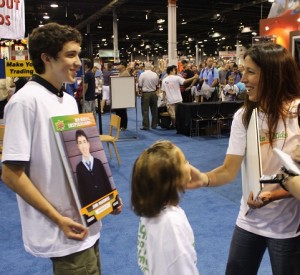 Upper Deck started a Heroic Inspirations trading card campaign several months ago with those who have inspired others. It started with 7-year-old cancer patient Jack Hoffman, who ran for a long touchdown in a Nebraska spring game. Another card featured Doc Jacobs, an amputee war veteran who tried out for the Los Angeles Dodgers.
Upper Deck thought Makowiec was great for their next oversized trading card as the teen has given away more than a million cards to other children.
"We look at how we can find the next generation of collectors and here is a young man who is doing that on his own," UD's Chris Carlin said. "When I was in high school, you couldn't pry me away from a Nintendo. But here's a kid who has given a lot of his own hours to find the next generation of collectors. He has worked very hard in growing this program. The excitement he brings and the smile he brings to children in the U.S. and Canada deserves accolades."
The card stunned Makowiec, but his mother was in on the surprise. Jenny Just kept it a secret when she brought him to the Donald E. Stephenson Convention Center, but that didn't stifle the overwhelming feeling of pride she felt with her son on a trading card.
"It definitely brought tears to my eyes," Just said. "I'm really proud him. I told him there are a lot of people with cards in their closets, including you. I think it's great for the card industry and these kids to get these cards. It's hard for a teenage boy to find something and this was a layup."
Many collectors open boxes of cards and don't want the commons. That's where Cards2Kids comes in. Some card shops have set up as collecting stations for Cards2Kids where people can leave their unwanted cards.
Cards2Kids has grown over the years. It started in suburban Chicago where Makowiec lives. It expanded across the country as others signed on to be ambassadors in places such as New Jersey and Washington D.C. Upper Deck helped Makowiec get to the Sportscards & Memorabilia Expo two years ago in Toronto and were able to get cards to children in Canada. Makowiec's grandfather also lives in Panama and is a happy to help his grandson in his venture.
On light months, Makowiec says he gets about 10,000 cards from collectors. But there are times when he will get about 100,000 cards in one month. He distributes them to hospitals and schools.
"I thought about the things I love and I wanted to share that," Makowiec said. "I wanted to share my love of sports collecting for people who wouldn't otherwise have the chance."
Susan Lulgjuraj is an editor of Beckett Sports Card Monthly. You can email her here with questions, comments or ideas. Follow her on Twitter here. Follow Beckett Media on Facebook and Twitter.