2017-18 Upper Deck Game Dated Moments Hockey bring on-demand to e-Pack platform
Hockey card collectors have been waiting for Upper Deck to enter the on-demand trading card market and the company is about to do so with the arrival of 2017-18 Upper Deck Game Dated Moments Hockey on its e-Pack platform.
Every Friday morning at 9:00 PST, starting on October 13, e-Pack users will be able to start a collection of cards featuring some big moments from the previous week. Each pack will contain a single card which looks back at the newest rookies, record breaking moments, key saves, and more.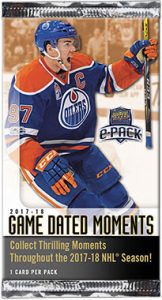 The packs will only be available for one week before being retired. After purchasing, collectors can open them up and add them to their e-Pack accounts. From there, it is likely that they can be traded on the e-Pack website or transferred to a Check Out My Cards account for sale.
It appears that each 2017-18 Upper Deck Game Dated Moments Hockey pack will hold a specific card. You can purchase one available pack per transaction.
Naturally, there will be an achievement component for 2017-18 Upper Deck Game Dated Moments Hockey. The 2017-18 season will be broken down into three periods and once a collector acquires all the cards issued in that time frame, a reward will be given.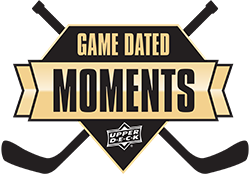 Collecting all first period cards issued between October 13, 2017 and before the next wave of cards begins on February 2, 2018 will result in a 2017 NHL Draft Pick Achievement card. Completing the run of second period cards that come out between February 2 and April 20 will get you a three-card set of Stat Leaders. A 2018 Stanley Cup Parade Achievement card is given for finishing the third period set made up of cards sold between April 20 and June 22.
Redeeming a full five-card Game Dated Moments Achievement set will result in a two-card 2017-18 NHL Awards Achievement set.
Stephen Laroche can be found on Twitter @Stephen_Laroche.