2012 Leaf Metal Draft Football on the Horizon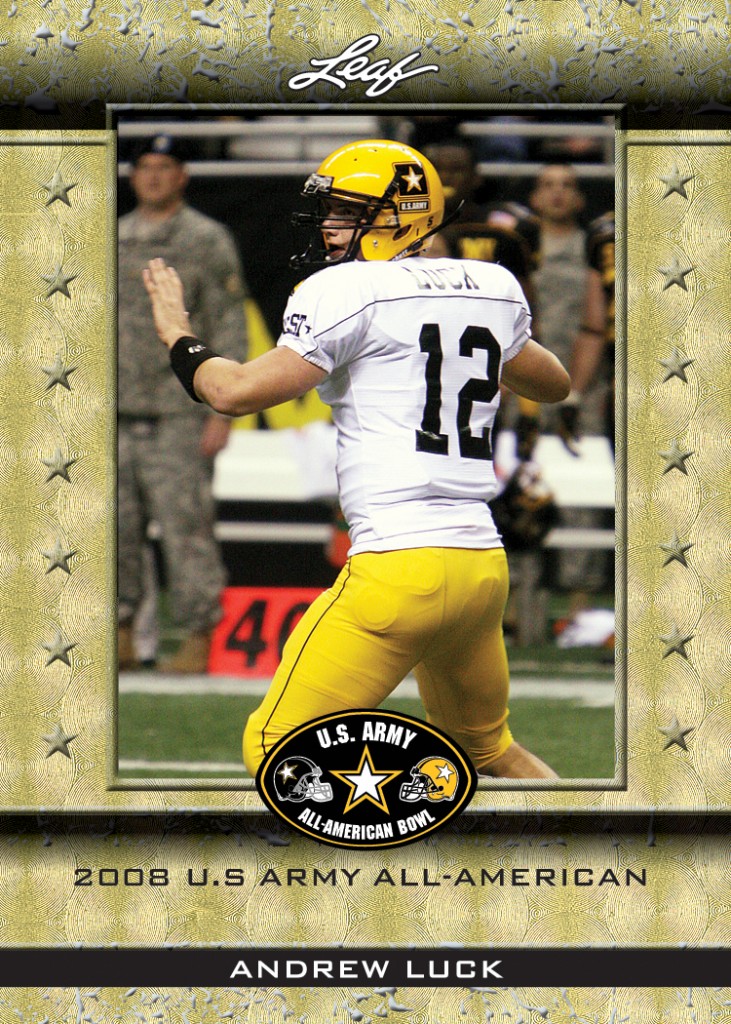 By Andrew Tolentino | Football Editor
Moving beyond the Super Bowl and toward the draft, football cards are coming full circle again.
Early season manufacturer Leaf Trading Cards recently unveiled more details about its forthcoming 2012 Leaf Metal Draft release — complete with Andrew Luck allure and a number of eye-catching upgrades. According to a company press release, the late-March arrival will hit shelves with substantial aesthetic changes and a lower price point.
First things first, projected No. 1 draft pick, Luck, should spark an immediate  interest in this set as his presence in the hobby is still very limited. Luck will appear throughout 2012 Leaf Metal Draft, perhaps most prominently featured as a high school player on U.S. Army All-American cards and in multiple prismatic parallels. This release will mark a key opportunity to collect one of the hottest 2012 rookies before NFL-licensed card makers begin anew with their early season sets.
As for aesthetic upgrades, Metal Draft will showcase the likes of Robert Griffin III, Trent Richardson, Ryan Tannehill and other anticipated newcomers on full-bleed  card canvases. Once again, the checklist promises to be a potent one, exclusively filled with skill-position players from highly collectable alma maters. With varying levels of prismatic parallels and the announcement of Purple Prismatic Hot Boxes containing three numbered-to-25 purple autographs, these early autographs could be key indicators for hobby hype in the coming year.
The forthcoming brand will also include randomly inserted Metal U.S. Army autographs from some of the nation's top high school prospects. Barry Sanders Jr. (as in, the son of Barry freaking Sanders) and Gunner Kiel headline the list of young talent showcased in the subset.
The numbers game in  2012 Leaf  Metal Draft boasts three on-card autographs per box and 12 boxes per case. Stay tuned to Beckett.com for more details on pricing and the per-pack breakdown.