2010 Bowman Chrome Stephen Strasburg Superfractor Autograph Pulled — 4 Years After the Redemption Expired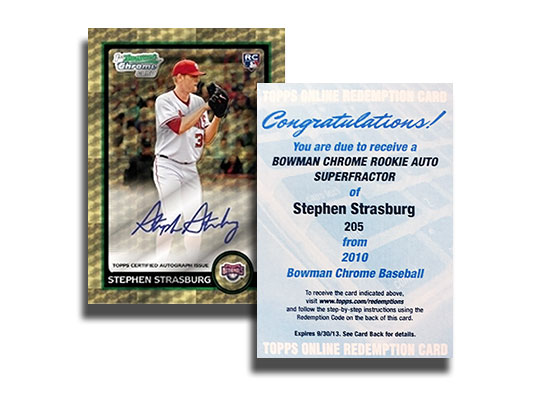 You know that moment in Charlie and the Chocolate Factory (or Willy Wonka and the Chocolate Factory for those who have only seen the movie) when young Charlie Bucket unwraps the chocolate bar and discovers the Golden Ticket.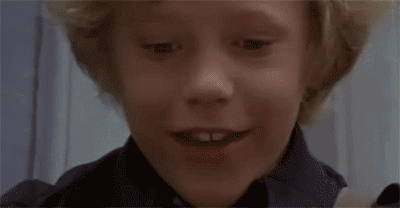 Now imagine Willy Wonka coming up from behind and whispering in Charlie's ear, "Sorry, kid, you're too late. I already gave my factory to Veruca Salt."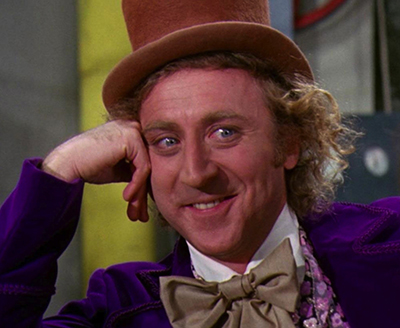 Now imagine it's today and you pull the 2010 Bowman Chrome Stephen Strasburg Superfractor Autograph (from 2010 Bowman Chrome Baseball). Someone just did.
And it's a redemption. That expired back in 2013.
The announcement came via the Collectors Universe message boards in an October 11 post along with a picture of the redemption. At the bottom is the expiry date in bold — September 30, 2013. That's approximately three years after 2010 Bowman Chrome Baseball came out.
The collector, who goes by the screen name Beck6, did contact Topps to see if anything could be done. They were told that they could not given the redemption is expired. According to the thread, the Topps rep also said that the Strasburg Superfractor Autograph could have been given out as a replacement.
The actual card does exist somewhere. As the original poster points out, the Superfractor appears to have been graded by BGS on November 7, 2013. It has a final grade of 8.5 with a 10 for the signature. The November 7 date is just over a month after the redemption card expired.
It's not known if Topps had the card graded themselves (BGS does not give out customer information) or if it was by someone else. Topps did acknowledge at their 2017 National Sports Collectors Convention Q&A that they did have some 2013 Bowman Chrome Draft Kris Bryant Refractors graded for the purpose of using them as replacements.
Strasburg-Mania and the Hobby
If you were ripping packs and boxes of baseball cards in 2010, there was a good chance you were hunting for Stephen Strasburg. He dominated the hobby that year.
One could also argue that he changed the game. When the first 2010 Bowman Chrome Stephen Strasburg Superfractor was pulled (from 2010 Bowman Baseball), it was quickly sold for over $16,000. Less than a month later, it sold again for over $21,000. Superfractors as a whole have never been seen in the same light and are among the top cards in the entire hobby. Marquee players sell for thousands, if not tens of thousands.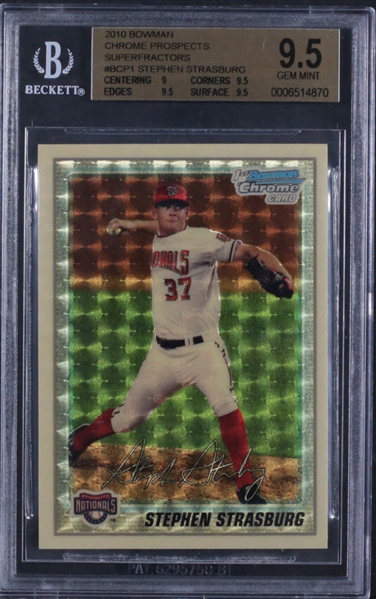 In baseball, if you remove all price barriers and caveats for rarity, a modern player's first Bowman Chrome Superfractor Autograph is likely to be the card to have. They're like the Mona Lisa or the actual Holy Grail of today's baseball card world.
Big Before It Arrived
Topps knew that Stephen Strasburg and his Superfractor Autograph were going to be a big deal. They were both focal points in the product's original sell sheet sent to dealers. Strasburg is the only player shown on the cover page.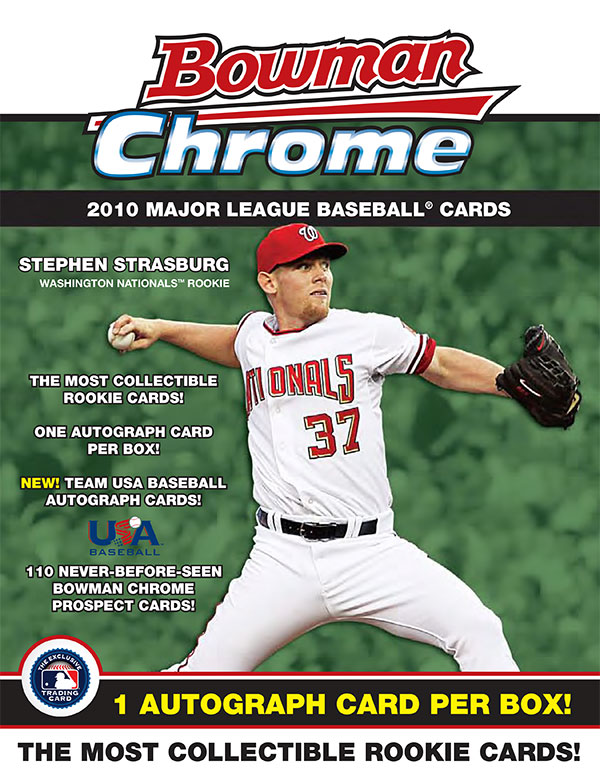 A mock-up of the Superfractor is the first card shown on page two.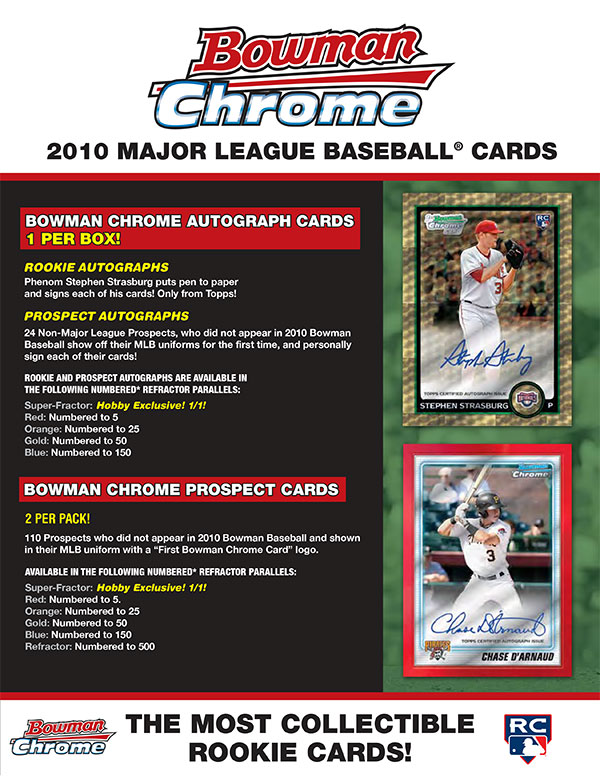 Like most initial marketing materials in the hobby, the card is a digital representation, not the actual card. Obviously, it was not ready in time to be included live in packs.
Redemption Card Blues
If you're on Twitter, Facebook or any message board, redemption horror stories pop up on a regular basis. From waits that are measured by years, not just weeks to weak replacements to contact attempts being ignored by customer service, every story is a little bit different. But when redemptions become a problem, the outcome is rarely good.
It's easy to pass blame in these situations. And it may be deserved. But chances are if you ask any collector, card shop owner and, yes, manufacturer, all will probably be unanimous in wishing they didn't exist. This is one of those instances taken to an extreme.
The collector isn't necessarily out entirely. Shortly after posting about his pull in the Collectors Universe forum, another collector offered $200 for it. That's a huge difference compared to what it was originally good for. But it still demonstrates that the redemption card itself isn't worthless.
2010 Stephen Strasburg Superfractors Checklist
Bowman and Bowman Chrome are a couple of brands that have several layers to them. Between Prospect inserts, Rookie Cards and autographs, that means a player can have a few different Superfractors in a given year. Each is still a one-of-a-kind card. Strasburg is one of them.
He also has Superfractors in a couple of other products.
Here's a full 2010 Bowman Chrome Stephen Strasburg Superfractor checklist.
2010 Bowman Baseball
Prospects Superfractors #BCP1
Chrome Topps 100 Prospects Superfractors #TPC1
2010 Bowman Chrome Baseball
Superfractors #205
Rookie Autographs Superfractors #205
2010 Bowman Draft Baseball
Draft Picks Superfractors #BDP1
2010 Bowman Platinum
Dual Relic Autographs Superfractors #SH (with Jason Heyward)
Relic Autographs Superfractors #SS
2010 Topps Chrome
Superfractors #212
Rookie Autographs Superfractors #212
206 Chrome Superfractors #TC32
Comments? Questions? Contact Ryan Cracknell on Twitter @tradercracks or by email.