Growing up in the 1980s meant a lot of overt life lessons in cartoons and TV shows. G.I. Joe taught us that knowing was half the battle. After his epic battles, He-Man and friends preached love and humanity. Punky Brewster drilled home the dangers of hiding in a fridge. Diff'rent Strokes had all sorts of weirdos, freaks, kidnappers. And The Gooch.
And who could forget about the sizzle of a fried egg instilling the fear of God into a generation of kids?
As the '80s gave way to the 1990s, the number of moral messages shrunk. But they didn't disappear entirely.
Enter the life lessons of 1991 Pro Set Football.
I didn't open up a lot of football cards back in the Junk Wax Era. That said, I definitely did my part to help keep 1991 Pro Set Football from sitting on the shop shelf. Amidst the hunt for Walter Payton posing with a tire slung around his arm, Red Grange and the many other short prints was an instantly recognizable subset that challenged collectors to "Think About It."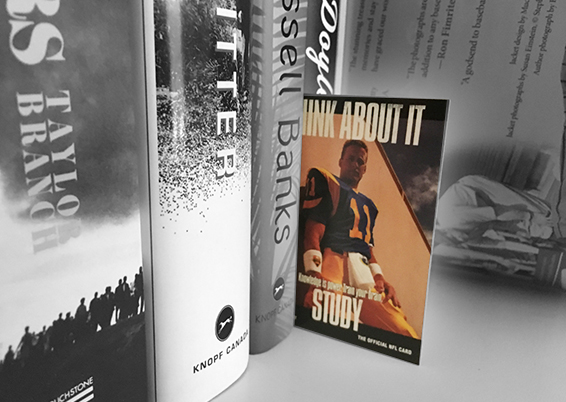 Read. Study. Avoid steroids. Get along. Crack kills. The messages were clear and a lot more blunt than a PSA tacked on to the end of a cartoon. But maybe not quite the same level as a girl almost suffocating inside of an abandoned fridge.
The cards came out at a time when player portraits were a big part of sports culture. As cards were sorted on twin-sized beds or shag carpets on their last legs, Pro Line and the Costacos Brothers posters kept watch on from the surrounding walls.
The Pro Set Think About It cards weren't exactly Michael Jordan dunking the moon or Roger Clemens holding a rocket behind his back, but there is some definite style to the shots. They're direct and almost in your face, carrying an edge that went with the messages.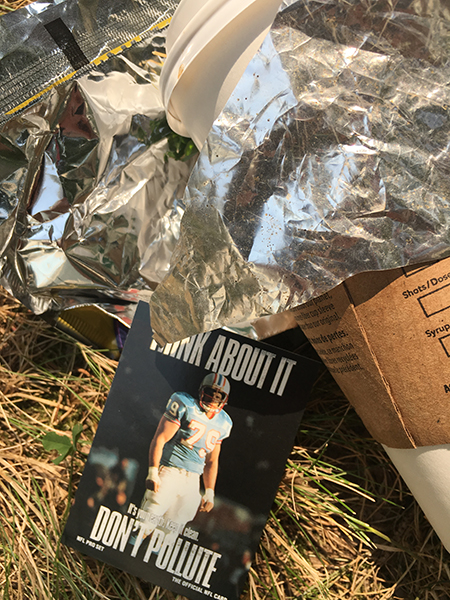 Backs are written as though they're messages direct from the athlete. They read like more than preaching, an approach that rarely works. Instead it concisely explains why something is an issue and gives direction on making a responsible choice.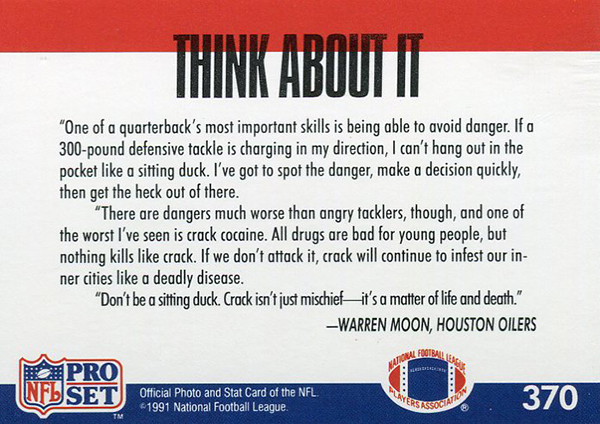 The Think About It subset covers 18 total cards in 1991 Pro Set Football, nine in Series 1 and nine in Series 2. Like a lot of Pro Set cards, variations can be found within these. Series 1 cards can be found with a couple sizes of font on the back, and with or without card numbers. But no matter the version, the message is the same.
Maybe it's because I'm an adult now, but these direct moral messages aren't around as much in movies and TV, let alone sports cards. Dora the Explorer taught my daughter the virtue of sharing. The Little Einsteins instilled a love of art and science in both of my kids.
But they never got their death-by-fridge moment or a member of G.I. Joe rolling up in the nick of time to stop Jimmy from downing some uppers. Now that I think about it, these cards might have been one of the last times I experienced the direct, bow-before-Zod approach that comes with short slogans like "Steroids Destroy" and "Crack Kills."
Now I know.
1991 Pro Set Football "Think About It" Gallery
370 Warren Moon, Houston Oilers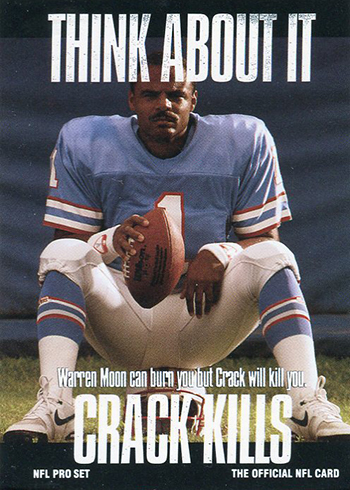 371 Boomer Esiason, Cincinnati Bengals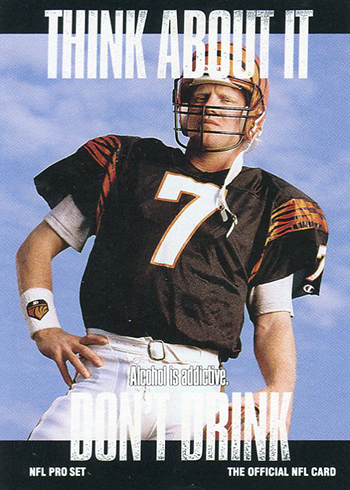 372 Troy Aikman, Dallas Cowboys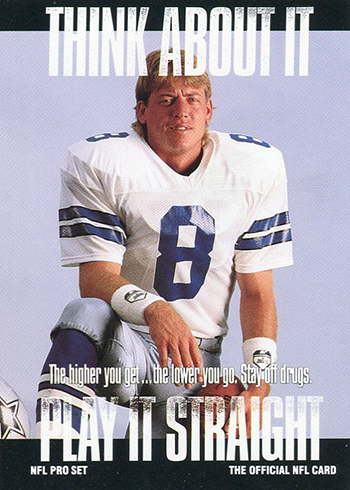 373 Carl Banks, New York Giants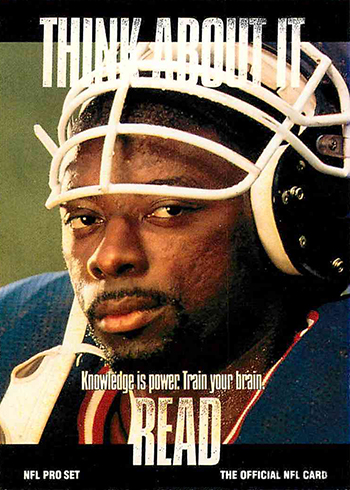 374 Jim Everett, Los Angeles Rams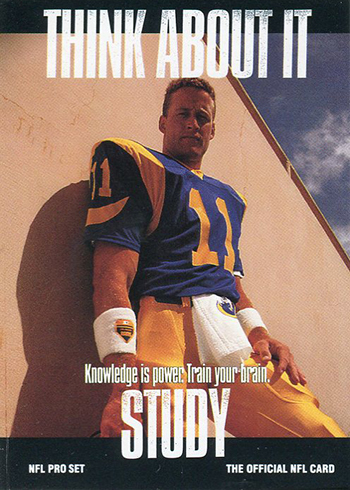 375 Anthony Munoz, Cincinnati Bengals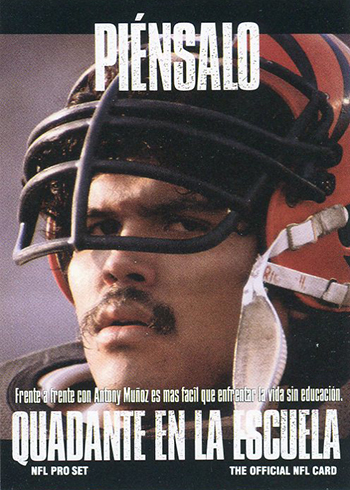 376 Ray Childress, Houston Oilers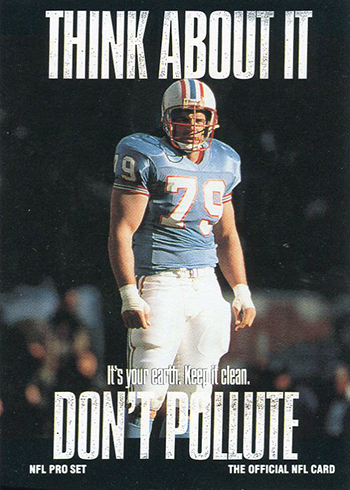 377 Charles Mann, Washington Redskins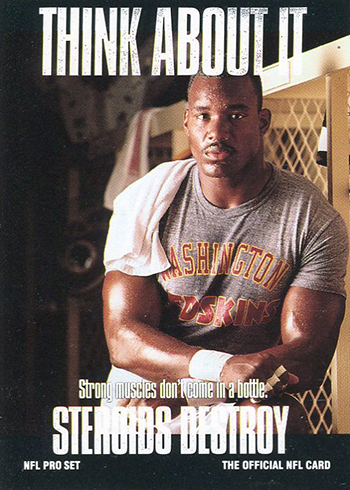 378 Jackie Slater, Los Angeles Rams
721 Ray Bentley, Buffalo Bills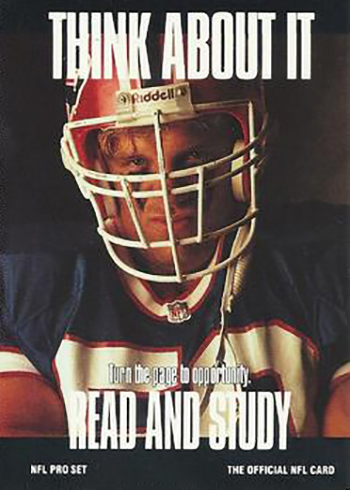 722 Earnest Byner, Washington Redskins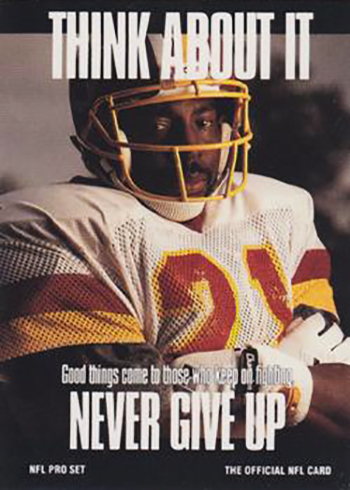 723 Bill Fralic, Atlanta Falcons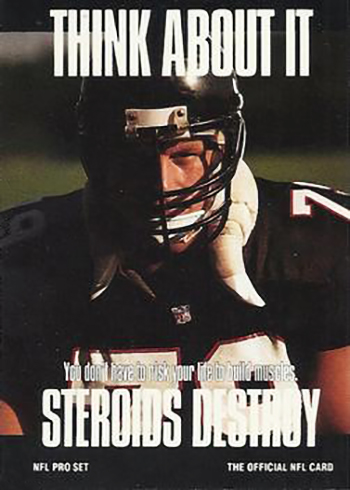 724 Joe Jacoby, Washington Redskins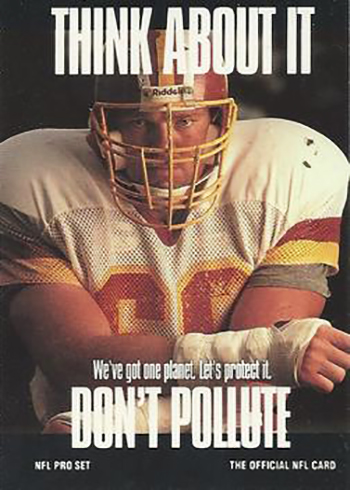 725 Howie Long, Los Angeles Raiders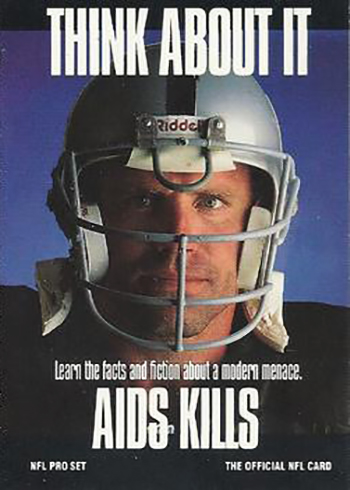 726 Dan Marino, Miami Dolphins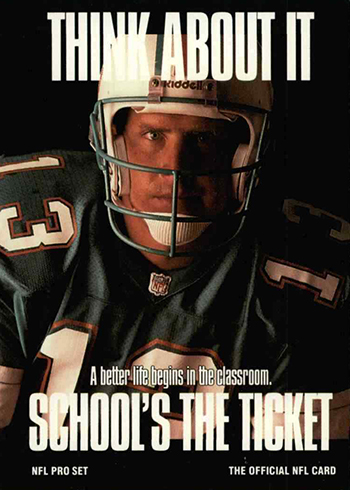 727 Ron Rivera, Chicago Bears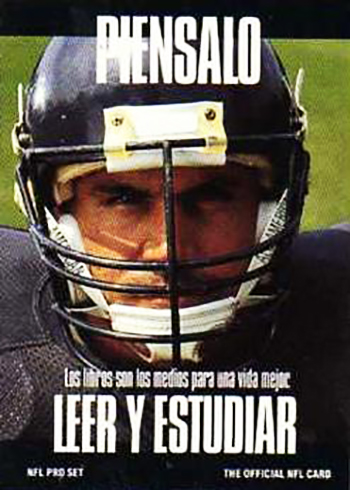 728 Mike Singletary, Chicago Bears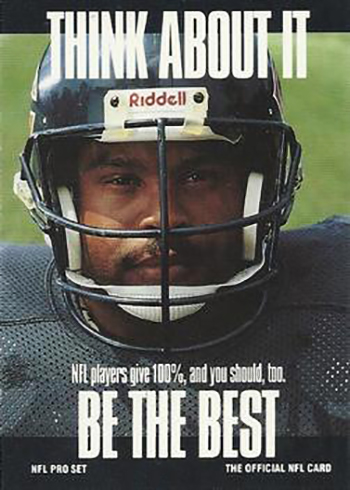 729 Cornelius Bennett, Buffalo Bills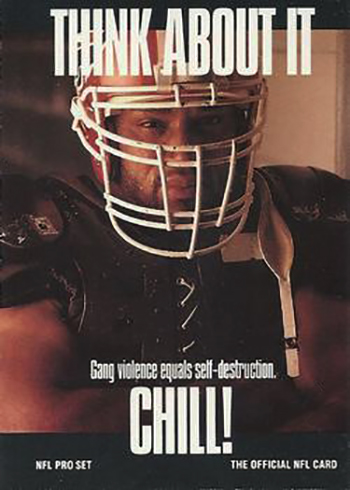 Comments? Questions? Contact Ryan Cracknell on Twitter @tradercracks.