What's the impact of Panini America's NFL Players exclusive? Check back with us in 2020 …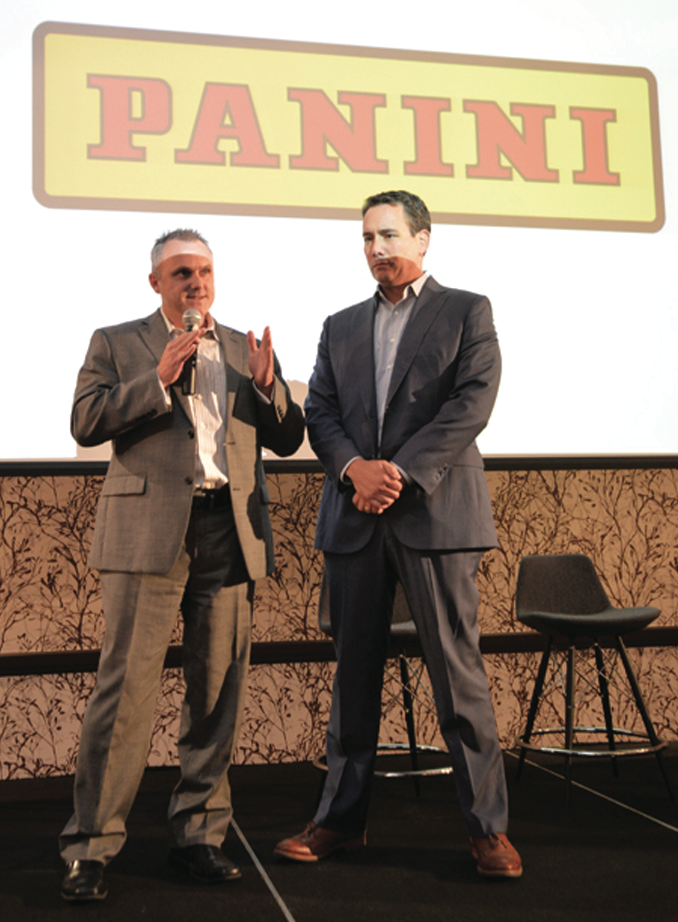 Panini America's Mark Warsop and NFLPI President Keith Gordon discuss the new deal between the companies that begins exclusively in 2016.
—
By Kevin Isaacson | Commentary
CLEVELAND | NFL general managers have a pat response when questioned about the current-year draft class: "Ask me in five years."
Same is true in the sports card industry, especially as it pertains to licensing decisions. Any change in licensing prompts countless Chicken Littles to bemoan the hobby's demise and activates even more glad-handers hoping to ingratiate themselves with the current manufacturing "winner."
This month, the "winner" is Panini America, courtesy of its recently announced exclusive NFLPI deal. But the reality is the same, whether the topic is Upper Deck in hockey, Topps in baseball or any other licensing move: It is fun to debate, but we won't know the full impact for at least five years!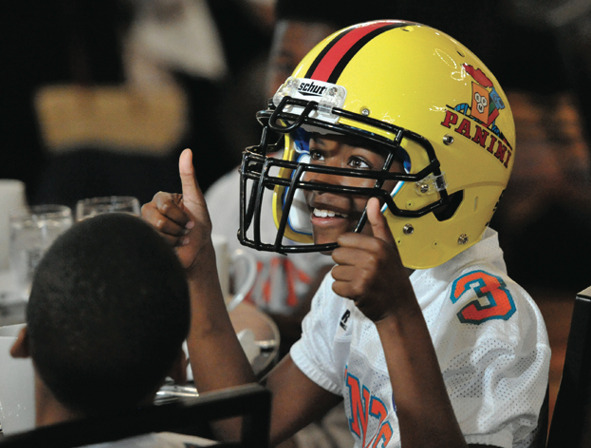 A Pop Warner team was among the guests for the Panini America Chalk Talk session where the company's big news was first announced.
—
That's a span of 150-plus football card releases. Unless you have the time-traveling abilities of Biff Tannen (Back to the Future 2 reference for those who weren't attending movies in 1989), any first-week analysis of the Panini/NFL Players exclusive should be valued lower than any Ryan Leaf Rookie Card.
For those who don't live on Twitter, here is the latest industry news alert: Panini America introduced its newly minted exclusive relationship with the NFL Players Association during the National Sports Collectors Convention, via lavish ceremony at a mid-town Cleveland hotel. Among the attendees: Execs from Pop Warner and the football Hall of Fame, legends Anthony Munoz and emcee Trent Dilfer; many of Panini's wholesale distributors; and several executives from NFL Players. The announcement was positive and well-crafted, and certainly played well via corporate video. But assessing true impact? Neither the conspiracy theorists or the cheerleaders truly have a clue what the industry will look like in 2020.
That accepted, a few things are evident. They include:
— Incredible growth: In five short years, Panini's North American profile has transitioned from UK-based sticker licensee to a mainstream leader in the trading card business. CEO Mark Warsop and his leadership team should be credited for bold vision and strong relationship-building. While Panini still trails Topps and Upper Deck in stateside brand equity by a good margin, the footprint established by the Dallas-based manufacturer in just a half-decade is impressive — especially given its primary competitors' 25 and 60-plus years of hobby engagement.
— Shock and awe: The NFLPI-Panini announcement stunned U.S.-based hobbyists, especially given the solid performance of many Topps brands. It is fair to say that the traditional hobby distribution chain, over the recent past, has generated more profit via Topps than its competitors. The potential degredation of that revenue would make any business owner wary. But in assessing the new exclusive, one must understand that NFLPI's ultimate allegiance is to its players. Clearly, NFLPI believes Panini is best positioned to invest in and market the union's constituency. In fact, NFLPI president Keith Gordon said Panini spent "twice as much" as its competition on and with NFL players. What doesn't seem to make sense within the hobby was apparently quite clear for the NFLPI.
— Focus on the future: The sweeping nature of the Panini-NFLPI partnership — at least six years in duration, with a significant investment in marketing and activation — will change the card landscape across North America and internationally. It is not a short-term play, which at least in concept is positive news for anyone wishing to spend their work week in the sports collectibles business in 2025, 2030 and beyond. All parties involved agree that the older collectors' market is dwindling. The old business model is not sustainable, Gordon said, and the exclusive deal allows both Panini and NFLPI to evolve with the market. "Exclusivity helps us enormously," said Mark Warsop, CEO of Panini America, "because a lot of the activation that promotes the category as a platform requires a lot of investment. We want to build the category itself and provide a new marketplace for the new demographic." The changing market could include less expensive packs, an increased digital marketplace, and one of a kind high-end collector packages that might not have been available if Panini America was only focusing on beating its competitors.
— Business sense: When the NBA changed the hobby marketplace five years ago by selecting Panini as its exclusive trading-card licensee, an uncertain observer could have been justified in suggesting that the decision was an outlier: Basketball execs were crazy or simply experimenting, Panini paid too much, exclusive licenses were a risky bet, etc. Given the perspective of today, however, those five-year-old assessments don't hold water. Today, every major U.S. sport has an exclusive trading-card licensee (Upper Deck for hockey, Topps for baseball, Panini for basketball and NFL players), so clearly, exclusives must not be universally bad, and basketball licensing execs weren't singularly crazy in choosing Panini. Let's be honest with ourselves, and agree to a couple realities: The licensors serving the trading-card industry are smart people, and Panini's owners simply won't allow it to operate for 10-plus years at a loss. Given that information, the licensing deal makes must make sense at a corporate level.
One more reality: Panini's hard work is just beginning.
Panini execs must realize their brands are not strong enough to support a full, exclusive football license. They need to create several compelling brands in the next 16 months or acquire brands valued by collectors.
At this writing, Panini does not have an NFL Properties license for 2016-plus. Collectors simply won't chase no-logo cards, as several erstwhile manufacturers have learned the hard way. The NFLPI license is a significant step, but Panini knows a "full" license is the best way to positively impact the hobby.
Topps' strong brands will continue to impact the market until its license expires in early 2016, and very likely thereafter. GM Doug Kruep, speaking at a collector gathering in Cleveland, said, "We don't have any plans of getting out of football." I have no idea what that means for collectors, and Topps might not today, either. But the viability of Topps' brands over the past 28 years and the company's product-development acumen should not be discounted.
It was clear in Cleveland that the NFLPI is seeking to change the trading card category. That is good. Even those decrying the Panini deal will admit that new ideas, compelling technologies and an expanded collector base — including hobbyists living outside the United States — are critical to the hobby's sustenance.
Let's hope Panini delivers all of that and more, ideally sooner than 2020.
Kevin Isaacson is VP/Sales & Marketing for Beckett Media, and host of the popular Industry Summit trade conference. He has reported on and analyzed the sports trading card market for three decades.