1979-80 O-Pee-Chee Wayne Gretzky Rookie Card Sells for $1.29 Million, Highest Ever for a Hockey Card
For the first time, a hockey card has sold for more than $1 million. And, of course, it's of the Great One. A 1979-80 O-Pee-Chee Wayne Gretzky Rookie Card sold for $1.29 million ($1.075 million before the buyer's premium was added) in the first part of Heritage Auctions' Fall Sports Collectibles Catalog Auction.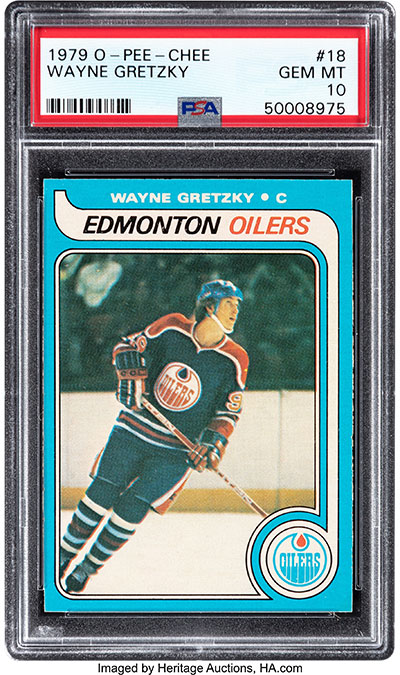 It's one of only two copies of the iconic blue-bordered RC to get a Gem Mint PSA 10 grade.
The same card sold in August, 2016 for a then-record $465,000. That's a gain of $825,000 in less than five years.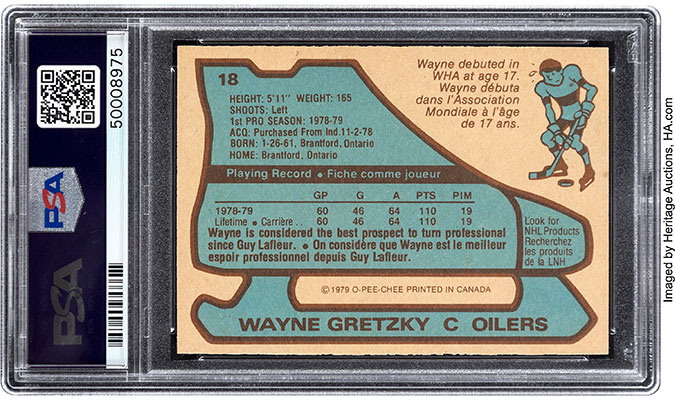 Another Wayne Gretzky Rookie Card also set a record during the same auction. This time it was the 1979-80 Topps Wayne Gretzky. Also a Gem Mint PSA 10, it sold for $700,000 including buyer's premium. That's a jump from the $200,796 the same card sold for, also in 2016. Like its O-Pee-Chee cousin, the Gretzky's Topps RC only has two PSA 10s.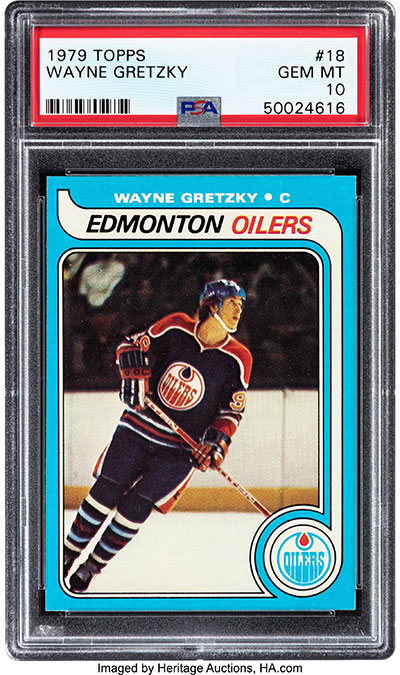 The blue are notorious for showing wear on the edges and corners. Centering is also a common issue keeping 1979-80 O-Pee-Chee and Topps Hockey cards from turning up in top condition. Production methods at the time could also be rough on cards.
Connecting Condition to Price
The 1979-80 O-Pee-Chee Wayne Gretzky Rookie Card is part of collecting lore. For many hockey-loving Canadians in particular, it ranks alongside the 1952 Topps Mickey Mantle as far as iconography goes. For those growing up in the '80s, owning one wasn't uncommon. And while there is value in any authentic Gretzky RC, the massive price for these is because of the condition.
They're exceptionally rare grades. Even cards kept carefully since being opened back when the set first came out aren't likely to be 10s. Production ensures that.
What's the difference in price? Just going from a Gem Mint 10 to a Mint 9 is hundreds of thousands.
While still tough, there are currently almost 90 PSA 9 copies of the O-Pee-Chee Gretzky RC. For the Topps version, there are more than 125 PSA 9s. Compare that to just two 10s for each.
Heritage has a 1979-80 O-Pee-Chee Wayne Gretzky PSA 9 closing on December 11. It's currently sitting at $78,000.
Even NM-MT 8 and NM 7 grades are strong, particularly for these cards. The number of copies in this range is significantly higher than even Mint 9s so prices will adjust accordingly.
With the record prices, more cards are likely to surface in the weeks and months ahead. All Gretzky RCs are treasure, but it's important to keep expectations reasonable. Million-dollar hockey cards are the exception.