Hobby Q&A: Crosby Collector Carlos Pinheiro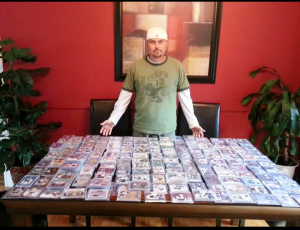 By Eric Norton | Beckett Hockey Analyst
A couple of weeks ago, we had Sidney Crosby on listed as the second star in the NHL Hobby Stars of the Week because he was tied for second in points with Blue Jackets winger Scott Hartnell. That piece caught the eye of Beckett reader Carlos Pinheiro from Quispamsis, New Brunskick, Canada, who shared a picture of his Crosby collection which piqued our interest and we wanted to dig a little deeper. Turns out Pinheiro was featured in a small piece in the October 2013 issue of Beckett Hockey in the Readers Write section. We caught up with Pinheiro and what resulted was an eye-popping collection of Crosby and some other huge names.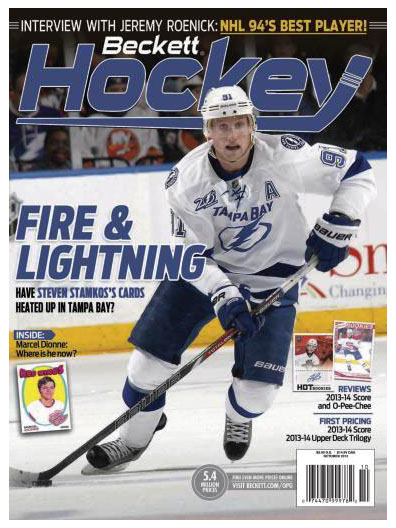 Q: How long have you been collecting?
A: I have been collecting hockey cards for 38 years now and have heard many stories from collectors on how their parents threw out their cards when they were a kid. As for me, I was very fortunate to have saved all my cards from when I was young. The hockey card collecting started on the front porch of my best friend's house. He would bring out a bag of hockey cards and we always sorted through them. I was instantly hooked and was determined to start a collection of my own.
Q: Of all the rookies in the class of 2005-06 what piqued your interest in Crosby?
A: Wayne Gretzky spoke highly of Crosby saying that if there is anyone who could possibly break any of his NHL records, it would be Crosby. I knew he was special, and for me as a collector, had to have his Rookie Card. When Upper Deck Series One came out I purchased a few hobby boxes and pulled two Crosby Young Guns. I was ecstatic. It was the beginning of my Crosby PC.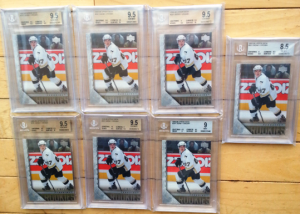 Q: It looks like from the picture you shared on Facebook that you have a copy of each of his Rookie Cards, and they are all graded. Did you buy them graded or did you submit them yourself?
A: There are 18 Rookie Cards in the Beckett database and I have 17 of them. I'm missing the Upper Deck Ice Premieres /99. I do have The Cup Gold Rainbow /87 which is a parallel of The Cup Rookie Card.  A good friend of mine submits cards to Beckett on a regular basis, so I send my cards to him and we send as a group submission. So the majority of my Crosby rookies were sent to Beckett for grading, the other few were purchased already graded from eBay.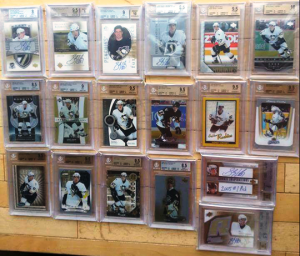 Q: How many total Crosby cards are in your collection and which one was the toughest to find? Which one was your first?
A: I have well over 1,000 Sidney Crosby cards, all non-base, and non-insert. If I include the base and inserts it would surpass 2,000. The toughest card to find, believe it or not, was not a rookie card, but the 2010-11 SPX Shadowbox Autograph and is probably my favorite card in my Crosby PC. My very first Sidney Crosby card was the 2005-06 MVP #393 which I purchased from a co-worker.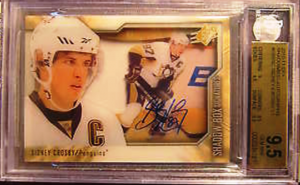 Q: Do you collect any other players or does your collection focus mainly on "The Kid"?
A: I do collect other players, mainly stars or Hockey Hall of Famers. Just to give an example, I have graded Rookie Cards of Bobby Orr, Ken Dryden, Darryl Sittler (All-time favorite  player), seven O-Pee-Chee Wayne Gretzky Rookie Cards, three Mario Lemieux Rookie Cards, and four Steve Yzerman. The list goes on and on.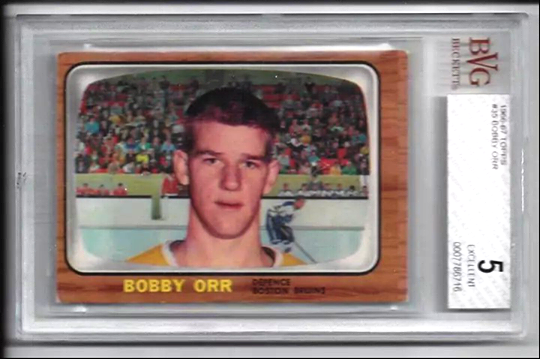 Take look at some of Pinheiro other Crosby pieces and NHL greats below. And if you are looking to start a Crosby PC of you own check out the Beckett Market Place.
—