PSA 10 Wayne Gretzky Rookie Card Sells for $465,000
A new record price for a hockey card has been established and it is only fitting that it is for the only 1979-80 O-Pee-Chee rookie card of the Great One, Wayne Gretzky.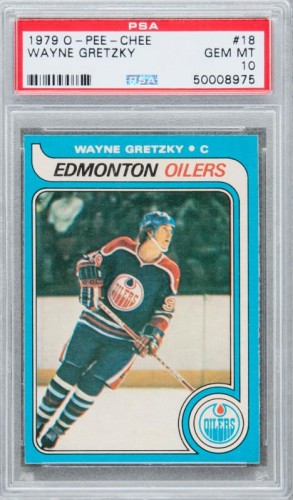 Last night, the intense bidding for the PSA 10 card reached its culmination and sold via Goldin Auctions for an incredible $465,000.00 during the company's 2016 Premium Live Auction which ended at the 37th National Sports Collectors Convention in Atlantic City. While there was initial speculation that it could have reached the $500,000.00 level, it fell just short of that mark.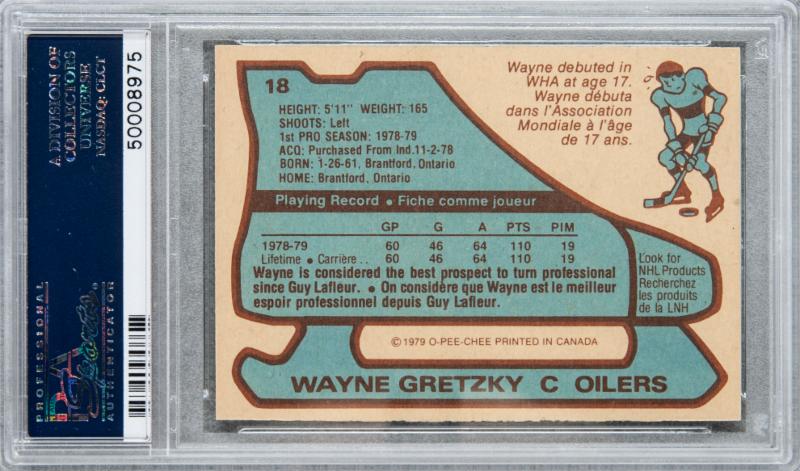 Regarded as one of the most iconic hockey cards, this is the only copy of the card to achieve the grade of PSA 10 and it has an interesting history. It was previously sold back in 2011 through SCP Auctions for $94,162.80. The card still has the same serial number, 50009785, but it was reholdered since that time due to the presence of a PSA hologram on the label. Previously, the card had been in a holder from Beckett Grading Services which had a grade of 9.5 before selling for $50,000 on eBay. According to PSA's registry before the auction began, the company had graded 3,727 copies of the O-Pee-Chee Gretzky rookie card to date.
While some collectors and casual observers not familiar with the nuances and quirks of the Gretzky rookie card had expressed some concern with what appeared to be rough edge, it should be noted that this simply something that is common for O-Pee-Chee cards from this era. The reason why the uneven edges are so common to see? The company would cut the sheets its cards were printed on with wires and the stacked sheets could also shift during the cutting process.
Is there another high-grade Gretzky out there waiting to be uncovered? There is little doubt that those who think they may have one are going to be looking through their collections with dreams of a big payday, but they are encouraged to use good judgement and remember that condition is the key factor in the price realized here. For more information on Beckett Grading Services, click here.