2016-17 Upper Deck Ultimate Collection Hockey Checklists Highlights High-End Memorabilia, Autographs
High-end memorabilia inserts and plenty of ink from hockey's biggest names highlight 2016-17 Upper Deck Ultimate Collection Hockey.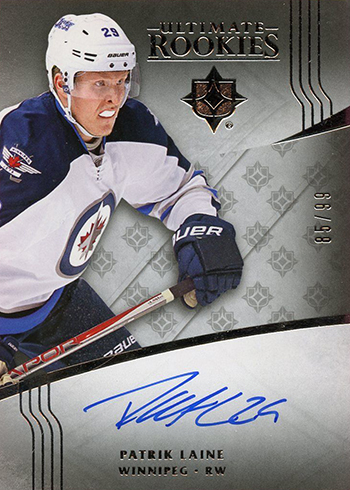 Reconfigured into a four-card pack that contains at least one hard-signed rookie autograph plus two additional hits and a lower price point.

Base Set and Parallels
The 2016-17 Upper Deck Ultimate Collection Hockey base set is expected to once again have a heavy focus on star players and each card will be limited to just 99 copies. Most of the cards will have an Autograph parallel (varied numbering), but the real chase is going to be for the Onyx Black (/10) parallels which also have a signed one-of- one version.
In lieu of a base card in many packs, there will instead be an Ultimate Introductions card featuring one of this year's rookies. Split into four different tiers that range from 1:3 to 1:12 packs, they also have an Onyx Black parallel (/25). They are not expected to be numbered as part of the regular set.
The Rookie Cards everyone is likely to be chasing come from the Ultimate Rookies subset. The first tier of them will be numbered out of 299 and feature a hard-signed autograph. As expected, some of the more popular rookies are saved for the second tier (/99).
Collectors can also expect to find Ultimate Rookies Jersey (/249) cards along with tougher Autograph Patch (/49) and the always-popular Ultimate Rookies Autograph Shield cards that are one-of-one treasures.
There is also a throwback to the 2006-07 edition of the set with current freshmen being put on old school designs. The 2006-07 Retro Rookie Autographs are split into two tiers as well (/199 or /49) and have the additional Jersey (/99), Autograph Patch (/25), and Autograph Shield (one-of-one) variations to track down.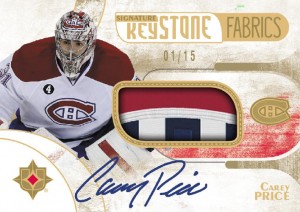 Autographs and Memorabilia
Ultimate Collection has a long history of being a place to find strong autograph and memorabilia hits and the 2016-17 edition carries on that tradition. Each pack has one jersey card along with either an autograph or premium material card.
One thing that has been a constant in Ultimate Collection over the years has been the one-of-one cards featuring the NHL shield from a player's jersey. This time, packs could contain one of these cards from sets such as Autograph Shield Materials, Shield Materials, or Ultimate Skills Shields.
Collectors should look for three basic themes when it comes to memorabilia collections in 2016-17 Upper Deck Ultimate Collection Hockey. Ultimate Performers Jersey (/49 or /99), Keystone Fabrics (/99), and Numeric Excellence (/35) will all have an additional signed version. The chase will be more intense for the Premium Materials and Tag parallels for each that also can be found with autographs.
Rookie enthusiasts can look for Debut Threads Autograph Patch or Signature Material Phenoms cards. Both of these collections will be numbered to varying quantities depending on player.
As for autograph-only hits, Signature Laureates (/25) are not going to be easy to find, but there is also the potential to pull a Signature Material Laureates parallel.
2016-17 Upper Deck Ultimate Collection Hockey will have an ePack component as well.
2016-17 Upper Deck Ultimate Collection Hockey at a glance:
Packs per box: 1
Cards per pack: 4
Boxes per case: 8
Set size: 149 cards
Release date: June 28, 2017
What to expect in a hobby box:
– One numbered base card or Ultimate Introductions card
– One hard-signed Rookie Autograph
– One additional autograph or premium material card
– One jersey card
2016-17 Upper Deck Ultimate Collection Hockey Checklist
Base Set
Autographs
Memorabilia
Updates
Team Sets
Stephen Laroche can be found on Twitter @Stephen_Laroche.