2017 Donruss Elite Football Checklist, Team Set Lists
In 2016, the Elite Football brand evolved as far as design goes, adopting a brighter, more modern look. 2017 Donruss Elite Football sticks with the idea, brining with it plenty of rookies, colorful parallels and signatures.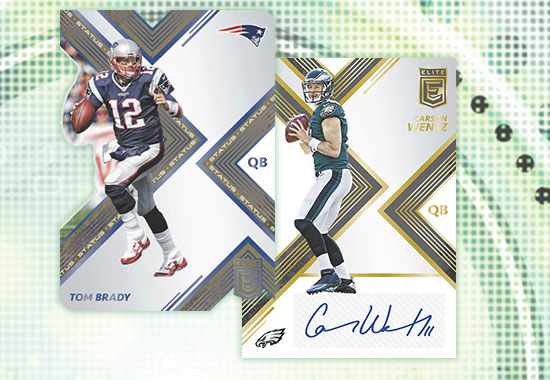 Base Set
The 2017 Panini Elite Football base set consists of 200 cards. Half of that is veteran players. The remaining 100 cards are Rookies, all numbered to 499 copies.
Aspirations and Status Die Cut parallels, longstanding traditions in Elite, both return. Status Die Cuts are hobby exclusives. Other parallels include Red, Purple, Orange, Blue, Gold and retail-only Green. All parallels except the Green cards are serial numbered.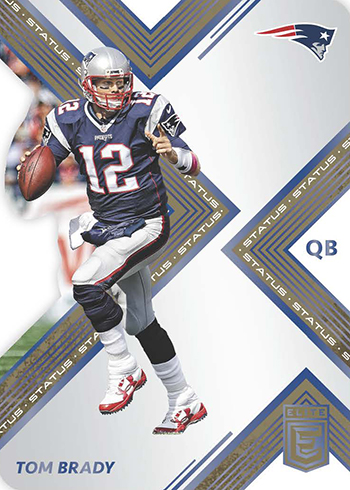 Autographs
Every 2017 Donruss Elite Football hobby box has at least two autographs, one of which is a Pen Pals. These are the first on-card autographs of the 2017 rookie crop in their NFL uniforms. Pen Pals Duals pair up the signatures. Parallels are based on the color of the pen. Rare versions include Blue, Green and Red Ink.
As for the second autograph in each box, there are several other signed insert sets.
Turn of the Century Autographs, which are similar in design to the base set and offer more rookie signatures, are only found in hobby packs. Done with patterned backgrounds, these come in multiple levels ranging in numbered from a high of 149 copies down to one-of-one.
Passing the Torch Autographs are back once again. These dual-sided cards highlight two players. Signed versions can be found with both one and two signatures.
Other autographed inserts in 2017 Donruss Elite Football include new Impact Impressions as well as triple-signed Team Lineage cards.
Memorabilia Cards
On the memorabilia side, retired legends are featured in Throwback Threads, which have both single- and dual-swatch versions numbered to 99 or less.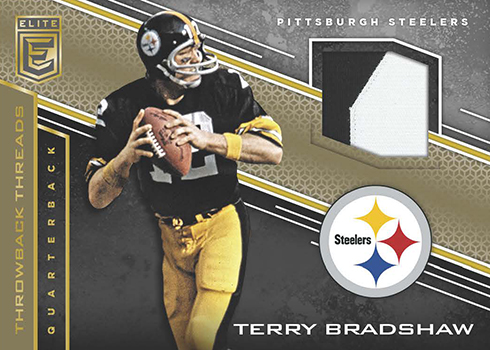 Pro Bowl Standouts have pieces of Pro Bowl gear embedded in them.
Epic Materials, Elite Coverage Materials and Prime Numbers also return in 2017 Donruss Elite Football.
Inserts
Hobby packs that don't come with an autograph or memorabilia card has either a parallel or other insert. Spellbound, Face to Face, Field Vision and Family Ties are all back. Fired Up inserts are also randomly inserted.
2017 Donruss Elite Football at a glance:
Packs per box: 20
Cards per pack: 5
Boxes per case: 12
Set size: 200 cards
Release date: June 28, 2017
What to expect in a hobby box:
• Pen Pals Autographs – 1
• Additional Autographs – 1
• Memorabilia Cards – 1
2017 Donruss Elite Football Checklist
Base
Autographs
Memorabilia
Inserts
Team Sets
Comments? Questions? Contact Ryan Cracknell on Twitter @tradercracks.
Please note that the images below are mock-ups and not final cards. The set has 2017 rookies. Last year's rookies are being used in these pictures to show what to expect as far as design goes.