10 Career-Defining Anfernee Hardaway Cards – Instant PC
If Shaquille O'Neal had stayed in Orlando and Penny Hardaway stayed healthy through the prime of his career, the Magic might have put together a dynasty that rivaled the Chicago Bulls from that same era. Instead, they stand as one of the biggest "what ifs" in NBA history, though Hardaway remains a popular figure in the hobby today.
All told, there are more than 3,500 Penny Hardaway cards, according to the Beckett database.
So where does one begin putting together a Penny Hardaway PC?
The following 10 cards serve as an excellent representation of his playing career and footprint on the hobby, making them a great place to start.
1993 Classic Four Sport #2 Anfernee Hardaway
In two seasons with the Memphis Tigers, Hardaway established himself as one of the most dynamic college players in the country. He averaged 22.8 points, 8.5 rebounds, 6.4 assists and 2.4 steals per game during his sophomore season, earning All-American honors.
He has a handful of cards from the Classic product line prior to the start of his pro career, and he is the headliner in those 1993 Classic sets alongside University of Michigan standout Chris Webber.
Buy on: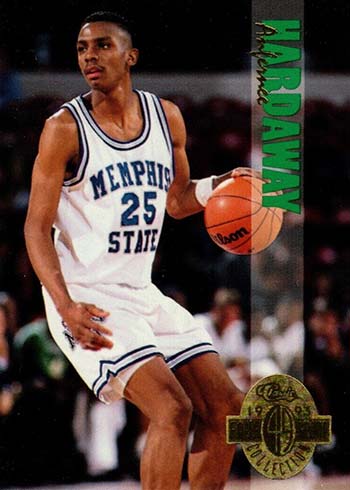 1993-94 Finest #189 Anfernee Hardaway RC
With the No. 3 overall pick in the 1993 draft, Hardaway was chosen by the Golden State Warriors. However, before draft night was over, he had been traded to the Orlando Magic along with three first-round picks in exchange for No. 1 overall pick Chris Webber.
He has 11 different Rookie Cards, the best of which is his inclusion in the inaugural Finest set.
Buy on: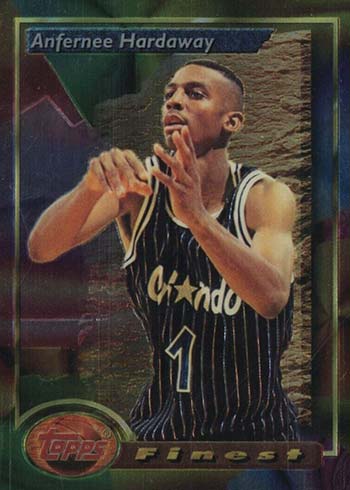 1995-96 Metal Molten Metal #1 Anfernee Hardaway
Shaquille O'Neal missed the first 22 games of the 1995-96 season with a thumb injury. In his absence, Hardaway averaged 26.4 points per game while helping the team to a 17-5 start. He went on to post career-highs in points (21.7 PPG) and assists (7.1 APG) that season for a 60-win team that reached the Eastern Conference Finals.
The Molten Metal inserts are some of the best-looking cards of the 1990s, and they were an extremely tough pull at 1:72 Series 1 packs for the 1995-96 release.
Buy on: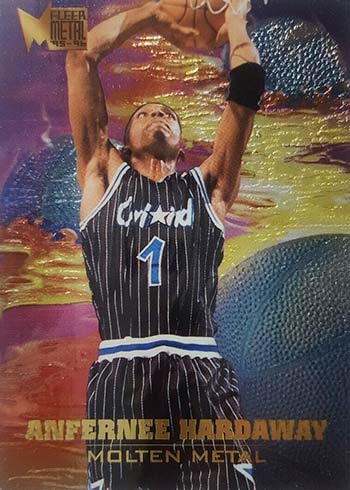 1996 Upper Deck USA #49 Anfernee Hardaway
With only five players returning from the 1992 Olympics, Team USA basketball had a decidedly different look at the 1996 Olympic games, but the end result was the same as they again took home the gold medal. Hardaway played 18.0 minutes per game and averaged 9.0 points and 4.4 assists.
Upper Deck had a wide variety of different cards honoring the 1996 Olympic team, including an entire Team USA set.
Buy on: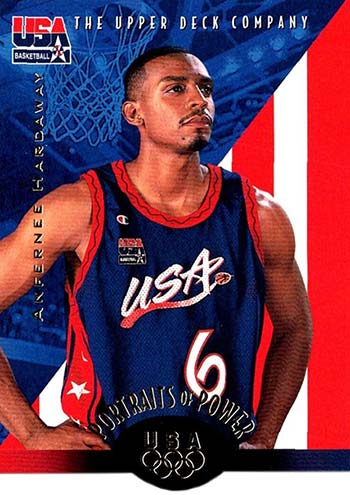 1996-97 Hoops Head to Head #HH6 Anfernee Hardaway/Shaquille O'Neal
There's no mentioning Hardaway without also thinking about Shaquille O'Neal and their time together with the Orlando Magic. The pair were only teammates for three seasons before Shaq joined the Los Angeles Lakers in free agency, but during that short time they helped build the Magic into a legitimate title contender.
They only have a few shared cards from their playing days, including ones in the 1993-94 SkyBox Premium Thunder and Lightning, 1995-96 Finest Dish and Swish, 1996-97 Fleer Game Breakers and the 1996-97 Hoops Head-to-Head insert sets.
Buy on: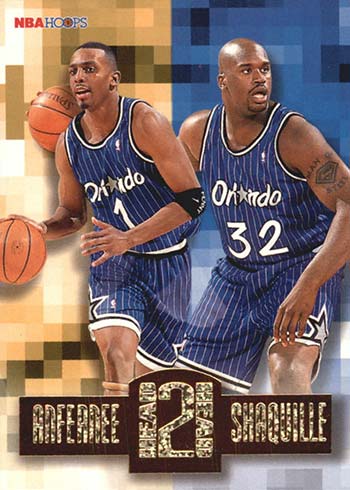 1997-98 Ultra Ultrabilities All-Star #7 Anfernee Hardaway
Hardaway missed the majority of the 1997-98 season after suffering a knee injury and subsequently undergoing surgery. The injury robbed him of his previous explosiveness, and he went on to have several more knee operations in the coming years. It was the beginning of the end to his time as a superstar.
Despite his downturn in production, Hardaway was still a popular inclusion in 1997-98 insert sets thanks to his national popularity. The Ultrabilites inserts were found in 1:36 packs of Fleer Ultra Series 1.
Buy on: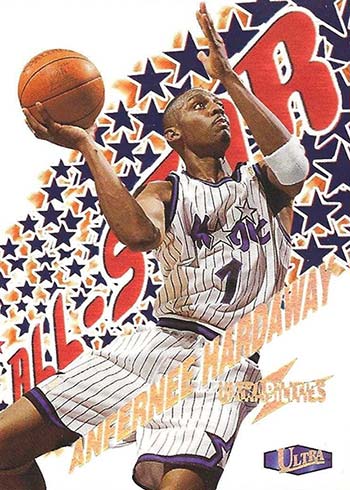 1999-00 Topps Chrome Instant Impact #II6 Anfernee Hardaway
Prior to the 1999-00 season, Hardaway was traded to the Phoenix Suns in exchange for Danny Manning, Pat Garrity and two future first-round picks. He averaged 16.9 points, 5.8 rebounds and 5.3 assists in his first season with the Suns starting alongside Jason Kidd in the Phoenix backcourt.
The Instant Impact insert set in 1999-00 Topps Chrome focused on players who joined new teams during the season, and along with the base chrome version there is also a refractor parallel.
Buy on: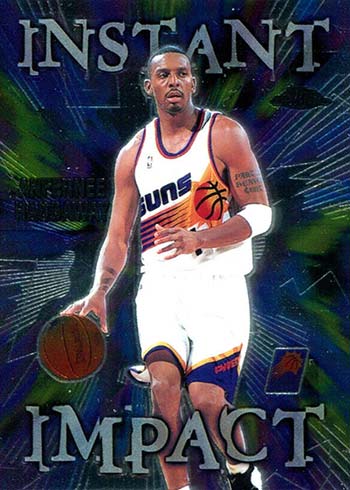 2003-04 Flair Final Edition #30 Anfernee Hardaway
After two and a half seasons in Phoenix, Hardaway was included alongside Stephon Marbury in a blockbuster move midway through the 2003-04 season. The Knicks sent Antonio McDyess the other way as part of a five-player package that also included a pair of first-round picks.
Hardaway proved to be a useful bench piece in New York, averaging 9.6 points in 29.0 minutes of action per game following the deal. Only a few late-release sets managed to get a Knicks card of Hardaway into 2003-04 products, including Flair Final Edition.
Buy on: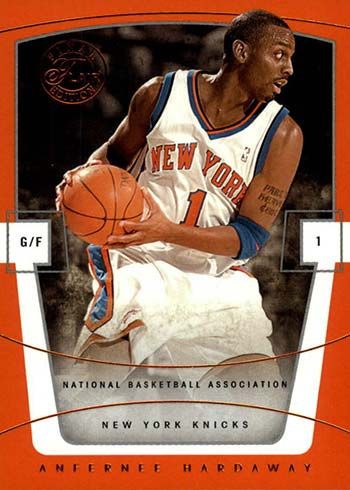 2007-08 Topps Chrome Refractors #48 Anfernee Hardaway /999
After sitting out the 2006-07 season, Hardaway returned to action for the 2007-08 campaign, signing with the Miami Heat where he rejoined Shaquille O'Neal. He played in 16 games, averaging 3.8 points, 2.2 rebounds and 2.2 assists in 20.3 minutes of action per contest before he was waived, bringing his NBA career to an end.
The chrome refractor version of his final Topps card is the perfect book end to the playing career portion of his collection.
Buy on: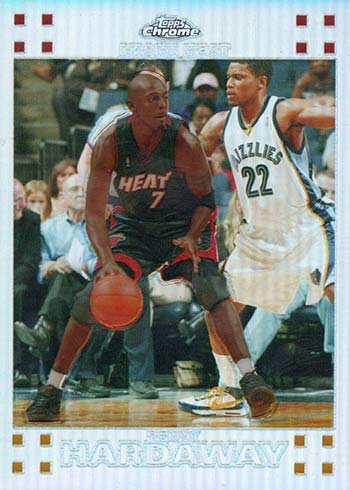 2021-22 Panini Prizm Draft Picks #88 Anfernee Hardaway
Due to his tremendous popularity during his playing days, Hardaway is still a popular inclusion in current sets, and he is still very much in the public eye as the head coach of the University of Memphis basketball team.
He wrapped up his playing career as a four-time All-Star who averaged 15.2 points, 5.0 assists and 4.5 rebounds per game, but those numbers don't come close to accurately telling the story of just how good he was in his prime.
Buy on: