Instant PC: 10 Career-Defining Edgar Martinez Baseball Cards
With so many different base cards, subsets, parallels, memorabilia cards and autographs, building out a collection for a single player can be overwhelming.
Luckily, the 10-Card Instant PC article series is here to help.
There are more than 4,500 Edgar Martinez cards, according to the Beckett database.
So where does one begin putting together an Edgar Martinez PC?
These 10 cards serve as an excellent representation of his playing career and footprint on the hobby, making them a great place to start.
1986 ProCards Chattanooga Lookouts #17 Edgar Martinez
The Mariners signed Martinez as a 19-year-old amateur free agent out of Puerto Rico on Dec. 19, 1982. After a forgettable pro debut, he hit .303/.414/.490 with 49 extra-base hits in 126 games at Single-A in 1984.
His first licensed minor league card was part of the 1986 ProCards set and pictured him as a member of the Double-A Chattanooga Lookouts.
Buy on: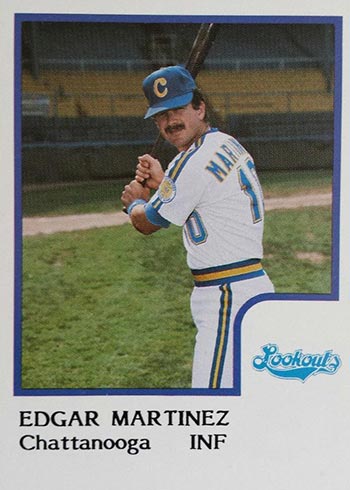 1988 Donruss Rookies #36 Edgar Martinez XRC
Martinez debuted as a September call-up in 1987, going 16-for-43 (.372 BA) with five doubles and two triples in 13 games. Despite that strong showing, he has just one Rookie Card in 1988 products. His only other major release came in the Donruss Rookies update set, which falls under the "XRC" category.
This is actually an error card. That's pitcher Edwin Nunez in the photo and not Martinez, though both players do have a similarly strong mustache game.
Buy on: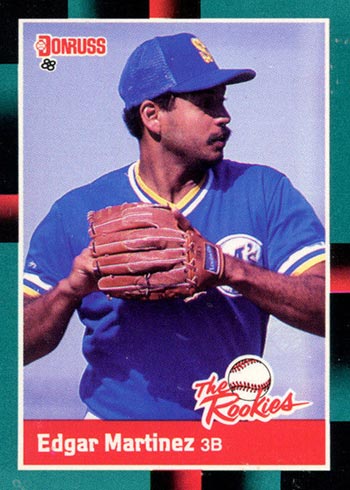 1988 Fleer #378 Edgar Martinez RC
This is the only true Rookie Card for Martinez. After his strong showing down the stretch in 1987, he again spent most of the '88 season in the minors, going 9-for-32 with four doubles in 14 games in the majors.
It's the most valuable card in a mass-produced 1988 Fleer set that also includes rookies of Tom Glavine, Mark Grace, Ken Caminiti, Matt Williams, Ron Gant, Ellis Burks and Jack McDowell.
Buy on: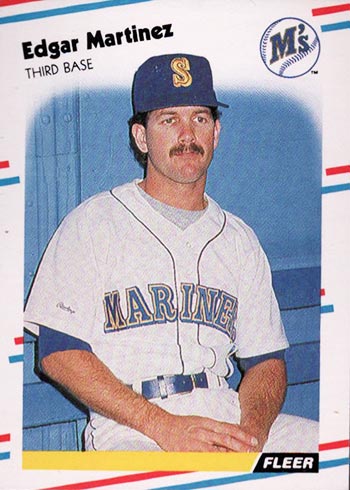 1990 Topps #148 Edgar Martinez
Martinez was included in the 1989 Bowman, Donruss, Fleer, Score and Upper Deck base sets, but he did not receive his first Topps flagship card until 1990 following his first extended big league action.
He hit .240/.314/.304 with five doubles, two home runs and 20 RBI in 196 plate appearances in '89. That offseason, veteran Jim Pressly was traded to the Atlanta Braves and Martinez seized the starting third base job. His career took off from there and he developed into one of the best hitters in the American League.
Buy on: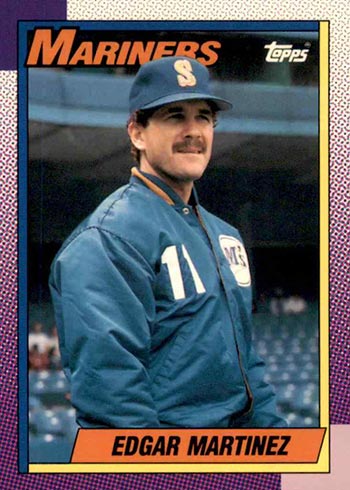 1993 Ultra All-Stars #15 Edgar Martinez
I'm a sucker for a 1990s insert and this one is about as 90s as it gets. The Ultra All-Stars inserts were found in 1:9 packs of Series 2 products. The 20-card set highlighted who Fleer felt was the best player at each position in each league during the 1992 season, with a relief pitcher included for the NL and a designated hitter included for the AL.
Still a third baseman at that point in his career, Martinez led the AL in batting average (.343) and doubles (46) while earning his first All-Star selection, winning his first Silver Slugger Award, and finishing 12th in AL MVP balloting.
Buy on: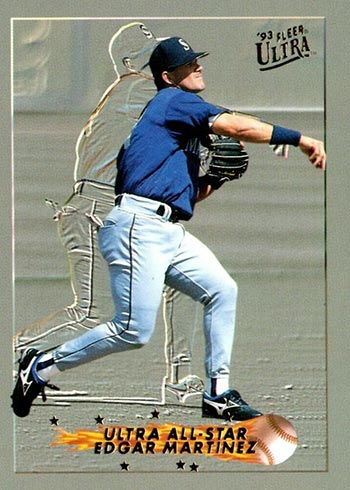 1996 Select Team Nucleus #9 Ken Griffey Jr./Edgar Martinez/Randy Johnson
The 1995 Mariners team memorably upset the New York Yankees in the ALDS on what has become known simply as "The Double" and in the process saved baseball in Seattle. Individually, it was one of the best seasons of Martinez's career, as he hit .356/.479/.628 with 52 doubles, 29 home runs and 113 RBI.
He is pictured here alongside fellow Hall of Famers Ken Griffey Jr. and Randy Johnson. The Team Nucleus insert cards were found in 1:18 packs of 1996 Pinnacle Select and have an estimated print run of 6,000.
Buy on:
2002 Ultra #223 Edgar Martinez/Ichiro Suzuki
Martinez was still going strong in 2001 when Ichiro Suzuki took the league by storm and helped lead the Mariners to a 116-win season. In his age-38 season, Martinez hit .306/.423/.543 with 40 doubles, 23 home runs and 116 RBI.
The two are pictured here as part of the "Team Players" subset of the 2002 Ultra set. The subset cards were found in 1:4 hobby packs and 1:10 retail packs, but were also included as part of the set's base checklist.
Buy on: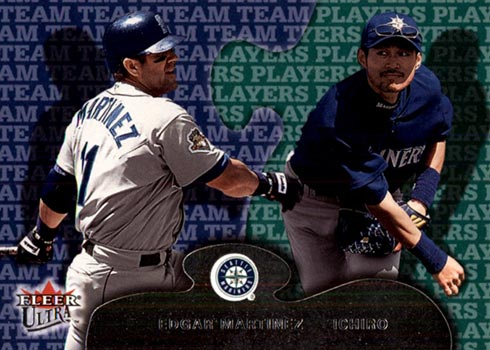 2005 Topps All-Time Fan Favorites Autographs #EM Edgar Martinez
There were a handful of different certified autograph cards of Martinez released during his playing career, including early ones in 1997 Donruss Signature, 1999 SP Signature and 2000 SkyBox Autographics.
However, this one from the 2005 Topps All-Time Fan Favorites is his first autographed card from Topps and it features a clean design, an on-card auto and an affordable price point.
Buy on: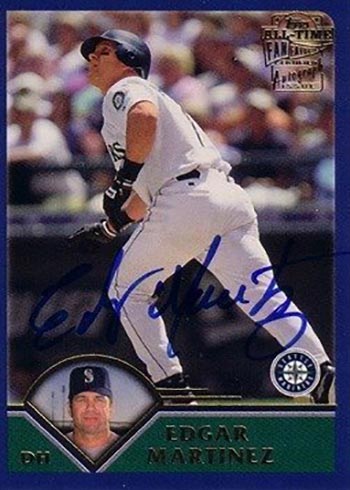 2012 Topps Timeless Talents #TT23 Edgar Martinez/David Ortiz
Martinez won the award for best designated hitter–now fittingly known as the Edgar Martinez Award–five times during his career. The only player to take home that honor more frequently was David Ortiz, who won it eight times during his stellar career with the Boston Red Sox.
The "Timeless Talents" inserts were featured in Series 1 of 2012 Topps flagship and found in 1:6 packs. The cards featured two players from different eras who shared a position, and other notable duos from the set include Derek Jeter/Cal Ripken Jr., Justin Verlander/Nolan Ryan and Matt Kemp/Willie Mays.
Buy on: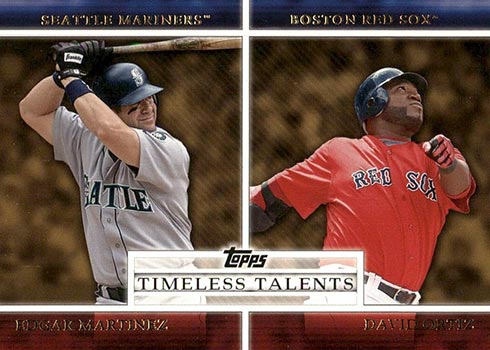 2014 Topps Archives #222 Edgar Martinez SP
What would it have looked like if Topps showed up to the party a year earlier and included Martinez in their 1989 flagship set? Something like this.
The 2014 Topps Archives sets featured throwbacks to the 1973, 1980, 1986 and 1989 designs, The 250-card base checklist features 50 short-printed cards that were found in 1:4 packs, one of which was the Martinez 1989 design.
Buy on: