10 Career-Defining Bartolo Colon Baseball Cards – Instant PC
With so many different base cards, subsets, parallels, memorabilia cards and autographs, building out a collection for a single player can be overwhelming.
Luckily, the 10-Card Instant PC article series is here to help.
There are more than 2,500 Bartolo Colon cards, according to the Beckett database.
So where does one begin putting together a Bartolo Colon PC?
These 10 cards serve as an excellent representation of his playing career and footprint on the hobby, making them a great place to start.
1995 Best #16 Bartolo Colon
Signed out of the Dominican Republic shortly after his 20th birthday on June 26, 1993, Colon made his pro debut in rookie ball in 1994. The following season he made the jump to High-A Kinston where he went 13-3 with a 1.96 ERA and 152 strikeouts in 128.2 innings, emerging as one of the top prospects in baseball in the process.
His first licensed card was part of the 1994 Fleer ProCards set. His 1995 Best is another minor league option that's more readily available.
Buy on: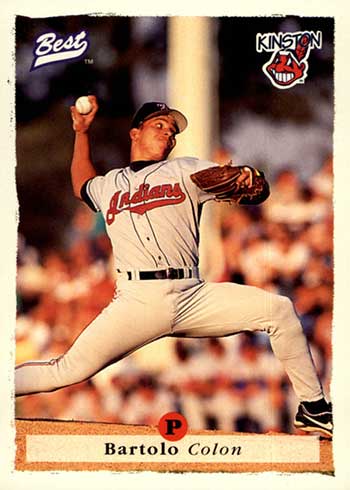 1995 Bowman #22 Bartolo Colon RC
Following his stateside debut in 1994, Colon earned a spot in the 1995 Bowman and 1995 Bowman's Best sets for his only two Rookie Cards.
Those cards generated some early interest following his stellar 1995 minor league campaign, and he began the 1996 season as the No. 15 prospect in all of baseball, according to Baseball America. Those two Bowman sets also include the only Rookie Cards of Andruw Jones, Vladimir Guerrero, Scott Rolen, Bobby Abreu and Chris Carpenter.
Buy on: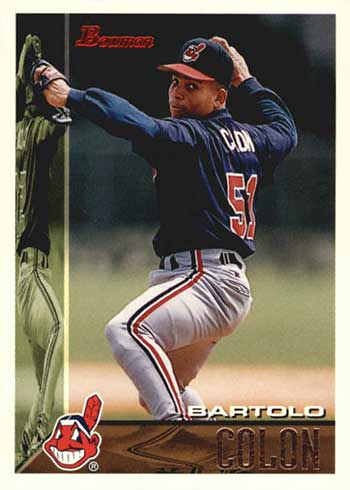 1997 Bowman Certified Blue Ink Autographs #CA15 Bartolo Colon
Colon made his MLB debut in 1997, breaking camp with a spot in the Cleveland rotation, but he was demoted back to the minors after struggling to a 10.24 ERA in three starts. He bounced back-and-forth between the majors and minors throughout the first half of the season before finally carving out a full-time role in mid-July. He wrapped up his rookie season with a 5.65 ERA in 94 innings.
His first MLB autographed cards were found in 1997 products, including one in the 1997 Bowman certified autographs set. The card has three different versions—blue ink, black ink and gold ink.
Buy on: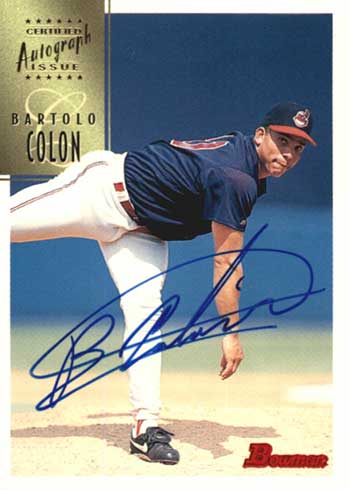 1998 Donruss Rated Rookies #13 Bartolo Colon
After his lackluster debut, Colon took a significant step forward in 1998. He was an All-Star for the first time, and finished the season 14-9 with a 3.71 ERA in 204 innings, tallying six complete games and two shutouts along the way.
The long-running "Rated Rookies" subset that was a staple in the Donruss flagship set in the 1980s and early 1990s was converted to an insert set in 1998. The 30-card checklist also includes Nomar Garciaparra, Miguel Tejada, Todd Helton and Paul Konerko.
Buy on: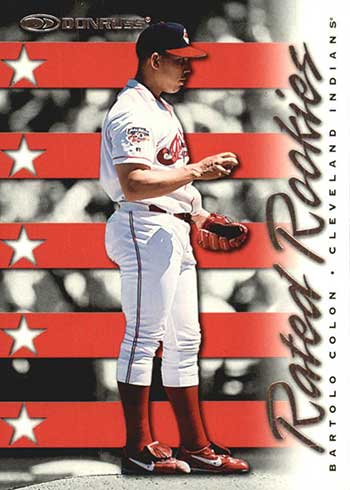 2002 Upper Deck Ovation #135 Bartolo Colon
After five and a half seasons in Cleveland, Colon was traded to the Montreal Expos at the 2002 deadline in exchange for prospects Cliff Lee, Brandon Phillips and Grady Sizemore. The Expos were chasing a playoff spot but came up just short, though Colon went 10-4 with a 3.31 ERA in 17 starts following the trade to finish 20-8 with a 2.93 ERA in 233.1 innings.
He made it into several late-release 2002 sets pictured in an Expos uniform, including the uniquely packaged 2002 Upper Deck Rookie Debut product which served as an update set for three different 2002 Upper Deck products—Honor Roll, Ovation and Victory.
Buy on: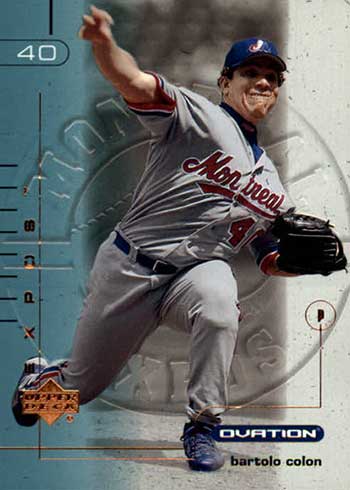 2006 Fleer Award Winners #AW4 Bartolo Colon
After spending the 2003 season with the White Sox following another trade, Colon signed a four-year, $51 million deal with the Angels. He won 18 games during his first season with his new team, then went 21-8 with a 3.48 ERA and 1.16 WHIP in 222.2 innings in 2005 to edge out Mariano Rivera and Johan Santana for AL Cy Young honors.
His Cy Young performance was recognized on a handful of different cards in 2006 products, including the six-card Fleer Award Winners insert set which honored the AL and NL MVP, Cy Young and Rookie of the Year winners from the previous season.
Buy on: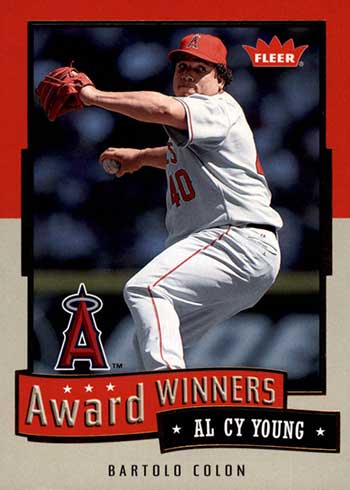 2011 Topps Update Diamond Anniversary #US145 Bartolo Colon
After being released by the White Sox down the stretch in 2009, a 37-year-old Colon spent the 2010 season resting a variety of shoulder and elbow issues. He signed a minor league deal with the Yankees prior to the 2011 season and played his way onto the roster, going 8-10 with a 4.00 ERA in 164.1 innings.
His only 2011 card was part of the Topps Update set, and it came in a variety of different parallel versions, including the over-the-top sparkly Diamond Anniversary parallel.
Buy on: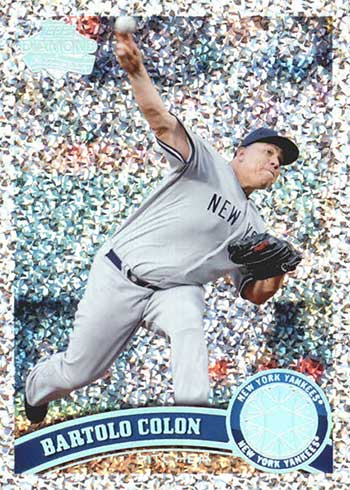 2013 Topps Update Emerald #US128 Bartolo Colon
A strong return with the Yankees netted Colon a one-year, $2 million deal from the Oakland Athletics in 2012. That was followed by another one-year contract in 2013 when he earned his third career All-Star selection, going 18-6 with a 2.65 ERA and 1.17 WHIP in 30 starts to finish sixth in AL Cy Young voting.
He has a 2013 Topps Update card recognizing his All-Star selection, and the emerald parallel version perfectly highlights his standout season in Oakland.
Buy on: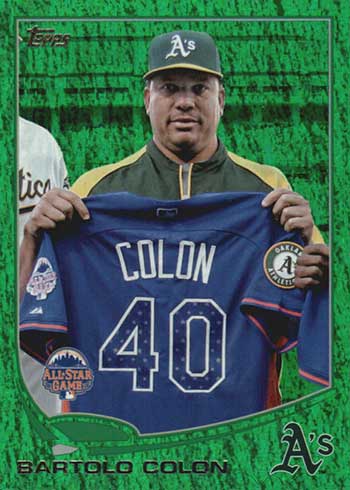 2016 Topps Now #57 Bartolo Colon
Still going strong into his 40s, Colon spent the 2014, 2015 and 2016 seasons with the New York Mets. He earned his fourth and final All-Star selection during the '16 season when he went 15-8 with a 3.43 ERA in 191.2 innings.
He also hit the first and only home run of his MLB career that season. It was captured the following day on this 2016 Topps Now card, which sold a then-record 8,826 copies. Although several have sold more in the years since, the number is still impressive. The card also commands strong prices despite the high print run.
Buy on: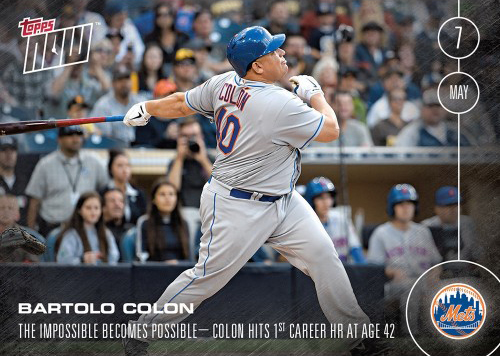 2018 Topps Heritage #606 Bartolo Colon
Colon played his 21st and final season with the Texas Rangers in 2018, wrapping up his MLB career ranked in the top 100 all-time in games started (522, 30th), wins (247, 50th), strikeouts (2,535, 36th) and innings pitched (3,461.2, 76th).
His final cards from his playing days were in the 2018 Topps Big League, Topps Heritage, Topps Triple Trades, Topps Update and a variety of Topps Now cards.
Buy on: