Instant PC: 10 Career-Defining Kenny Lofton Cards
With so many different base cards, subsets, parallels, memorabilia cards and autographs, building out a collection for a single player can be overwhelming.
Luckily, the 10-Card Instant PC article series is here to help.
There are more than 2,800 Kenny Lofton cards, according to the Beckett database.
So where does one begin putting together a Kenny Lofton PC?
These 10 cards serve as an excellent representation of his playing career and footprint on the hobby, making them a great place to start.
1991 Bowman #565 Kenny Lofton RC
A 17th-round pick in 1988 by the Houston Astros, Lofton hit .331 with a .407 on-base percentage and 62 steals in 124 games at High-A Osceola during a breakout 1990 season in the minors. That earned him a spot in a rookie-filled 1991 Bowman set in what is his only standard release Rookie Card.
Buy on: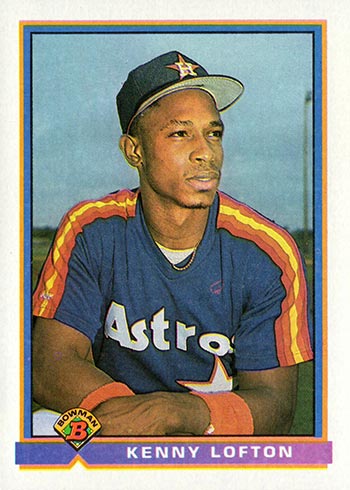 1991 Upper Deck Final Edition #24F Kenny Lofton RC
The only other Rookie Card in Lofton's database is in the 1991 Upper Deck Final Edition release. The 100-card update set is best known for featuring the only true Rookie Card of Pedro Martinez, and Rookie Cards of Jim Thome, Ivan Rodriguez and Ryan Klesko are also included in the checklist.
Buy on: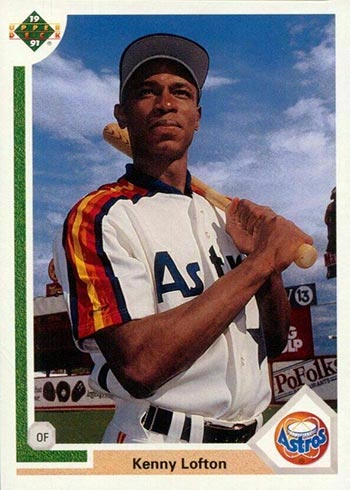 1992 Donruss #5 Kenny Lofton
Who doesn't love a "Rated Rookie" card? After a strong season at Triple-A and a 20-game cup of coffee in the majors down the stretch in 1991, Lofton began the 1992 season as the No. 28 prospect in baseball, according to Baseball America. Sluggers Jim Thome, Eric Karros, Bernie Williams, Ryan Klesko and Tino Martinez were among the other notable Rated Rookies in the 1992 Donruss base set.
Buy on: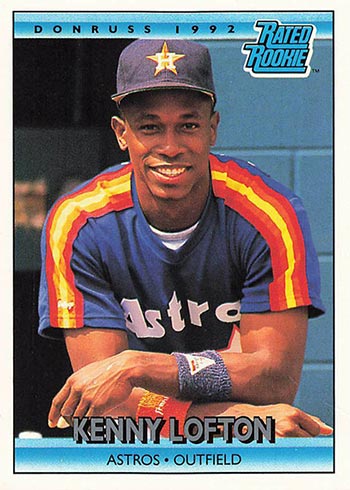 1992 Donruss Update #U6 Kenny Lofton
Pictured in the 1992 Donruss base set as a member of the Astros, Lofton was actually traded to the Cleveland Indians along with Dave Rohde in exchange for Willie Blair and Eddie Taubensee on Dec. 10, 1991. That earned Lofton a spot in the 1992 Donruss Update set, which was distributed in retail factory sets with four random cards from the 22-card checklist included in each box.
Buy on: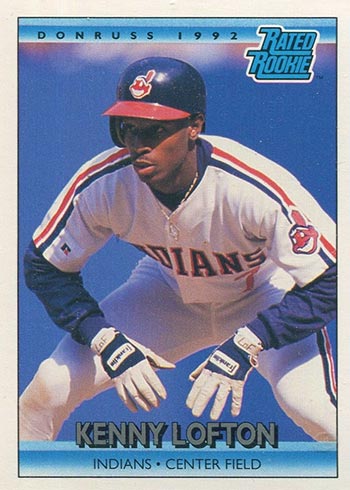 1992 Pinnacle #290 Kenny Lofton "Sidelines"
Lofton actually attended the University of Arizona on a basketball scholarship. The Wildcats reached the Final Four during his junior season in 1988, with Lofton averaging 4.7 points, 2.1 assists and 1.6 steals per game on a team that featured five future NBA players, including longtime San Antonio Spurs standout Sean Elliott.
Buy on: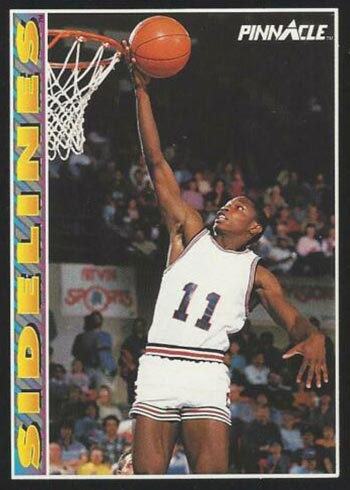 1992 Pinnacle Rookie Idols #7 Kenny Lofton
An 18-card set that featured some of the game's top rookies alongside established veterans with similar tools, the Rookie Idols inserts were a tough pull at 1:100 packs of 1992 Pinnacle Series 2. The Henderson comparison for Lofton proved to be a good one, as he swiped an AL-leading 66 steals as a rookie in '92.
Buy on: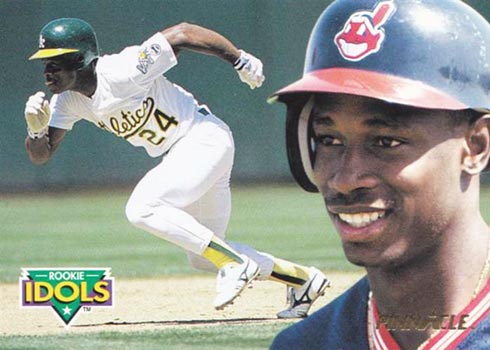 1993 Topps #331 Kenny Lofton
The everyday center fielder for the Cleveland Indians as a rookie in 1992, Lofton hit .285/.362/.365 with 66 steals and 96 runs scored to finish runner-up to Pat Listach in AL Rookie of the Year voting. That performance earned him a spot on the Topps All-Star Rookie team and a Rookie Cup on his 1993 Topps flagship card.
Buy on: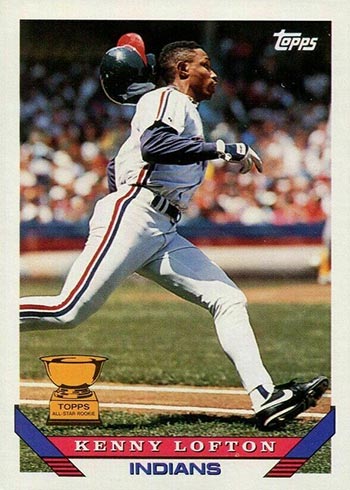 1994 Flair Hot Gloves #4 Kenny Lofton
One of the first die-cut inserts ever produced, the 1994 Flair Hot Gloves cards were included 1:24 packs in Series 2. The set is loaded with big names, including Ken Griffey Jr., Barry Bonds, Cal Ripken Jr. and Greg Maddux, and it stands out as one of the cooler Lofton inserts from the 1990s insert boom.
Buy on: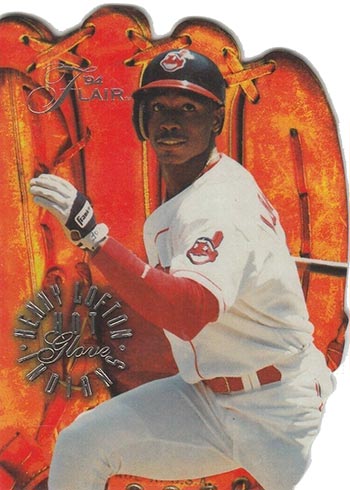 1996 Leaf Signature Autographs #139 Kenny Lofton
Like many 1990s players, Lofton had his first autographed card in the groundbreaking 1996 Leaf Signature set. One of the short-printed cards in the set, Lofton has a print run of just 700, making this a tough one to find. It's a beautiful set, though, and this is a must-own for any Lofton collector.
Buy on: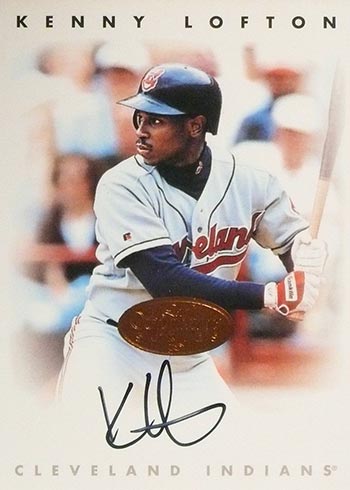 2008 Topps #93 Kenny Lofton
The final Topps card of Lofton's 17-year career, this one is worth picking up for the stat back. A hired gun during the second half of his career, Lofton played for nine different teams over his final six years. He played in the postseason five times during that stretch, making his mark on a number of different organizations along the way.
Buy on: