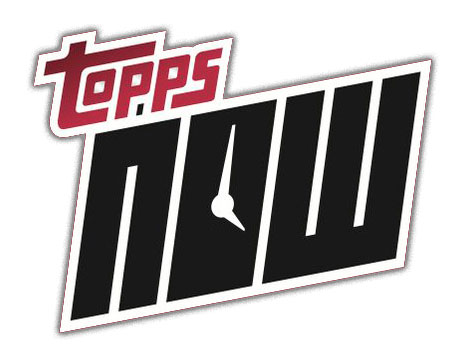 By Ryan Cracknell | Hobby Editor
2017 Topps Now Baseball sees print-on-demand cards return for a second season. And while much of the concept remains the same, some changes show the line is evolving.
The foundation of 2017 Topps Now Baseball looks to be the same as 2016. As big and memorable events happen, new cards are made and released the following day. Sold on the Topps website, the main set has a sales window of just 24 hours. This can vary, though, for special releases.
By doing new cards daily, the set takes on a storytelling approach, weaving in dramatic moments and milestones as they happen.
The cost remains $9.99 for single cards with significant discounts for bulk orders of five, ten and 20 copies of the same cards. So while the program is direct from Topps to the consumer, it allows a way for hobby shop owners to cater to their local market. A handful of people also sell singles on eBay shortly after Topps lists them, often for a small discount versus buying one copy through Topps.
2017 Topps Now Baseball launched with special Road to Opening Day team sets. Sold during Spring Taining, each starts with 15 cards and has the opportunity to grow based on potential in-season achievements. The set also gave collectors a first look at the 2017 design.
Once Opening Day arrived, the main set started with Evan Longoria topping the checklist after he hit the first home run of the season.
Highest Print Runs
To date, here are the five 2017 Topps Now cards with the highest print runs.
Aaron Judge #238 – 8,623
Derek Jeter #147 -7,791
Derek Jeter #148 – 5,751
Cody Bellinger #270 – 3,525
Albert Pujols #217 – 3,177
Smallest Print Runs
On the opposite end of the spectrum, here are the five cards offered so far that were ordered in the smallest numbers (from main base cards, not autographs, relics and other special editions).
Khris Davis #257 – 138
Jimmy Nelson #265 – 140
Corey Knebel #278 – 140
Elvis Andrus #74 – 143
Cameron Maybin #232 – 143
2017 Topps Now Golden Tickets
One of the new additions to 2017 Topps Now are Golden Tickets. These are inserted in packs of 2017 Topps Series 1 and Series 2 and are good for specially stamped parallels of the daily cards.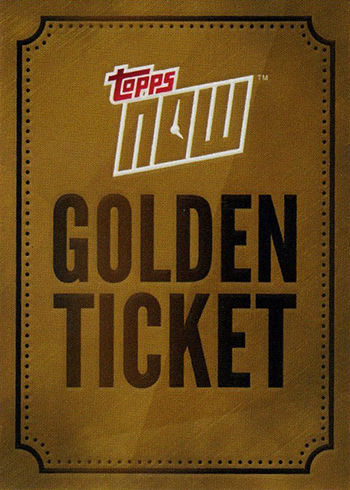 Each day of the 2017 MLB regular season has a special Golden Ticket card. On the back is a specific date. Series 1 covers Opening Day on April 2 through to July 9, the start of the All-Star Break. 2017 Topps Series 2 Golden Tickets tackle the second half of the season from July 14 to October 1.
The back of each 2017 Topps Now Golden Ticket has a specific date. If you have the card from that day, you get that day's cards. That could mean multiple cards if it's an eventful day. The stamped parallels are also one-of-ones. Understandably, the tickets have been fetching strong asking prices on eBay when they're listed.
Pulling one of the Golden Tickets isn't easy. They're inserted 1:21,856 Series 1 hobby packs and 1:4,444 hobby jumbo. 2017 Topps Series 1 has a total of 99 Golden Tickets. Series 2 is slated to have 80.
According the to official rules, there's also a No Purchase Necessary option. By sending in your name, address and contact information on an index card, you can have a chance at one of the Golden Tickets. These requests can be sent to:
The Topps Company
Topps Now Golden Ticket Promotion NPN
1 Whitehall Street
New York, NY 10004
Topps has additional Topps Now Golden Ticket details posted on their blog.
Team Reserve
For team collectors, Topps has introduced a subscription service of sorts for 2017 Topps Now Baseball called Team Reserve. In a nutshell, you buy the next three, five or ten cards of the team of your choice. So when cards are released, you'll automatically have them sent to you and you won't have to worry about the short sales window.
In additional to being able to reserve the cards, collectors can also pick how many copies of each that they want.
Single- and multi-player cards count in the Team Reserve program.
Comments? Questions? Contact Ryan Cracknell on Twitter @tradercracks.