2017 Topps Now Postseason Baseball Checklist, Autographs, Bonus Cards and More
2017 Topps Now Postseason Baseball highlights the ten teams that made it to the playoffs. Offered as team sets, each includes 15 key players. Select teams also came with upgraded autograph options.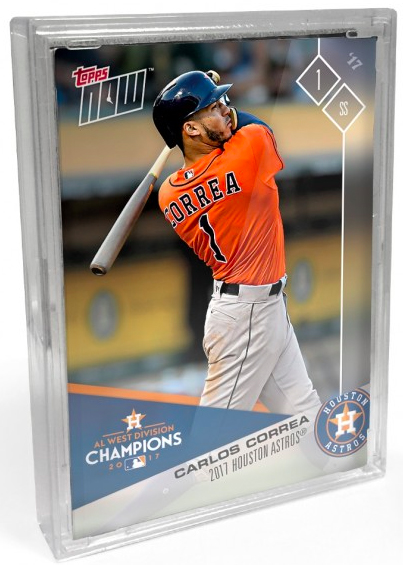 True to Topps Now fashion, print runs were limited to the sets that ordered. However, unlike 2017 Topps Now Baseball cards, the sales window was longer than 24 hours. As teams qualified for the playoffs, 2017 Topps Now Postseason Baseball sets were put up for order. Actual print runs vary a lot from team to team. The Yankees have the highest with 920 sets. The Colorado Rockies are on the other end with just 54 sets.
As an added incentive, teams winning playoff rounds received bonus cards. These came at no added expense. Bonus cards weren't offered individually, either.
Clubs with autograph options came with the regular team set plus an additional signed card. Signers were limited to two to four players. That meant an element of surprise but not a huge list on the team level.
Base autographs are numbered to 99 copies. Randomly inserted parallels come numbered to 49, 25, 10 and 1/1.
2017 Topps Now Postseason Baseball Checklist
American League
Boston Red Sox
Print Run: 423 sets
Andrew Benintendi
Rafael Devers
Mookie Betts
Chris Sale
Xander Bogaerts
Hanley Ramirez
Eduardo Nunez
Dustin Pedroia
Mitch Moreland
Craig Kimbrel
Sam Travis
Christian Vazquez
Jackie Bradley Jr.
Drew Pomeranz
David Price
Autographs
Andrew Beintendi
Chris Sale
Cleveland Indians
Print Run: 776 sets
Francisco Lindor
Edwin Encarnacion
Corey Kluber
Bradley Zimmer
Jay Bruce
Jose Ramirez
Andrew Miller
Cody Allen
Francisco Meija
Carlos Santana
Austin Jackson
Carlos Carrasco
Lonnie Chisenhall
Yan Gomes
Jason Kipnis
Autographs
Edwin Encarnacion
Corey Kluber
Jose Ramirez
Houston Astros
Print Run: 430 sets
Carlos Correa
Jose Altuve
Dallas Keuchel
Justin Verlander
Yuli Gurriel
Alex Bregman
Cameron Maybin
Ken Giles
George Springer
Josh Reddick
Lance McCullers Jr.
Carlos Beltran
Brian McCann
Joe Musgrove
Derek Fisher
Autographs
Jose Altuve
Carlos Correa
Bonus
PSB-1 Houston Astros – Astros Advance to First ALCS with Game 4 Win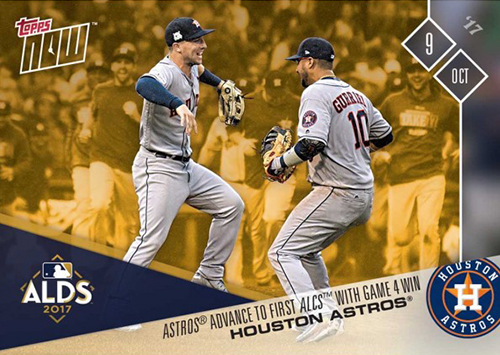 Minnesota Twins
Print Run: 86 sets
Joe Mauer
Ervin Santana
Brian Dozier
Max Kepler
Jose Berrios
Jorge Polanco
Jason Castro
Byron Buxton
Eddie Rosario
Zack Granite
Adalberto Mejia
Miguel Sano
Trevor Hildenberger
Alan Busenitz
Eduardo Escobar
New York Yankees
Print Run: 920 sets
Aaron Judge
Didi Gregorius
Luis Severino
Masahiro Tanaka
Greg Bird
Starlin Castro
Gary Sanchez
Todd Frazier
Sonny Gray
Brett Gardner
Matt Holliday
Aroldis Chapman
Dellin Betances
Jacoby Ellsbury
Clint Frazier
Autographs
Sonny Gray
Aaron Judge – /25, /10, 1/1 only
Gary Sanchez
Luis Severino
Bonus
PSB-3 Did Gregorius – 2-HR Game Fuels Yankees Win to Advance to ALCS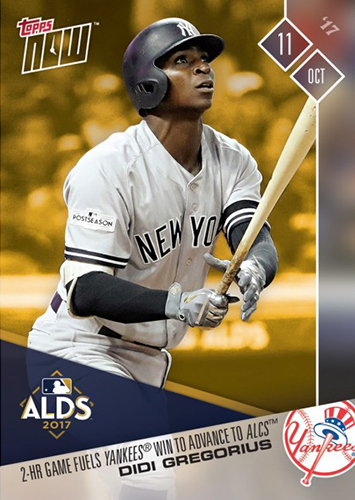 National League
Arizona Diamondbacks
Print Run: 130 sets
Paul Goldschmidt
J.D. Martinez
Zack Greinke
Robbie Ray
Jake Lamb
Ketel Marte
A.J. Pollock
David Peralta
Brandon Drury
Fernando Rodney
Daniel Descalso
Archie Bradley
Chris Iannetta
Braden Shipley
Patrick Corbin
Chicago Cubs
Print Run: 889 sets
Kris Bryant
Anthony Rizzo
Jon Lester
Jake Arrieta
Javier Baez
Ian Happ
Wade Davis
Jayson Heyward
Kyle Schwarber
Addison Russell
Wilson Contreras
Jose Quintana
Albert Almora Jr.
Carl Edwards Jr.
Alex Avila
Autographs
Javier Baez
Kris Bryant
Ian Happ
Bonus
PSB-4 Addison Russell – 4 RBI & Pair of Clutch Doubles Spark Cubs Offense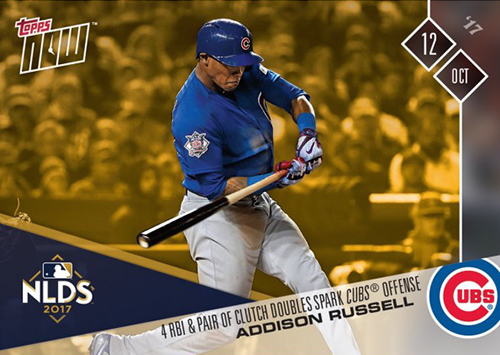 Colorado Rockies
Print Run: 54 sets
Nolan Arenado
Charlie Blackmon
Trevor Story
Carlos Gonzalez
Jonathan Lucroy
Jon Gray
Chad Bettis
Ian Desmond
Greg Holland
Pat Neshek
DJ LeMahieu
German Marquez
Mark Reynolds
Gerardo Parra
Raimel Tapia
Los Angeles Dodgers
Print Run: 879 sets
1 Cody Bellinger
2 Alex Wood
3 Clayton Kershaw
4 Corey Seager
5 Justin Turner
6 Yasiel Puig
7 Yu Darvish
8 Curtis Granderson
9 Walker Bueler
10 Alex Verdugo
11 Chase Utley
12 Kenley Jansen
13 Kenta Maeda
14 Yasmani Grandal
15 Chris Taylor
Autographs
Cody Bellinger
Clayton Kershaw
Alex Wood
Bonus
PSB-2 Los Angeles Dodgers – Dodgers Complete Sweep & Advance to NLCS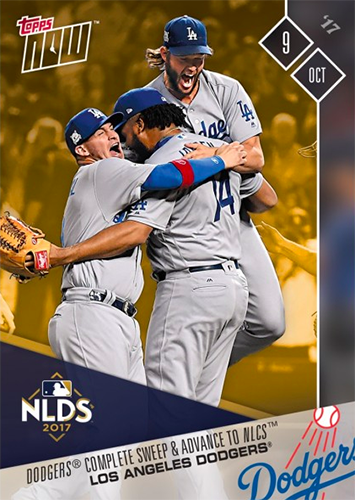 Washington Nationals
Print Run: 171 sets
1 Bryce Harper
2 Trea Turner
3 Daniel Murphy
4 Ryan Zimmerman
5 Max Scherzer
6 Jayson Werth
7 Anthony Rendon
8 Stephen Strasburg
9 Gio Gonzalez
10 Victor Robles
11 Michael Taylor
12 Anthony Sanchez
13 Matt Weiters
14 Ryan Madson
15 Sean Doolittle
Comments? Questions? Contact Ryan Cracknell on Twitter @tradercracks or by email.