You'll never guess who tops MLB jersey sales …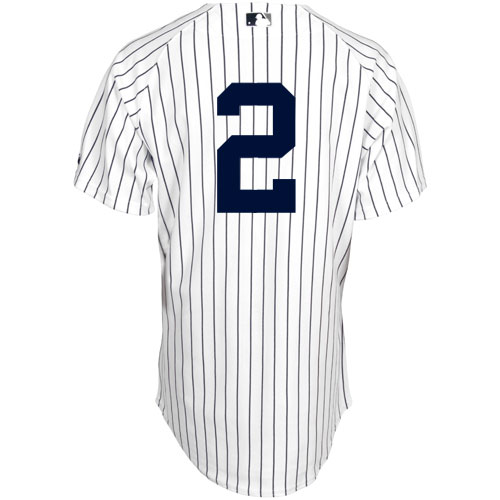 By Chris Olds | Baseball Editor
One might think that everybody who wants a Derek Jeter jersey already has one, but 16 years after he made his big-league debut he's still the game's No. 1-seller.
That just shows you the power of pinstripes.
The New York Yankees shortstop topped the list of the 20 best-selling jerseys, according to Majestic sales figures last year released by Major League Baseball on Wednesday.
Two other Yanks, Alex Rodriguez (ninth) and Mark Teixeira (11th), also made the list, which was released for the first time.
The Philadelphia Phillies — another pinstriped team — placed three in the top five with newcomer Roy Halladay checking in third in his first season with the team, Chase Utley fourth and Cliff Lee fifth — though his stats include jersey sales for all three teams he has appeared on in the last year or so, the Mariners, Rangers and now Phillies.
Interestingly, a trio of rookies made the list — Atlanta's Jason Heyward (12th), Washington's Stephen Strasburg (13th) and NL Rookie of the Year Buster Posey at 19th.
MLB also released its list of the top-selling teams for all licensed merchandise. Not surprisingly, it's a list topped by the New York Yankees. MLB reported that overall sales of licensed merchandise increased by six percent last year and hit an all-time high in 2010.
You can see both lists below.
MLB's Most-popular jerseys
1. Derek Jeter, Yankees
2. Joe Mauer, Twins
3. Roy Halladay, Phillies
4. Chase Utley, Phillies
5. *Cliff Lee, Phillies
6. Albert Pujols,  Cardinals
7. Josh Hamilton, Rangers
8. Dustin Pedroia, Red Sox
9. Alex Rodriguez, Yankees
10. Tim Lincecum, Giants
11. Mark Teixeira, Yankees
12. Jason Heyward, Braves
13. Stephen Strasburg, Nationals
14. Ryan Braun, Brewers
15. Justin Morneau, Twins
16. Jacoby Ellsbury, Red Sox
17. Ian Kinsler, Rangers
18. Ryan Howard, Phillies
19. Buster Posey, Giants
20. Evan Longoria, Rays
Best-selling teams (all licensed merchandise)
1. New York Yankees
2. Boston Red Sox
3. Los Angeles Dodgers
4. Philadelphia Phillies
5. Chicago Cubs
6. St. Louis Cardinals
7. Chicago White Sox
8. Atlanta Braves
9. Minnesota Twins
10. Detroit Tigers
Chris Olds is the editor of Beckett Baseball. Have a comment, question or idea? Send an e-mail to him at colds@beckett.com. Follow him on Twitter by clicking here.