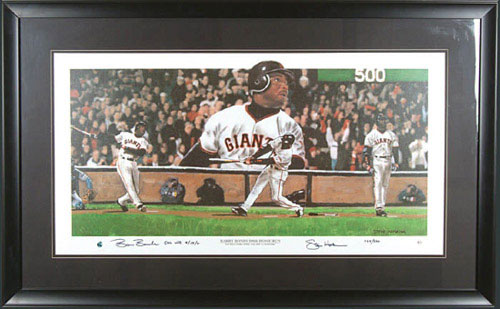 By Chris Olds | Baseball Editor | Commentary
While the outcome is up in the air, one thing is certain — the Barry Bonds perjury trial probably can't hurt the market for the sports cards and memorabilia of Major League Baseball's home run king.
Why? The market for Bonds' cards is as soft as it's been in some time as the cloud of the BALCO investigation and whether Bonds used steroids or other performance-enhancing drugs have worn on collectors.
However, those of us who remember the late-night home-shopping shows around the time of Bonds' past record book pummelings might remember a piece of trivia that comes into play to this day, which is, by the way, the third day of the Bonds trial. The 2001 500th Home Run print seen above was one of the many items hocked on television and one of the talking heads during those hard-sell pitches was the artist who created it, Steve Hoskins.
Who's Steve Hoskins? He's one of the people testifying against Bonds, alleging that Bonds knowingly used steroids and, in turn, lied to government investigators in the BALCO case. Hoskins was a childhood friend of Bonds who became a business partner with the slugger before their relationship soured over allegations of forging his signature and embezzling money from their business ventures.
We all know that scandals can have some effect on sports cards — see O.J. Simpson, for example — but with baseball and its steroids issues we've seen nothing but a downward spiral for those who have admitted or have serious suspicions looming over their legacies. But this particular print, which was fully authenticated by James Spence, seems to have a bit more of a twist, a bit more touch of scandal, to it simply because of who created (and signed) it and the twist to the story that it now includes.

The print sold in the 2007 Robert Edward Auctions sale for just $352.50. (It was from the Barry Halper collection, so that might have helped its end result, too.) Is that too low for an item signed by Bonds and Hoskins? That's for the markets to decide, though there are other Hoskins creations signed by Bonds out on the market, too.
Plenty could happen as far as the trial's outcome — and really, a guilty verdict could hurt Bonds' cards and memorabilia more. But one thing's for sure — you won't see more Hoskins items being signed.
Chris Olds is the editor of Beckett Baseball. Have a comment, question or idea? Send an e-mail to him at colds@beckett.com. Follow him on Twitter by clicking here.