Why I Love 1986 Topps Traded and Loathe 1986 Topps Baseball
In 1986, my life revolved around G.I. Joe and Transformers (at least until they broke my young heart when they killed off Optimus Prime and virtually every other Autobot and Decepticon in Transformers: The Movie). Baseball wasn't among my interests yet, let alone baseball cards.
But it turns out that 1986 has my favorite set of the decade as well one of my most hated. And they're both from the same general line. Welcome to my love-hate relationship with 1986 Topps (hate) and 1986 Topps Traded (love) Baseball.
Exotic Cards in the Great White North
Like many, I got serious into collecting cards in the late '80s. Living in Canada, O-Pee-Chee Hockey was always easy for me to find. I had a pair of corner stores within walking distance that always seemed to have a box or two.
It was similar for baseball, although that didn't pick up until 1989. And even then, all the places I could reach within my bike-riding limits carried O-Pee-Chee and nothing else.
Today, all this sounds like a best-possible-scenario and one that I took for granted. But for me, the allure of card collecting has been the chase. So that gave anything other than O-Pee-Chee an exotic, desirable quality.
Yes, there was a time when even 1988 Donruss Baseball was intriguing to me.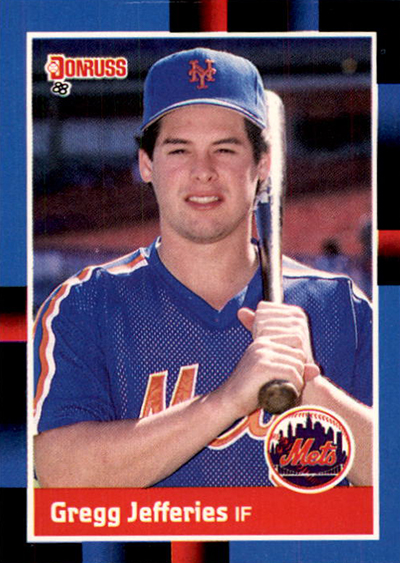 I knew of American baseball cards from Beckett magazines, which, for a time, were easier for me to find than the cards themselves.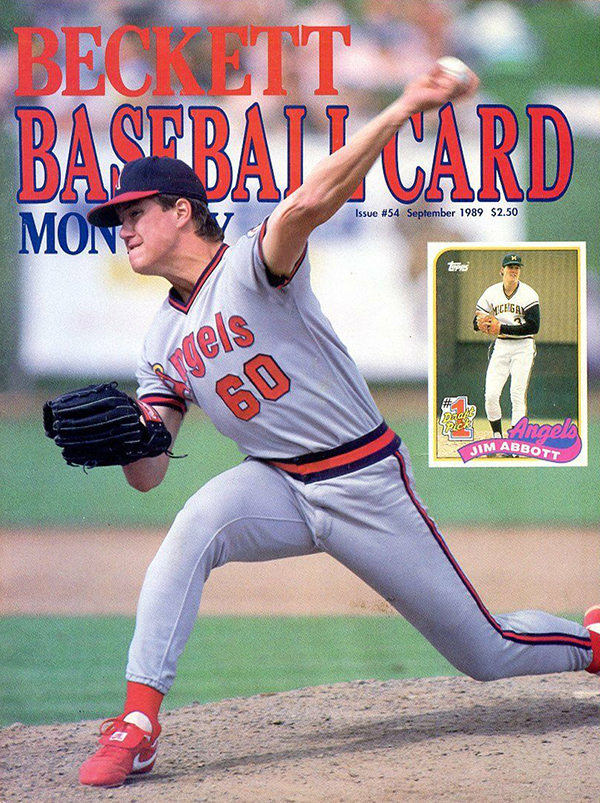 The closest I came to a lot of these sets looking through a friend's stack who was lucky enough to find some Donruss, Topps and Fleer cards. Pretty much the only way my circle of friends on schoolmates would get them was on a  weekend shopping trip down to Washington State or their parents brought them back a few packs as a guilt-clearing souvenir from a parents-only weekend in Reno.
For the young folks reading this, collecting before the Internet was a lot different.
I never saw packs of 1986 Topps Baseball in my neck of the woods until probably close to a decade later. I'd encounter the odd card here and there in my friends' stacks but not much. That was okay. Nothing much about the set captured my attention.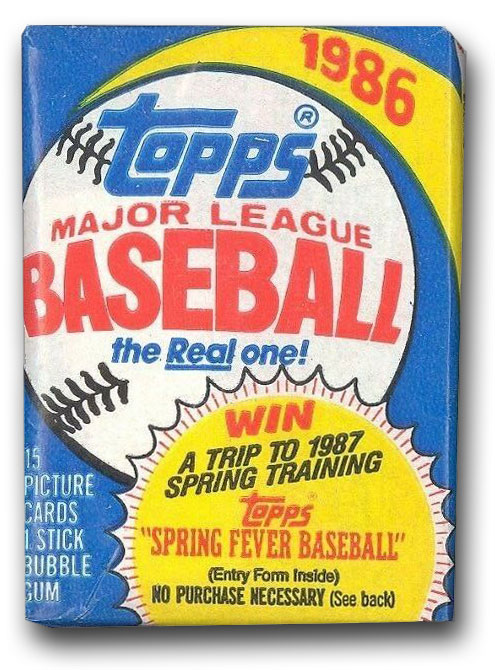 But 1986 Topps Traded Baseball was a different story. Nobody had any. It was only sold as a set. And to get that set, I'd have to look to the fine print of a mail order ad in a magazine. After that, I'd have to convince my mom to buy me an American money order so that I could send away for it and wait. And to convince my mom to get the money order, I'd have to endure a conversation about spending money wisely, convincing her of the greatness of this set and hope that she wasn't in one of her dreaded and arbitrary "No, you can save your money" moods.
For me, there were exotic baseball cards and then there was 1986 Topps Traded exotic.
I had to have it.
Bonds, Bo and Canseco
Jose Canseco was king when I first got into collecting. A decade later, it was Barry Bonds. Today, I'm personally partial to that beaming Bo Jackson.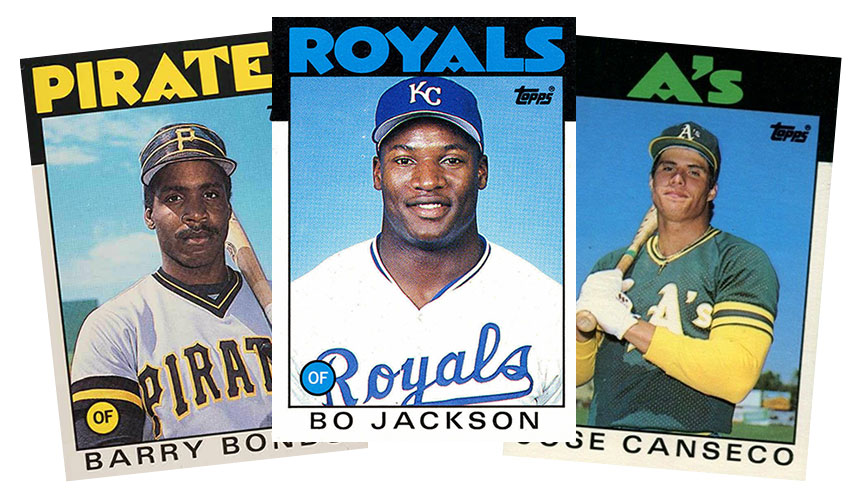 The point is, the 1986 Topps Traded checklist is one of the greatest assembled in my lifetime. A compact 132 cards, it's dense with XRC of players that border somewhere on the scale of good to great. Besides my personal trinity, you've got Will Clark, Andres Galarraga, Bobby Bonilla, Wally Joyner — deep breath — John Kruk, Otis Nixon, Kevin Mitchell, Mitch Williams and Bip Robert, to name a lot.
Now take a look at the main 1986 Topps Baseball checklist and it's not nearly as exciting. Dare I say, it's boring.
Cecil, Ozzie and the Usual Suspects of 1986 Topps Baseball
Whereas the 1986 Topps Traded Baseball is an exercise in precision over the course of its small size, 1986 Topps Baseball is a bloated 792 cards. Yes, it has all the stars of the day. The Pete Rose tribute is a nice way to kick things off (although I prefer the similar Nolan Ryan cards from 1990). And the ghosting effect of the Team Leaders subset stands out.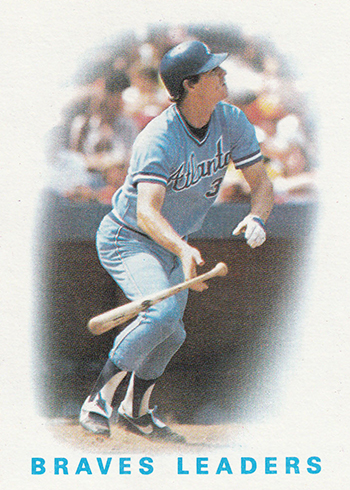 But a big thing for any flagship set is its Rookie Card selection. Some of that is luck but some of it is skill. Donruss and Fleer managed to get Jose Canseco into their sets. Topps totally missed out the first time around. And that has to have made an impact both then and now. In many cases, one great card can elevate an entire set. As far as Rookie Cards go, 1986 Topps is led by players like Cecil Fielder, Darren Daulton and Ozzie Guillen. Those names are pretty good, but I'm not even sure any of them inch into the second-tier of 1986 Topps Traded.
1986 Topps Baseball lacks an anchor, that one card you instantly think of whenever it's mentioned. Even though his star power has waned, Jose Canseco could have been that card, much like he is in 1986 Donruss. It might not be the $100 card it once was, but everyone still knows it and that dirty peach fuzz mustache.
I don't get the same instant recall for Papa Fielder. Or anything about 1986 Topps Baseball, really. And that's the biggest letdown.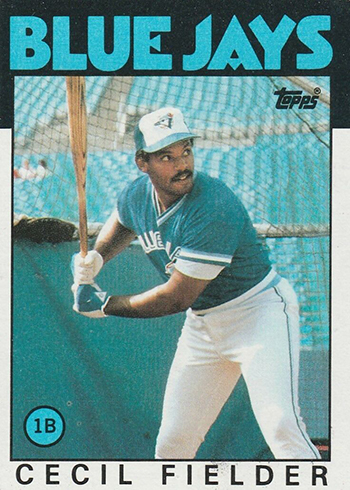 Is It Possible to Hate the Same Design in One Set and Like It in Another?
Here's where I have a bit of a personal struggle with 1986 Topps and Topps Traded. Spread across 792 cards, the design does nothing for me except the subsets.
The team name is overpowering at the top. The font choice looks like it's something straight out of a stencil book I bought from a Scholastic book order around the same time. What works for science title pages at the front of a well-worn duo tang isn't the same for a set of baseball cards.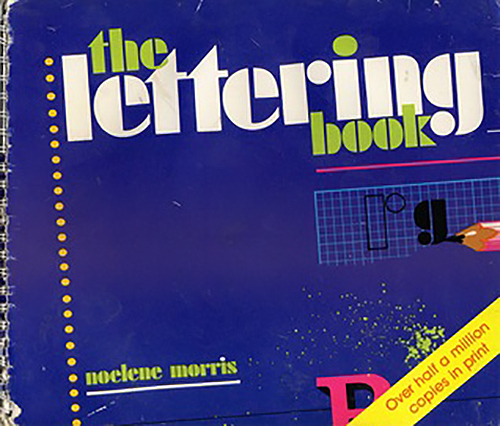 So for the main set, I pretty much hate it. I know some love it and that's fine. I just don't feel it.
But here's where it gets weird. The Bo Jackson, Jose Canseco and Barry Bonds cards are so iconic to me that I don't even really notice the design. It is exactly the same except for the brighter card backs.
Looking a little closer, I think I've isolated a couple of reasons. First, there's the personal side of wanting the Traded set for so long that I'm forgiving. There's not any real logic to it. It just is.
But I think there's something more concrete going on. My favorite cards are all portraits. The thick borders of the front work better. They're essentially picture frames.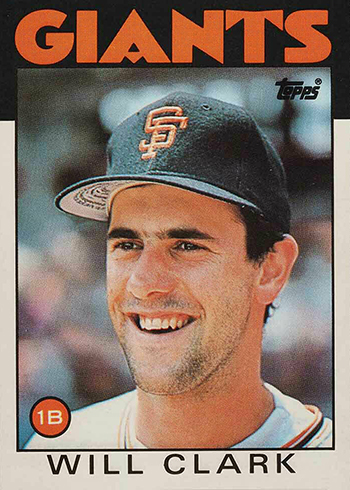 While portraits figure fairly heavily in the main set as well, there are a lot of action shots as well. But they're so tight. There's no room for the movement to breath. It's the cardboard equivalent of claustrophobia.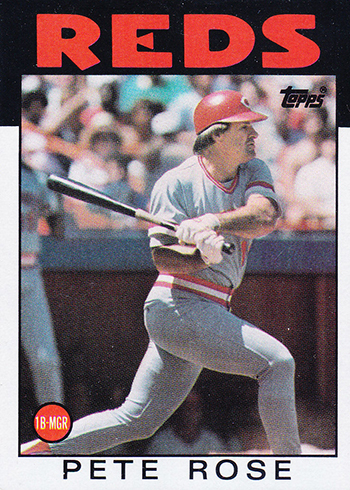 Sometimes collecting doesn't make sense. That's one of its beauties. It's an individual pursuit that we all experience differently. There's nothing anyone can do to make me like 1986 Topps Baseball. To me, it's ugly and boring. But when you tighten things up and add three of the cards I wanted most growing up, 1986 Topps Traded can do no wrong.