12 Vintage Muhammad Ali Cards You Might Not Have Seen Before
He might be the undisputed GOAT, but when it comes to Muhammad Ali cards — especially vintage ones — he's something of an enigma. In fact, the first "traditional" Muhammad Ali cards to be released in North America didn't come out until almost two years after his final fight in the 1983 Topps History's Greatest Olympians set.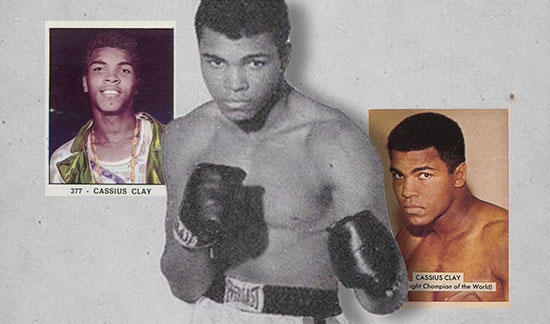 But that doesn't mean that The Greatest doesn't have anything from his days in the ring. You just have to look in some other places, some non-traditional forms and under the name Cassius Clay to uncover some gems that are still overlooked by mainstream collecting audiences. But this also makes defining the true Muhammad Ali rookie card tough.
When it comes to vintage cards, reaching a consensus on rookies can be tough, even when those cards come from North America. Muhammad Ali's case is an extraordinary one. As a result, his early cards come from a variety of places and sources. Some are hand-cut cards, others come from magazines and others still are stickers. Depending on where you look or who you listen to, the Muhammad Ali rookie card changes so it ultimately comes down to personal preference.
And while vintage Muhammad Ali cards certainly can command strong values and prices, they're not as strong as other athletes of his stature (or even less). At any rate, Ali is a legend in every sense and his early cards offer both a look at the fighter and highlight how the hobby at the time could be both simple and confusing at the same time.
Vintage Muhammad Ali Cards Of Note
This is not an exhaustive list of vintage Muhammad Ali/Cassius Clay cards. Think of it as highlights of some of his most important early cards.
1958-62 Exhibit Cassius Clay
The Exhibit Supply Company has a long history of producing all sorts of over-sized cards and ephemera in several sports and other areas. These were often distributed through vending machines. The 1958-62 Exhibit Boxing series features 16 fighters. The biggest? Cassius Clay. Although distributed over a number of years, the 1958-62 Exhibit Cassius Clay is still one of his earliest entries into the hobby. Larger than traditional tradition cards, it measures 3 1/4″ by 5 3/8″.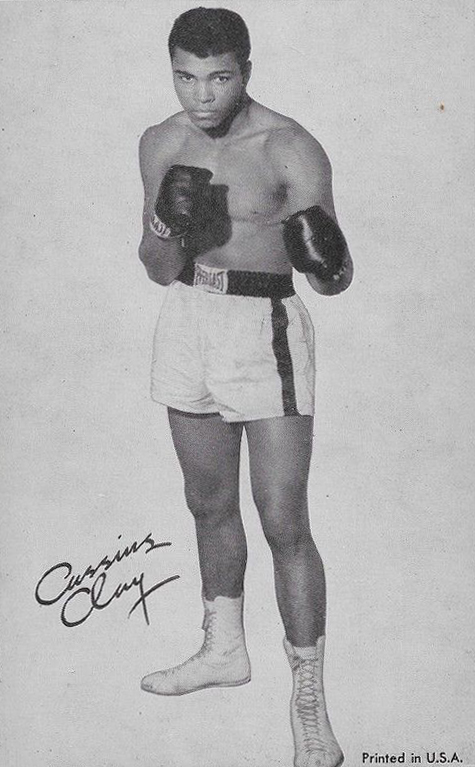 1960 Hemmets Journal Cassius Clay #23
Released in Sweden, the 1960 Hemmets Journal set is based on the 1960 Summer Olympics. It features many athletes from several sports, Cassius Clay among them. Cards were done in a sheet form that's hole punched on the side to fit into an album. That meant individual cards had to be cut out if not left in tact. Clay is joined by John Ljunggren, Wilma Rudolph and Harald Nielsen.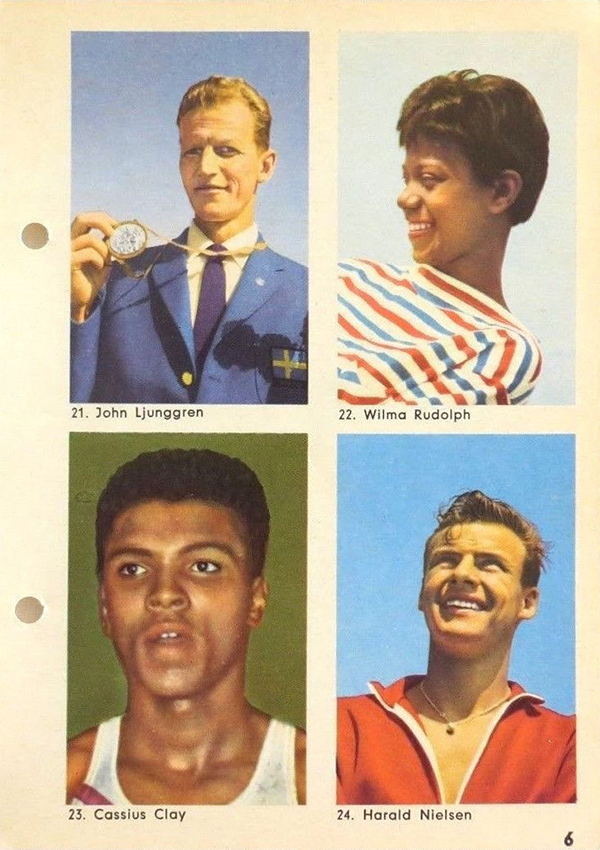 1964 Chocolates Simon Cassius Clay #87
If this style of image were used for anyone but Ali, it would probably be awkward. Some might think it still is but others will see it for the charisma it brings to the table. The 1964 Simon Chocolates Cassius Clay is one of his first recognized cards to come already cut. As the name suggests, it came packaged with chocolate. Others in the set include The Beatles and Pelé.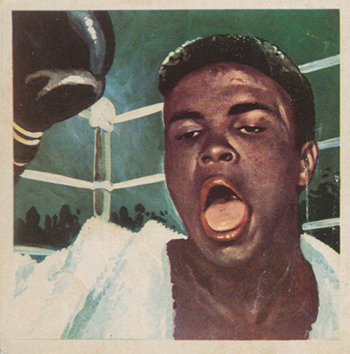 1964 Mac Robertson's Cassius Clay
Is it a card or is it a game piece? Can it be both? That's the debate with the 1964 Mac Robertson's Cassius Clay card. It came issued with an Australian trivia game called Olympic Quiz Cards. It measures 2 1/2″ by 3 1/4″, making it a little smaller than a traditional sports card.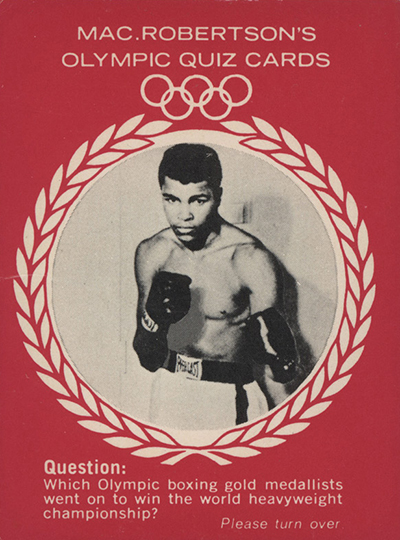 1965 Bancroft Tiddlers Giants of Sport Cassius Clay #12
Like a lot of vintage Muhammad Ali cards, the 1965 Bancroft Tiddlers Cassius Clay was originally distributed in Europe. It's has a detailed artistic rendering of the boxer's portrait alongside a less detailed full-body illustration that's reminiscent of some of the mid-1950s Topps baseball designs. However, there's not much in the way of additional design elements. The back has a lengthy bio of Clay's accomplishments to that point. Copies do exist with Clay's image on the front and a different athlete's bio on the back and vice versa. Mickey Mantle, Babe Ruth and Arnold Palmer are among the other athletes in the set.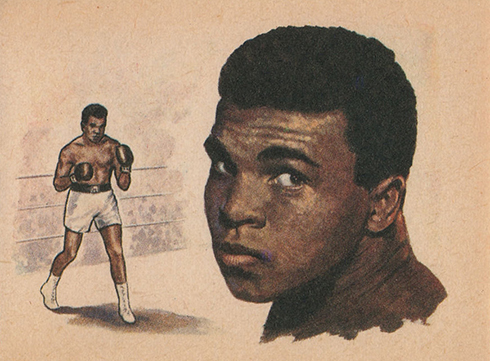 1965 Collezioni Lampo Grandi Campioni Cassius Clay #154
The 1965 Collezioni Lampo Cassius Clay is an Italian issue. The bright blue background adds some pop while the layout and graphics are reminiscent of something you might find in a Panini sticker collection. Besides being one of the first cards of the boxing legend, the card is notable for having two different back variations. The more common is a plain tan with very little text. The scarce variation has blue text and lots of it.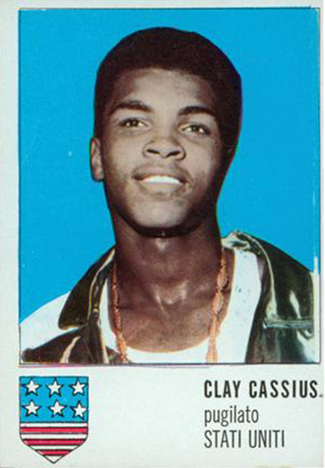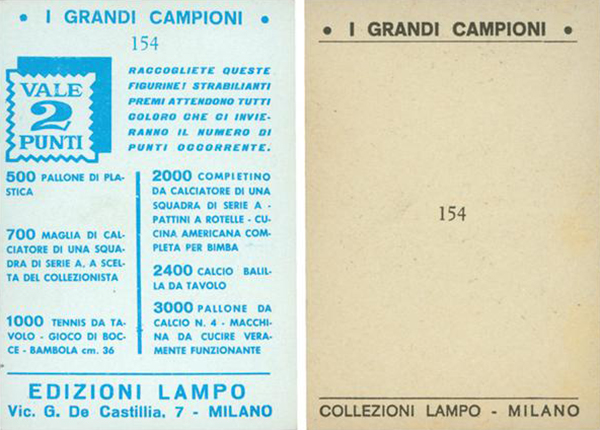 1965 Perfetti Candy Cassius Clay
Another Euorpean issue, and a fairly tough one to find at that, the 1965 Perfetti Candy Cassius Clay doesn't have much in the way of details as the backs are blank. But the lack of information can be forgiven by the strange photobomb that looks like it could have been intentionally added, especially since the mysterious figure isn't on the Lampo or 1966 Panini issues that use the same photo (although he could have just as easily been removed).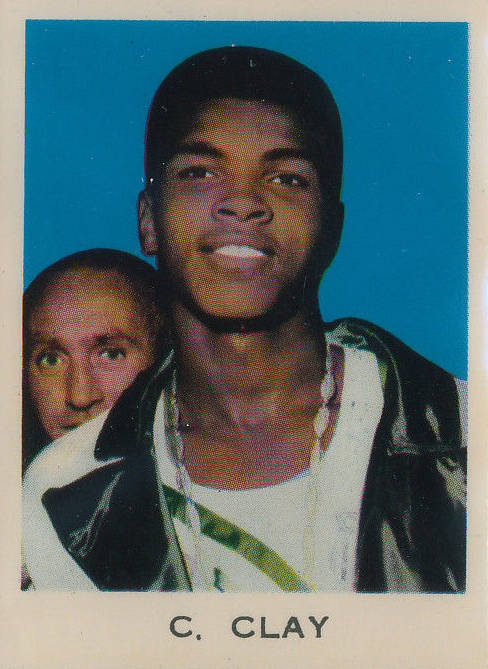 1966 DC Thomson Hornet Gallery of Sport Cassius Clay
The 1966 DC Thomson Hornet Gallery of Sport Cassius Clay came as part of a larger fold-out panel from a comic magazine targeting British boys. You could think of it as being similar to a Sports Illustrated for Kids-style card. However, unlike SI Kids, this vintage Cassius Clay card didn't have perforated edges to separate it from the rest of the panel. It had to be cut. So an already tough card is all that much harder to find in good condition due to the precarious nature of separating it. The full panel can be seen here.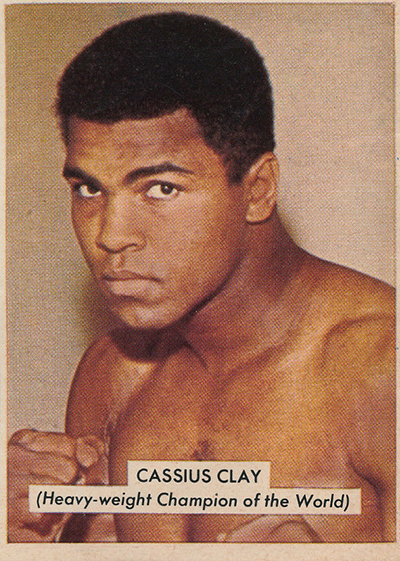 1966 Panini Campioni Dello Sport Cassius Clay #377
Muhammad Ali was featured on a handful of Panini stickers, although the 1966 Campioni Dello Sport was the first. It's not just boxers that are featured in the set. Athletes come from several areas. Given Panini's legacy in the hobby, this is one of the more popular early Ali issues. It's certainly one of the most recognized. And there's that photo again.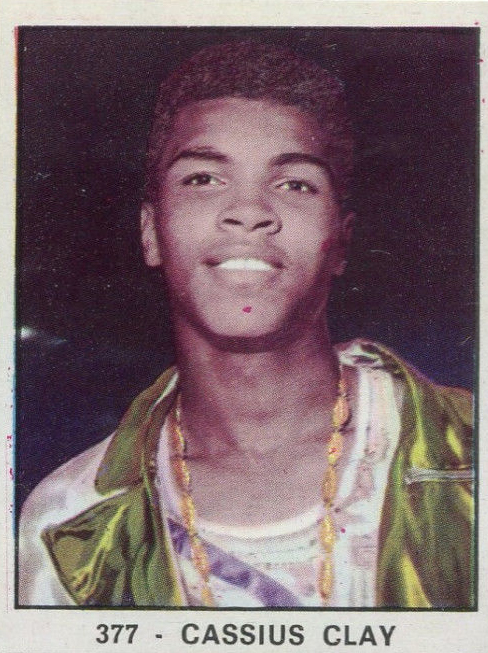 1967 Panini Campioni Dello Sport Cassius Clay #451
Fast forward ahead a year and Panini returned with another Ali sticker. This one has a revamped design. There's definitely a toughness about the photo, but a soft side as well. Like any "second-year" card, this one doesn't have quite the same mystique about it as the 1966 Panini Muhammad Ali sticker.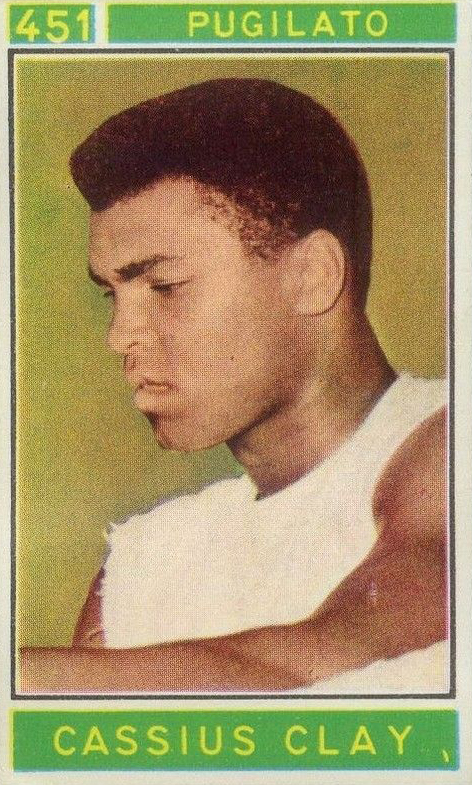 1968 Panini Campioni Dello Sport Cassius Clay #308
The 1968 Panini design has a vibe that evokes what the Ringside line might look like if it continued on. The image of Ali isn't as recognizable as many of his other cards and issues. That said, it's still popular given its relatively early status among Muhammad Ali cards.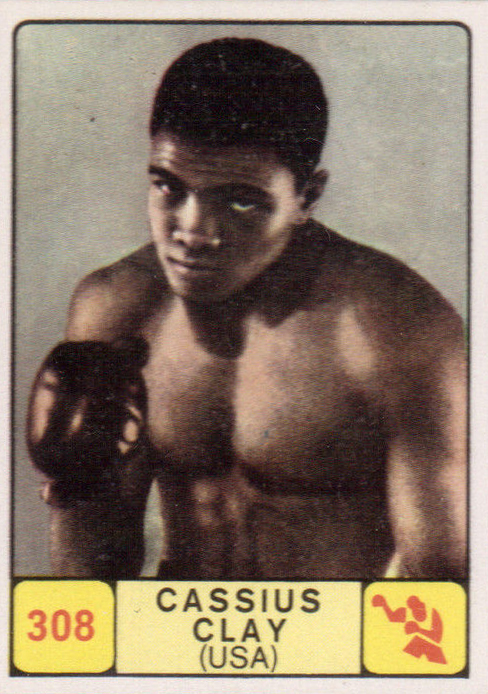 1971 Barratt & Co. Ltd. Famous Sportsmen Cassius Clay/Muhamed Ali #24
The tobacco-style card actually came from the Barratt candy company. The 50-card multi-sport checklist includes Jack Nicklaus, Gary Player and Pelé, among others. It's one of Ali's first cards to recognize his changed name, although the card back refers to him as "Muhamed." The full-body, in-ring photo is certainly something different compared to the other Muhammad Ali cards released up to this point.