Turning Back the Clock: 1989 Topps Baseball Cards Commercial
Ah, the Gregg Jefferies days …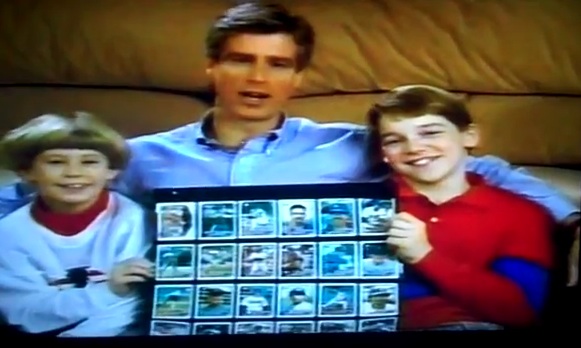 I was recently watching a TV broadcast from 1989 when I came across a gem – a commercial for Topps team sets.
Only $12.95 plus tax! Sure seems like a good investment.
The cards denote a simpler time of collecting, the era before on-card autographs and low-numbered inserts and game-used memorabilia cards.
Here's a scene-by-scene breakdown of the commercial, from the dated hairstyles and family "togetherness" to proper display techniques and a set that hasn't endured as well as our protagonists had hoped.
:01 Gibby!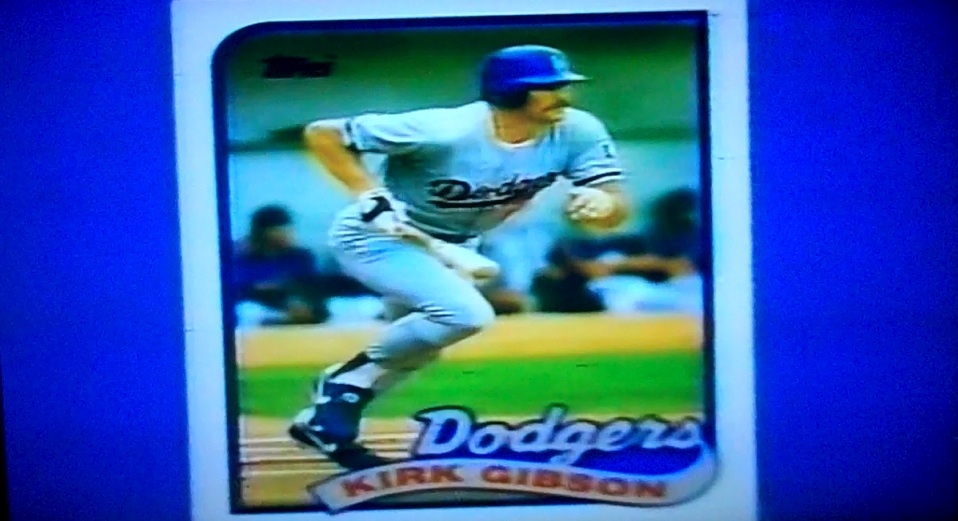 Before he was the Arizona Diamondbacks manager, Kirk Gibson was a ballplayer – a fantastic one. He's most famous for his clutch home run in the 1988 World Series. Pinch hitting on injured legs, Gibson battled against Athletics closer Dennis Eckersley before depositing a 3-2 offering into the right field bleachers for a Game One walk-off win.
Gibson didn't play again in that series, but it didn't matter – Los Angeles had momentum from its leader's gritty at-bat. Gibson went on to win the National League M.V.P. award that year, as well as top billing in a Topps commercial the following season. Historians continue to debate which honor meant more to Gibson.
:03 The Voice-Over Begins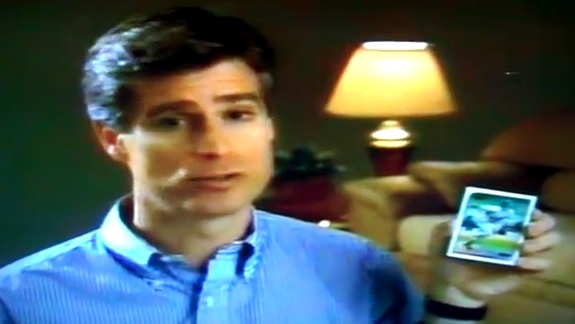 "Baseball cards really capture the action and drama of the game," a man in a button-down shirt says, holding up Gibson's Topps card.
As he continues talking he pulls his card away, and the camera zooms to show two children, conceivably his sons. The boys are laying on the ground, studying a team set of 1989 Dodgers cards.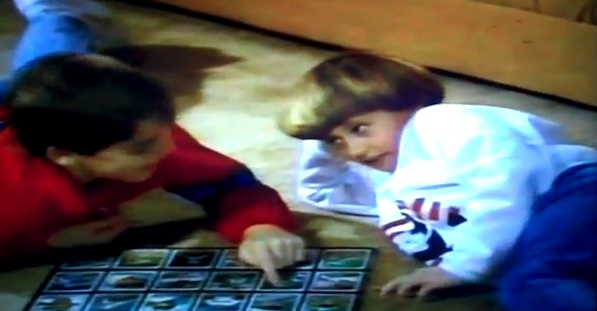 The eyes are immediately drawn to the boy on the right, a ringer for Macaulay Caulkin (or maybe Devon Sawa?) with a bowl haircut and a USA-themed sweatshirt. Very 1980s. The brown-haired boy points to one of the cards and talks – Tim Leary, a 17-game winner the previous season. The kid in the bowl cut nods. His eyes dart about, unsure of where to focus, consumed by the thought of five-cent cardboard.
:12 A Team United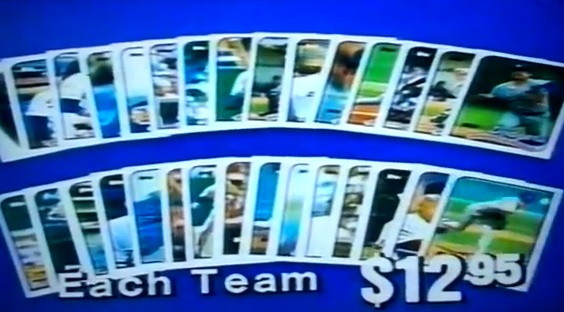 Hello, Franklin Stubbs.
As cards of Stubbs, Ramon Martinez and Tom Lasorda appear against a blue screen, the "dad" in the commercial keeps talking.
"As a kid, I had to trade to get all the cards of my favorite teams," he says. "Now, I buy Topps baseball cards in complete team sets."
Hey buddy, ever hear of eBay?
Also, make sure to note the price of the Dodgers' team set – $12.95. If you wanted to buy sets of all 28 teams, it would cost you $362.60.
:19 But Wait, There's More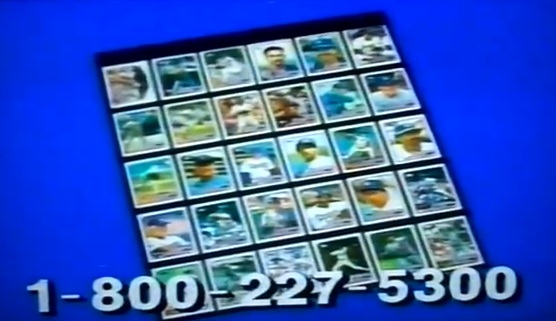 Each team set comes in an attractive wall display … y'know, for when you want to showcase your 1989 Topps set to friends and family.
"It protects the cards, but they're easy to take out to review," he says, pulling his prized Gibson card from the display.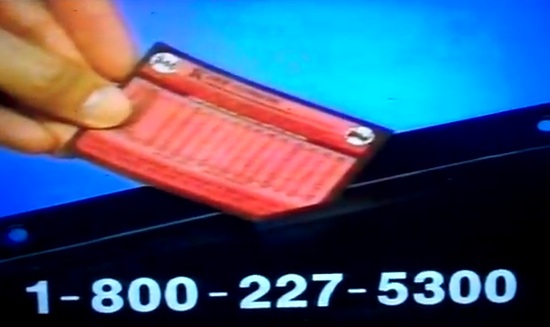 Other suitable display options: penny sleeve, top-loader, screw-down, brick, grading case … or nothing, since the Gibson card is worth about 10 cents ungraded today.
:27 Amazin'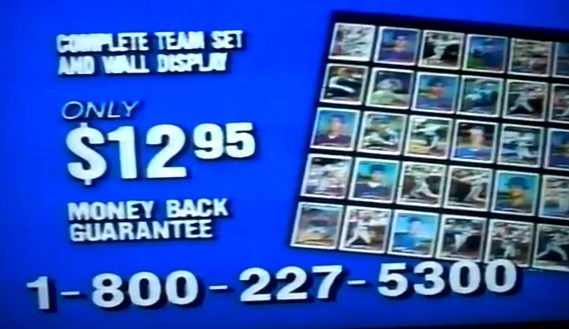 The Mets team set is instantly recognizable because of one card, a card representative of 1980s ruggedness and masculinity, big-city wishes and gold-plated dreams.
Of course, that card is #412 Barry Lyons.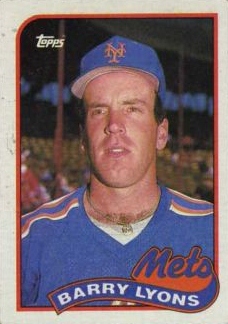 The Biloxi, Miss. native was a catcher for the Mets, appearing in 50 games the previous season. New York had another catcher on its roster at the time, a future Hall of Famer named Gary Carter, so Lyons didn't play all the time.
Despite his bench duty, Lyons brought style to the Mets, reflected on his 1989 Topps card. The card shows a portrait shot of Lyons at the ballpark. A gold necklace dangles around his neck, chest hair creeping from his collar below, awesomeness personified.
:29 That (Other) Mets Card
There is one other card worth noting from the Mets team set, a card that left a momentary imprint on the hobby.
The card's impact at the time is reflected in a 1988 Newsday article about the upcoming Topps set.
They're heeere. And you'll like them.
The presses in Duryea, Pa., are rolling at full speed, cranking out what appears to be a 1989 Topps baseball card set that both investors and collectors are going to love. The design is clean, the photography is good, and some innovative statistics have been added and, best of all, the rookie crop is terrific.
The 792-card issue includes the top 10 picks in June's draft and the long-awaited Topps debut of The Phenom, Gregg Jefferies.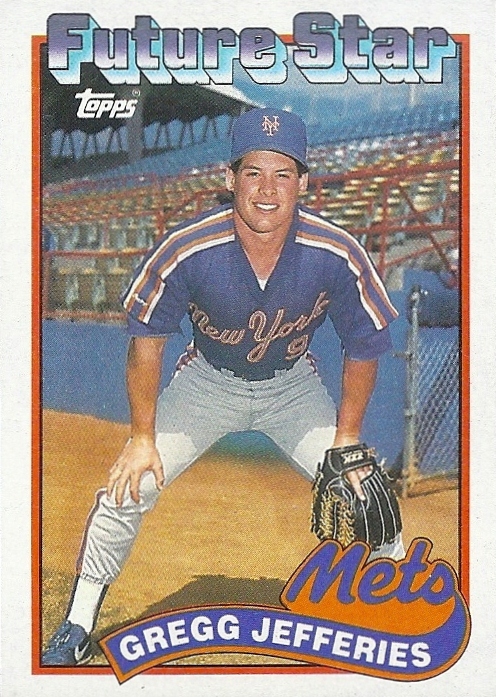 A few topics worth addressing from the previous passage:
Collectors and investors aren't big on the 1989 Topps set today for numerous reasons – including overproduction, that "wave" design, gum stains and missed RC opportunities.

For fantastic design and stellar photography, check out 1989 Upper Deck.
"Some innovative statistics have been added" … Erroneous! Actually, 1988 and 1989 Topps cards feature the same exact statistical categories.
The 1989 Topps rookie crop is solid, featuring standout players such as Randy Johnson, Gary Sheffield and Craig Biggio. However, the set is missing the player that defined baseball cards in 1989. Ken Griffey Jr. was added to the company's Traded series. He does not appear in the original 792-card set.
Five of the 1988 draft picks turned in respectable careers: Andy Benes, Steve Avery, Gregg Olsen, Jim Abbot and Robin Ventura. Not so much for Bill Bene, who never reached the majors and pleaded guilty last year to a counterfeit karaoke scheme (no, really)
"The Phenom, Gregg Jefferies" …
Jefferies reached the All-Star Game two times and hit 126 career home runs. He was sort of a poor man's J.D. Drew. Not bad, just not worthy of the hype. Jefferies drew that hype during call-ups with the Mets in 1987 and 1988, batting .500 and .321.
Following the 1988 season, Jefferies was the "it" guy, with his cards selling for more than $5. Donruss, Fleer and Score all added Jefferies in their 1988 sets. Topps held out. And within months of The Phenom's "Future Star" Topps card, as Jefferies batted under .200 through early June, the hobby attention shifted to a certain "Kid" for the Seattle Mariners with a megawatt smile and effortless swing.
:40 Free Bonus Cards … Wow!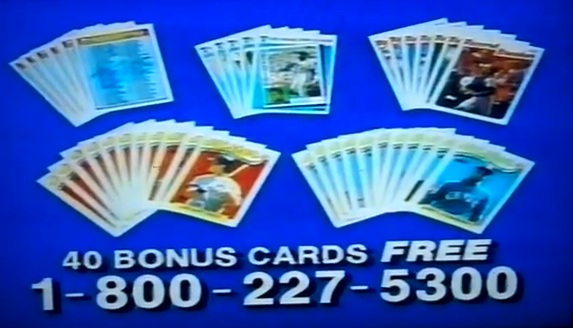 In addition to the team set, you also receive "All Star" subset cards, "Record Breakers," checklists and "Turn Back the Clock" cards.
Turn Back the Clock was one of the great subsets in Topps history, showcasing a quarter-century of card designs of yesteryear to highlight past accomplishments. Turn Back the Clock cards were produced from 1986 to 1990, the most notable of which is the wood-against-wood 1987 Maury Wills (he didn't appear in the 1962 Topps set, so the card shown doesn't exist).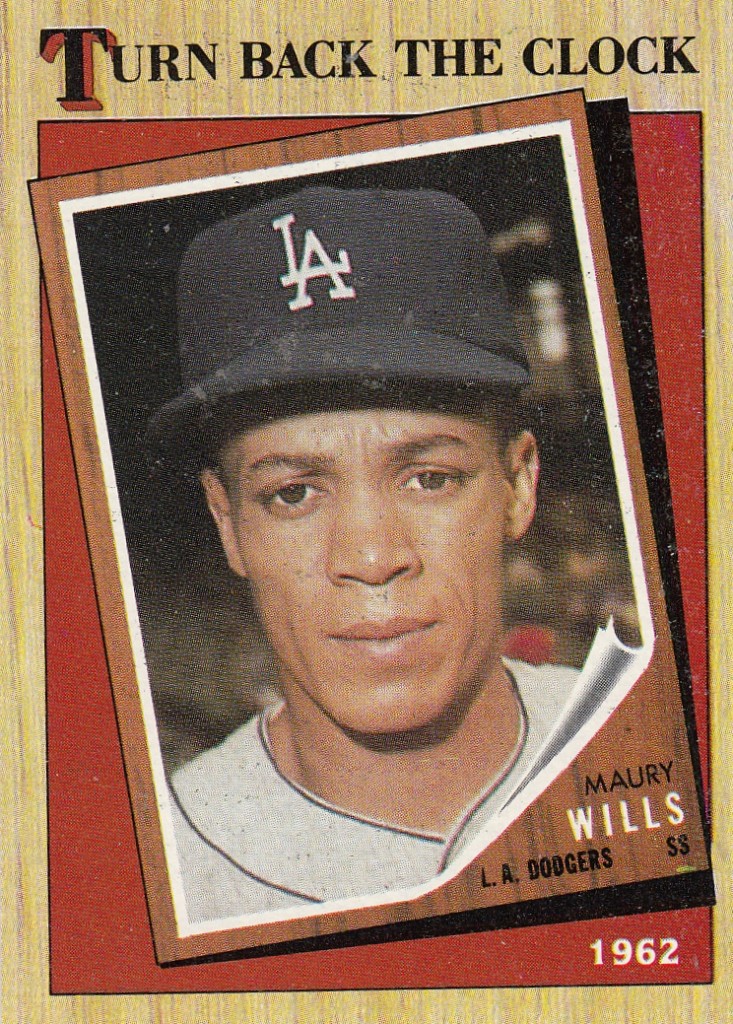 1989 TBTC featured a mix of contemporary and vintage subjects: Dwight Gooden, Lou Brock, Hank Aaron, Gil Hodges and Tony Oliva. Gooden's card shows his 1984 Topps Traded issue, a determined teen ready to take the baseball world by storm.
:43 Kirk Gibson, Reverse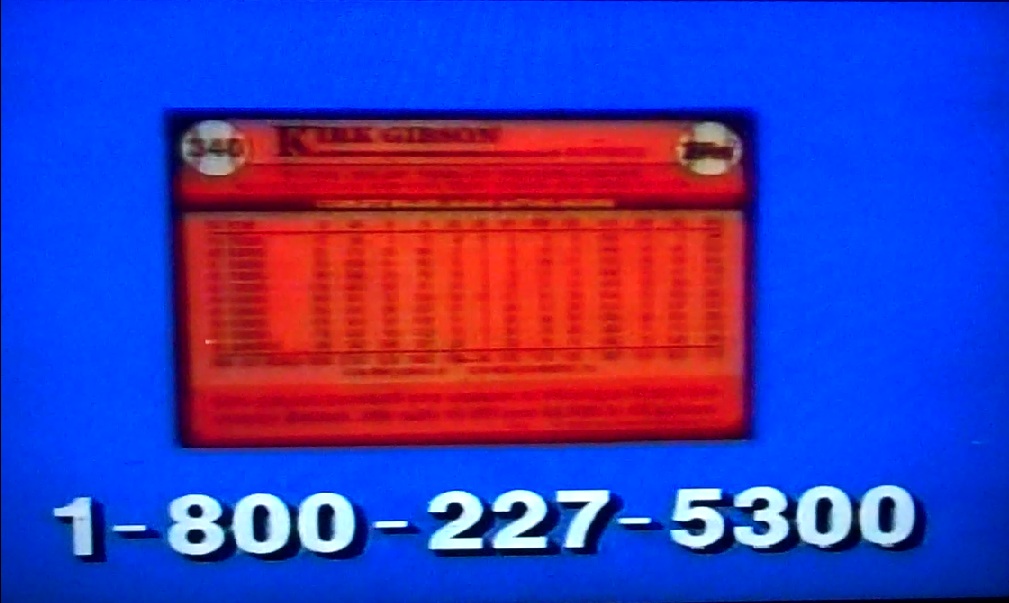 "These are genuine Topps cards, with the players' complete Major League record on the back."
:46 'Family' Time!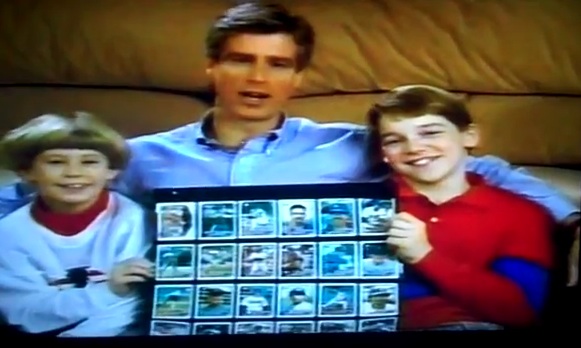 Dad wraps his arms around his sons' shoulders. The boys beam as they hold their Dodgers team set.
"Share the fun of collecting baseball cards," the man says.
The three smile at the camera, proud of their junk wax, family togetherness courtesy of Topps.
Dan Good is a New York-based journalist. Follow him on Twitter here.