Junk Wax Journeys: 1989 Topps Baseball
In 1989, I was still a little new to the baseball card hobby. I had picked up a few cards here and there through middle school but I would say that my interest was reach-ing a peak that year as a 12 year-old. I was playing baseball every day, watching it on TV, and beginning to get a grasp on stats, divisional breakdowns, and strategy. Before that, cards were cool. But by 1989, I had reached a point where "I got it."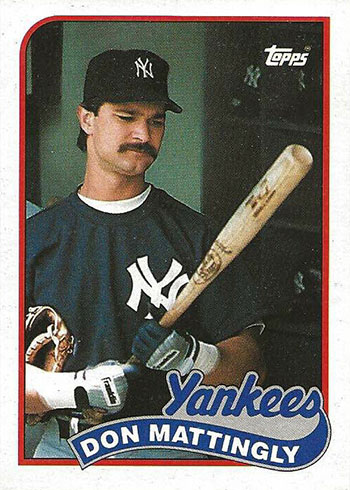 During the mid-'80s when I was piecing together a small collection of players that I had seen play on TBS or WGN, I didn't really pay much attention to design. It was more about the player and team than what the card looked like. By 1988, Score made designs a little flashier. And then, in 1989, Upper Deck made cards look classy.
So it is fair to say that my heavy interest in collecting coincided with the design battles that marked the "Junk Wax Era."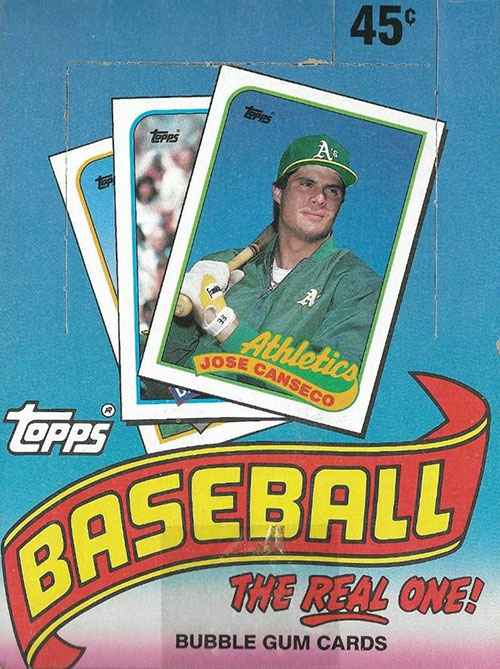 Before 1988, we had three choices of cards; Topps, Donruss, and Fleer. And while the designs were unique to each brand, only the wood-grain of 1987 Topps stood out to me at the time. For one, I just wasn't collecting enough to compare brands. But also, every friend and family member who had cards at their house had a ton of those '87 gems and that had become all I recognized for a while.
When I took a dive into the deep end of the cardboard swimming pool in the beginning of 1989, I started to focus a little on what I liked about each card set that was coming out. Donruss had the dark borders and bright backs, Fleer had the gray striped border and rather bland backs, and Score followed up their super bright and fun introduction in 1988 with one of the worst designs of the '80s. But more on that in another piece.
While each of those set designs have fine nostalgic value for different reasons, none of them could best Topps that year. While Donruss and Fleer (and later Score) tried to shake things up with colorful designs, Topps had generally stayed the course with classic designs throughout the '80s, with some obvious exceptions (see 1986, 1987). For me, that classic look always hits home. Don't get me wrong, I love a lot of the designs we saw in the decade. But when you say "Baseball Card," my first thought goes to 1989 Topps.
It all starts with the packaging. The packs for 1989 Topps are some of my favorites ever. The yellow and blue colors pop with the red and black writing. The design is very similar to previous years but the color combination is at the top of the list for me. I often wonder if anyone ever won that trip to Spring Training in 1990.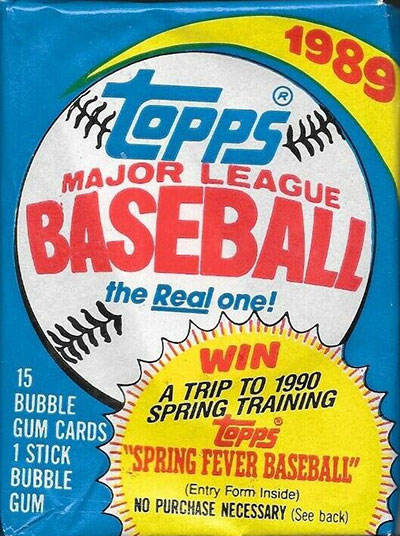 The design from 1987 is more iconic in the history of baseball cards and I won't argue that. But I don't know if I can put any design above 1989 Topps when it comes to my preferred favorite. You had the classic white border that featured an inset border with the team color and curves in opposite corners. Then, the feature that really set the whole card off was the big bubble letter team logos just above the player names at the bottom. Topps made plain white borders pop with color in ways that I never imagined possible.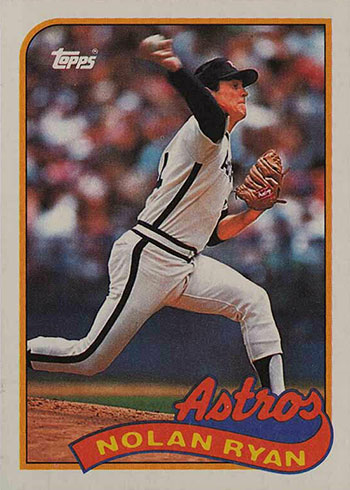 The backs of the cards were an improvement over previous years as well. Aside from the occasional gum stain, the pink, red, and black made for a perfect combination on the eyes. They were similar to 1986 card backs. There were years of orange and black, yellow and blue, blue and pink, and even green and red like a Christmas tree. Something about the color combination made the back easy to read and attractive at the same time.
On card backs where the space would allow, Topps featured a "Monthly Scoreboard" that included various stats over the months of the season from 1988. In the case of Eric Davis here, it was Home Runs and RBI and he was hot in both June and August. Topps also included the usual biographical information and an occasional tidbit of knowledge in case you were getting ready to choose "1980s Baseball" on Jeopardy.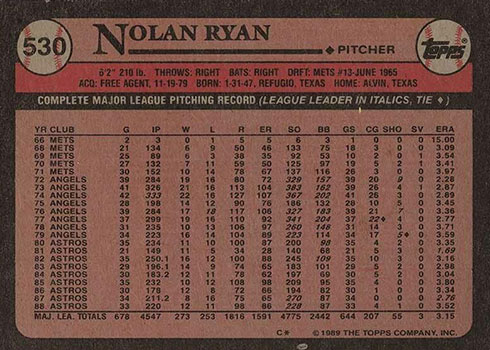 The All-Star cards were always fun for me because the big bubble lettering was used for the "All-Star" logo at the top and the cards were extra colorful. The player photo had a full color backdrop that was Blue for the National League and Red for the American League. "All-Star" was yellow with the corresponding league color outlining the lettering. Again, so classic.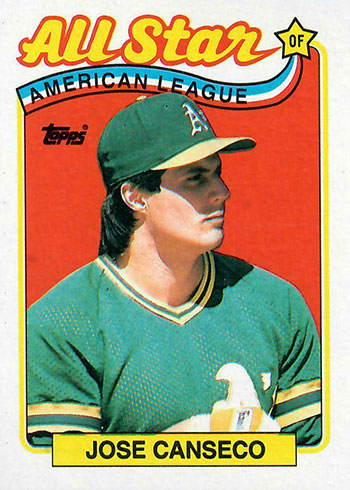 The Topps "All-Star Rookie" made another return in the set in '89. These cards always had a feel of a "big hit" for me when I was a kid. Not only was this guy a rookie, but he was an All-Star Rookie! Looking back, like many other prospects, some players panned out and some didn't. But the cards with that little trophy were always special in my collection.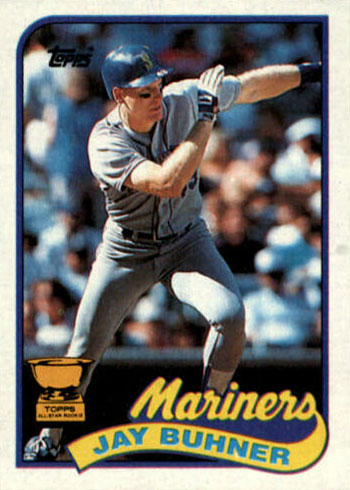 The real rookie chase was in the "Future Star" section of the checklist. This is where I found my first "Retirement Card." For those of you who didn't grow up collecting in the '80s, we would have the occasional card come around that we would put away in the closet and sell for big bucks when we got older so we could live the high life. Our parents didn't take care of their Mickey Mantles and Jackie Robinson cards but we weren't going to make that mistake. All we had to do was take care of the card and wait. This Gregg Jefferies was the one that was supposed to set me up for life. Things didn't work out for either of us in that regard but it's still a very special card to collectors from that era.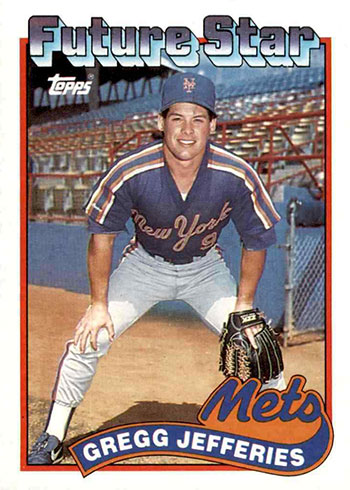 Even further down the line from the "Future Stars," Topps included "#1 Draft Picks." These were some of the coolest cards to me because they featured players in their college or high school uniforms. Some of the highlights from 1989 were Jim Abbott, Gregg Olson, Steve Avery and Robin Ventura.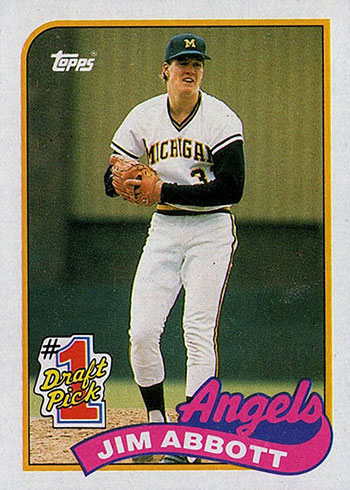 There were also rookies who had no real designation in the set. They weren't All-Star Rookies, Future Stars, or #1 Draft Picks. But they were some of the best rookies to be found in 1989. The rookie class includes John Smoltz, Randy Johnson and Craig Biggio — all Hall of Fame Players.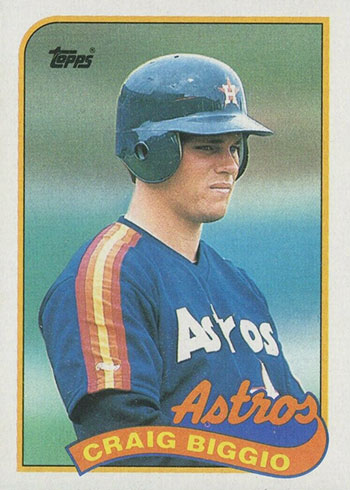 The one glaring omission for Topps in 1989 was Ken Griffey Jr. Topps and Score did not get Junior in their sets until the "Traded" releases later in the season. That was a bummer.
As was typical for Topps during the 80's, they also featured the manager cards. There are some pretty legendary managers here too. You can find guys like Don Zimmer, Pete Rose, Frank Robinson, Jim Leyland, Whitey Herzog, Cito Gaston, and Tommy Lasorda. Unfortunately, Bobby Cox didn't start managing the Braves until 1990, so we were saddled with Russ Nixon.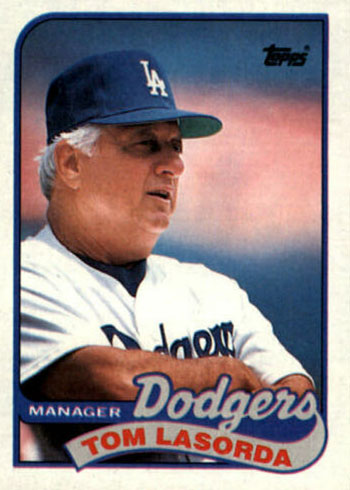 Record Breakers were nice looking subsets on the base checklist that were pretty self-explanatory. They included some of the record-breaking performances from the 1988 season.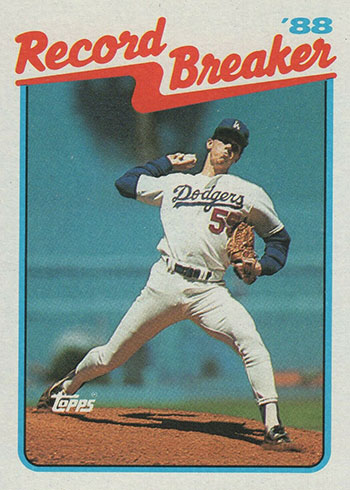 Topps included Team Leader cards that had a bit of a dreamy look to them. What I mean by that is the white border was not uniform around the image. It took on a bit of a cloudy look and just highlighted a player with a smaller outline. The backs included all of the major batting and pitching statistical category leaders from 1988.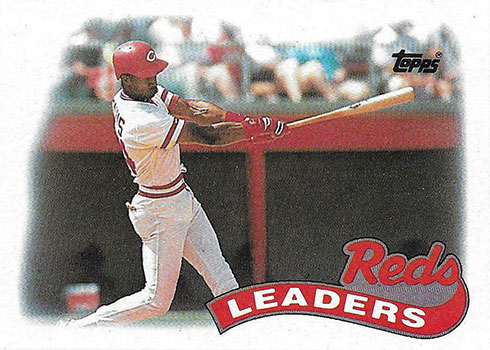 Finally, Topps included a "Turn Back the Clock" subset that featured some of the stars from previous seasons. The front was a reprint of a card from the year featured. The back outlined several of the events that transpired in that particular season. This was the one group of cards I didn't particularly care for from the 1989 set.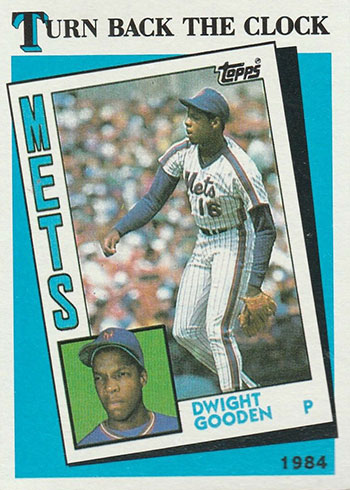 I have never really sat down to rank my favorite sets of all-time but when it comes to design, 1989 Topps would be hard to beat. I collected a ton of 1989 Donruss and it holds a lot of sentimental value. But the card stock and design can't compare to Topps that year. I am one collector who longs for Topps to bring back the borders with their flagship product.
When you look at 1989, you might very well agree.