True Blood trading cards are on the way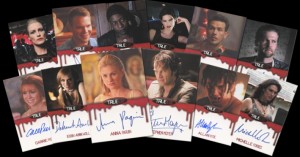 By Susan Lulgjuraj | Contributing Editor | Commentary
For someone who doesn't have cable, it's tough to get into television shows that aren't on Hulu or NetFlix. (Yeah, I'm one of those people who hasn't had cable in years.) So what do people like us do?
Well, when we get to stream TV shows, we watch. I buy a couple of shows on Amazon too if it's something I love watching. But books are big. I read a lot.
That's how I first got into True Blood. I read the books by Charlaine Harris that started Sookie Stackhouse's life among the vampires. As I read the books, I pictured Sookie and Eric and Bill looking the characters from the show because that's how I know them.
However, there is a difference with the television show and the books. The stories have diverted and True Blood is becoming a completely different world with the same characters. Good thing too because I think the books are geared toward women.
True Blood has become a show that appeals to both genders and that makes Rittenhouse's new set easy to make because of the widespread appeal.
Rittenhouse is releasing True Blood Premiere Edition Trading Cards, which will highlight the first four seasons of the HBO show. There are 96 base cards from the episodes – two cards devoted to each of the 48 episodes – and inserts include characters cards, shadowboxes, quotable cards and black and white profile pictures.
There are also two autographs per box. Some of the signers include: Anna Paquin (Sookie Stackhouse), Stephen Moyer (Bill Compton), Alexander Skarsgard (Eric Northman), Kristen Bauer (Pam De Beaufort) and others.
The set doesn't come out until August.
I've only seen season Season 1. I think I have time to catch up.
Susan Lulgjuraj is a contributing editor for Beckett Media. You can email Susan here. Follow her on Twitter here.