2016 Breygent American Horror Story: Asylum Trading Card Details
2016 Breygent American Horror Story: Asylum trading cards chart the second season of cable anthology series. Switching to a premium factory set format, each comes with a full base set, a handful of inserts and seven total hits.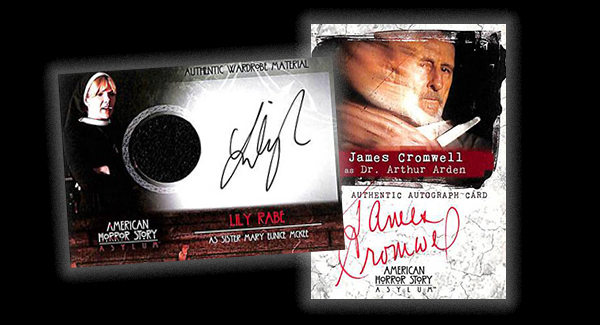 The season's 13 episodes are recapped with a 72-card base set. Each factory set also includes one parallel card. With a limited print run to begin with, these should be tough to piece together.
The 2016 Breygent American Horror Story: Asylum autograph checklist reflects the depth of the cast. Among the first-time signers is Academy Award nominee, Chloë Sevigny (Boys Don't Cry).
Sarah Paulson is among the other notable signers. She recently played Marcia Clark in American Crime Story: The People vs. O.J. Simpson. There's also Joseph Fiennes (Shakespeare in Love) and James Cromwell, who was up for an Oscar for Babe. Before this, Cromwell had only signed for one set — 2008 Rittenhouse Star Trek Movies In Motion.
In all, 16 actors are signing autographs for the product. Different colored ink and the occasional inscription add a variation feel to many of the cards.
Besides basic autographs, there are seven signed costume cards as well.
On the memorabilia front, 2016 Breygent American Horror Story: Asylum has 15 costume cards, 20 dual-costume cards, and three quadruple costume cards. In addition to these are 13 separate dual-costume cards with pieces featured in the same scene. Items from the set are represented on eight prop cards and six prop-costume cards.
Each 2016 Breygent American Horror Story: Asylum premium set has six additional inserts, two each from In the Mind of Madness, Quotes and Welcome to Briarcliff. Each of these insert sets has nine cards.
2016 Breygent American Horror Story: Asylum is limited to 99 ten-set cases.
Autograph Signers
Matthew John Armstrong as Detective Byers
Robin Bartlett as Dr. Miranda Crump
Frances Conroy as Angel of Death
James Cromwell as Dr. Arthur Arden
Joseph Fiennes as Monsignor Timothy Howard
Naomi Grossman as Pepper
Gloria Laino as The Mexican
Fredric Lehne as Frank McCann
Dylan McDermott as Johnny Morgan
Joel McKinnon Miller as Detective Connors
Britne Oldford as Alma Walker
Sarah Paulson as Lana Winters
Evan Peters as Kit Walker
Zachary Quinto as Dr. Oliver Thredson
Lily Rabe as Sister Mary Eunice McKee
Chloë Sevigny as Alex Lowe
2016 Breygent American Horror Story: Asylum trading cards at a glance:
Cards per box set: 87 cards
Boxes per case: 10
Set size: 72 cards
Release date: May, 2016
What to expect in a hobby box:
Autographs, Costume and Prop Cards – 8 Total
Inserts – 6
Parallels – 1
72-Card Base Set
Comments? Questions? Contact Ryan Cracknell on Twitter @tradercracks.