2013 Topps Chrome Garbage Pail Kids Details
The Garbage Pail Kids are going chrome.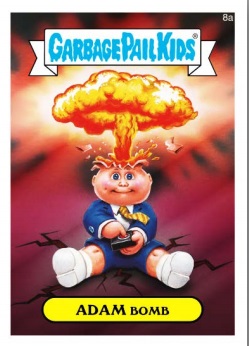 Topps is bringing its technology to GPK this summer, but with a little twist. 2013 GPK Chrome will feature the entire 1985 Garbage Pail Kids reprinted with its special shine.
The base set will contain 151 cards: 82 original Series 1 characters (A and B names), 28 lost Garbage Pail Kids (14 A and B names) and 41 Chrome Concept Sketch Cards by original artist John Pound.
The mid-August release will have 24 packs in each hobby box with four cards in a pack. There will be refractors, autographs and redemptions for rare items as well.
Topps will include just four refractors in GPK Chrome. Regular Refractors will fall at a rate of one in three packs along with Prism (1 in 199), Superfractor (1/1) and Gold Refractors (numbered to 50, hobby only).
The redemption cards could make for interesting hits. Topps is giving away rare items such as a 1985 original uncut sheet of 1985 Garbage Pail Kids.