Topps Bunt players create real demand for virtual baseball cards
When you click on links to various merchants on this site, like eBay, and make a purchase, this can result in this site earning a commission.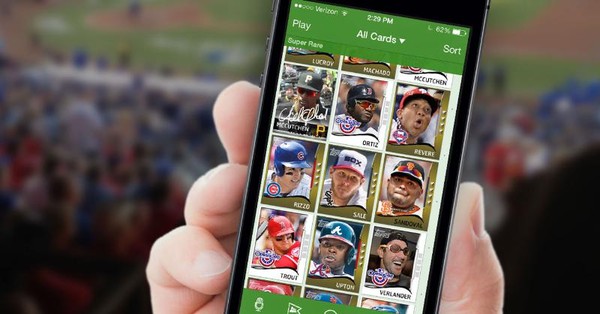 By Chris Olds | Beckett Baseball Editor
There's a whole new type of collector out there with more than a million users and 75 million sports cards that you simply won't find in the best of hobby shops or in any retail store aisle — unless you're on a smartphone.
Some of these fans are paying real money on eBay for virtual collections of cards — collecting pixels if you will — while others are using their real money to buy tokens for virtual packs all contained on the app. In fact, more than 50 million packs have been sold.
They've been sold to collectors of  cards on Topps Bunt, the virtual card platform and application from Topps, which has seen plenty of growth in its two years on the field.
"It's remarkable. We knew these digital cards would have value like physical cards, but things have picked up very quickly," said Chris R. Vaccaro, who is the head of app operations for Topps Digital. "It's a credit to the platform and the Topps name holding weight in the digital world."
Today, Topps launched Bunt for Android, further expanding its possibilities for growth. We caught up with Vaccaro to learn even more about Bunt.
Q: First, some basics. How long has Bunt been in the works to where it is now?
A: Topps BUNT launched in April 2012, so the app has been out for more than two years. We've changed the app drastically year over year in terms of design and overall look and feel. Over time we've built up our existing platforms, added more staff members at Topps Digital and have really been able to bolster our products (Topps HUDDLE and Topps KICK as well) since they've launched. We're also in the mindset of constant improvement. Every season we look to grow each app and make it better for our fans.
Q: How well do you think it has been received? 
A: We're very happy with the fan reception of all three apps. It hasn't been an overnight process. It has taken time to build a community of users and also assimilate the Topps brand to digital platforms. We have around 1 million users between the three apps. In terms of volume, there are more than 75 million cards in BUNT all-time. We've seen more than 35 million trades across our three apps, including more than 5 million in BUNT. The Topps' digital collecting app portfolio, including Topps BUNT, Topps HUDDLE and Topps KICK, has collectively sold more than 50 million packs of digital trading cards in 14 months on iOS. Topps BUNT 2014 was also recently named a "Best New App" on the iPhone by Apple.
—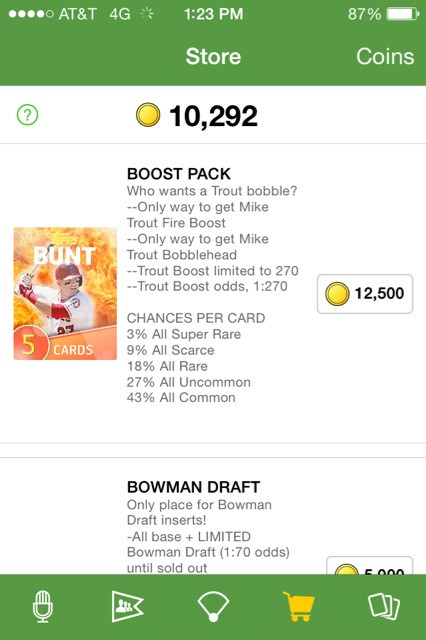 Q: As part of the game, people can use actual cash to buy virtual coins to build their collections? (They also get a daily reward for playing.) What percentage of players would you say do this?
A: Yes, our fans can purchase coin bundles within the app and those coins can be used to open packs. We don't offer specifics on our financial data, but we can say that during the baseball season Topps BUNT is consistently one of the top-grossing apps in North America. The app has exceeded our expectations, consistently ranking in the Top 50 grossing apps on the U.S. iPhone, and peaking as high as No. 25 in The App Store.
—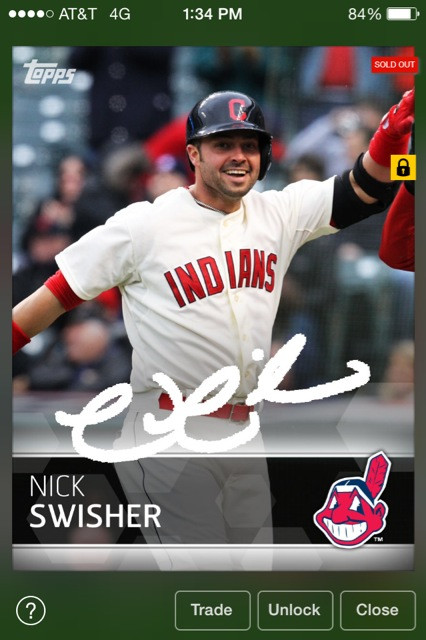 Q: I've watched and played the game for a while now — what would you say are the hottest/most in-demand cards?
A: Signature Series cards have been the hottest and most sought after by far. It doesn't matter if it's a current star, a prospect or a retired player; their digital signature is the most desirable piece of media we offer in all three of our apps. Additionally, we've tried to create a balance between regular physical Topps designs and new BUNT exclusive designs that can only be purchased in our app. Some fans collect the sets they are used to, others love to see new designs and really build their card sheet with unique items.
Other inserts, aside from the Sigs, that have done well are our Editor's Choice collection which features new and trendy young athletes, and our Player of the Week set, which is literally dictated by the players selected by Major League Baseball every week. Personally, I love the Golden Moments set we offer because the images are directly from the Topps Vault, yet the design is modern. Many times, these photos were never used on other Topps products, and are being brought out of file cabinets for the first time in decades. The BUNT cards released in 2012 and 2013 are also very valuable because they are no longer being released in packs. Fans who were with us from the beginning have them and they are very valuable collectors items and trade pieces.
Additionally, I'm also a big fan – and our users can attest to this as well – of the milestone cards that are released when something special happens in baseball. It's rare that a player reaches a big milestone, so we honor the feat (i.e. Albert Pujols reaching the 500-home run club) with a fresh card, an award, pack sales and news stories about the release. We can act fast, sometimes within minutes of an event happening, and use our team effectively to produce digital media.
—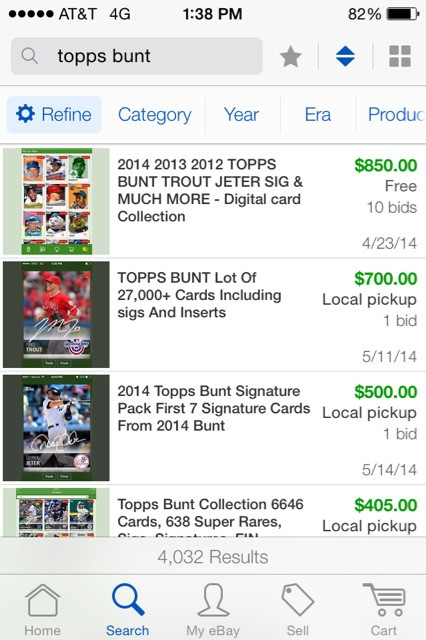 Q: Some people have been selling the rights to rare cards in real eBay auctions. How common is this?
A: We're seeing this more and more everyday. Some cards we've seen are going for upwards of $200. On any given day, there could be 450 or more items from BUNT for sale on eBay. It's remarkable. We knew these digital cards would have value like physical cards, but things have picked up very quickly. It's a credit to the platform and the Topps name holding weight in the digital world. People care about cards, whether digital or physical, and the selling of digital cards on eBay is enough reason to believe that our plan here is working. We've created a piece of sellable media, a tangible item that people desire and crave. They collect them, they admire them, they talk about them, they sell them and they are making them a part of their world and lives.
Q: Does Bunt have a lot of sports competitors on the gaming platform? Or is this just applying sports to other online game-type formats?
A: From a fantasy sports perspective, there are a bunch of apps where players earn points based on real-life performances. There are also many digital trading card apps, but not with the legacy sports factor that Topps brings to the table. We're combining the competitive spirit of fantasy sports and the nostalgic feeling of collecting baseball cards and we feel we offer a unique experience to our fans.
Q: How has Bunt done compared to its football counterpart?
A: All three of our apps are very similar in terms of the game play and collecting. We operate as the current sports season is in full swing, so BUNT has gotten a redesign and re-launch prior to 2014 Opening Day, whereas HUDDLE is still in the 2013 build. We'll be updating HUDDLE this summer prior to the 2014 NFL Opening Kickoff. Interestingly, the communities tend to vary a little bit between the apps. There may be some fans who only like football or only like baseball. There are also many familiar user names who pop up on both. Fundamentally, however, they are very similar and offer almost the same experience just with different sports.
—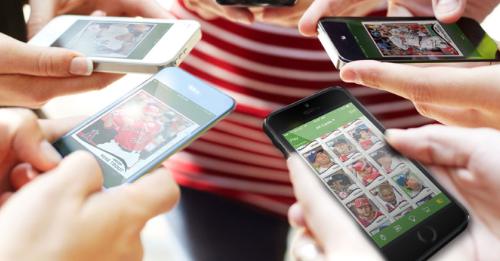 Q: What would you say is the most-common collecting approach in the game?
A: For people playing the app to earn points, most seem to go for Super Rare base cards because they earn the most points compared to common, uncommon, rare and scarce. The more Super Rare cards they can start on the play screen, the better their team will perform on a given night. For those collecting and not playing for points, many are in the market for inserts and limited edition cards. Just like you've become accustomed to over the years, people have their favorite sets by design or theme, the sets they collect just as trade bait, and sets they like because of the pure joy of the chase. Our apps really have a balance of all these collector types.
Q: Have any of the collecting trends that have developed in the game surprised you? (Example, people hoarding pitchers to start all the same guy.)
A: Your example is spot on. Plenty of our fans collect many of the top-scoring players, pitchers specifically, so they can score as many points as possible during the week. Reason being, the more points you earn, the higher you will land on the leaderboard, and that means you could be rewarded with free cards for your performance each week. Fans also collect as many Super Rare cards as possible because they score the most points each week. It goes without saying that many super collectors in the app try and collect as many inserts as possible, especially the Signature Series. Looking at it territorially, we've noticed that plenty of fans stick with collecting their favorite team's players as well. For instance, a Dodgers fan, who only collects Dodgers cards. There are people who use the app for various reasons and we are always very interested to see why people play, how they collect and what their goal is. It's all important to us so we can meet the needs of our users and make the experience that much better.
Q: What's next for Bunt?
A: BUNT 2014 [is now] available for Android users, so we're bringing in many more people to our platforms that can experience our apps for the first time. We're excited about that. We also release at least one new card basically every day of the season, and sometimes more. Everyday there is something to do whether it's play the app for points against other fans, build your collection of cards or chase awards and get rewarded. There are still hundreds of players left to be added to the card sheet and literally hundreds of inserts and chase sets that have never been produced by any Topps division to date.
Chris Olds is the editor of Beckett Baseball and Beckett Sports Card Monthly magazines. Have a comment, question or idea? Send an email to him at colds@beckett.com. Follow him on Twitter by clicking here.