The case of the Teddy Bridgewater changing autograph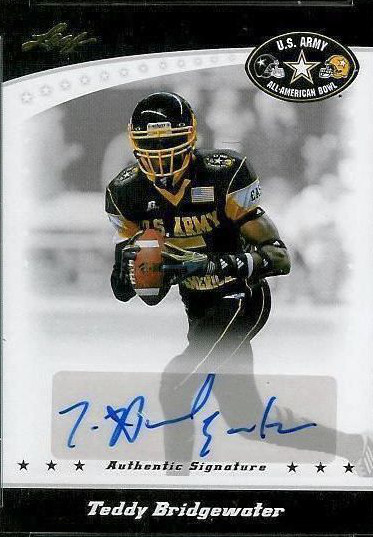 By Susan Lulgjuraj | Beckett Football Editor
How many autographs will we see from Teddy Bridgewater this year?
Right now, the count is at 3.5.
Obviously, his autograph at the NFLPA Rookie Premiere is legit. The cards were signed by Bridgewater with representatives from Panini and Topps on hand. Yet, since the start of the 2014 football card season there have been a few variations on Bridgewater's autograph.
First, we have the early autograph (pictured above). He signed this way for super early releases such as the 2011 All-American Army Bowl set
from Leaf. These autos also appeared on sketch cards in 2014 Leaf products.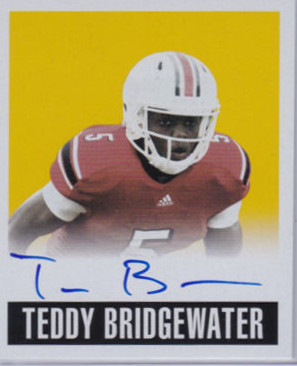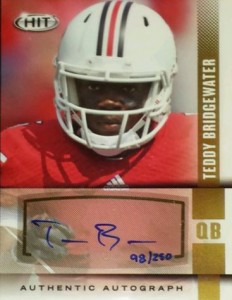 Then, we had the straight-line autograph with just a T and B that appeared on Leaf
and Sage
autographs.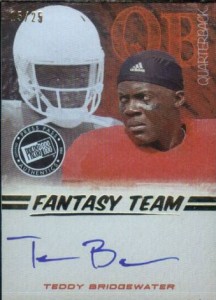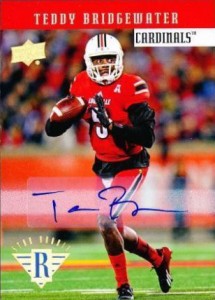 The reason I say it's three and a half because these cards from Press Pass
and Upper Deck look similar to T—- B—– but have a little heartbeat-monitor squiggle added to them.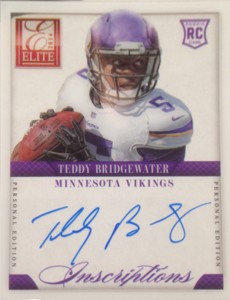 Then, there are his autographs from the Rookie Premiere, which look nothing like any of the other autographs he signed up until this point. Hopefully, this is the end of the variations and Bridgewater has found autograph he likes and sticks to it.
Loading ...
Susan Lulgjuraj is an editor at Beckett Media. You can email her here with questions, comments or ideas. Follow her on Twitter here. Follow Beckett Media on Facebook and Twitter.