My $123,750 Bud Selig autograph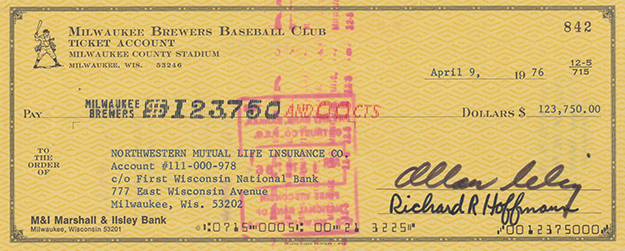 By Chris Olds | Beckett Baseball Editor | Commentary
One of my goals every time I set foot on the floor of a National Sports Collectors Convention is to find a single interesting item that could serve as a single memorable souvenir of the trip. It's not that easy on a smaller budget or if you don't have an organized want list, but I managed to do that in the final hours of the show.
I call it my $123,750 Bud Selig autograph.
There were many more interesting and obscure autographs to be found on the show floor of the Donald E. Stephens Convention Center, but this one just struck me as interesting — especially for my price — because of the timeframe, the amount, the "Allan Selig" signature and the mystery of what it might be for. After all, it's a few dollars.
There are inevitably a few pieces of trivia and what-if potential here beyond it being an autograph of a former Milwaukee Brewers owner and MLB commissioner. Could such a large payment be to an insurance company … maybe a player-related settlement or policy? You never know. The check is also from the day after Opening Day — the day after a 5-0 win over the New York Yankees — in a season where the Brewers went on to finish dead last in the American League East. Quite forgettable. Meanwhile, Selling doesn't have many certified autographs — just three. Quite memorable.
In today's dollars, it's a check worth $519,006.20.
My cost, though? A mere $10, and that makes it even more interesting to me.
Chris Olds is the editor of Beckett Baseball and Beckett Sports Card Monthly magazines. Have a comment, question or idea? Send an email to him at colds@beckett.com. Follow him on Twitter by clicking here.