Topps Has Some Stranger Kids, Other Exclusives at 2018 New York Comic Con
Two of Topps' worlds will collide at the 2018 New York Comic Con. A special Stranger Things-Garbage Pail Kids set, Stranger Kids, is among the items the card maker will have on hand for collectors.
2018 Topps Stranger Kids
With Topps just having released a horror-themed GPK product and their first Stranger Things trading cards just around the corner, it makes sense for a little synergy. Stranger Things is set in the '80s, after all, the original heyday for the parody line.
2018 Topps Stranger Kids, which are fully licensed and approved, comes in a pair of 20-card sets. Sold separately, one has the 'A' names while the other has the 'B' versions.
Individual sets cost $19.99. These will be sold at both the show and online through the Topps website.
Those buying both sets at New York Comic Con also get a bonus card. This card isn't available through online orders.
Promo Cards
Topps also has a handful of promo card giveaways at the 2018 New York Comic Con. However, most are available on specific days.
To get a promo card, which are available while supplies last, you must visit the Topps booth (#454).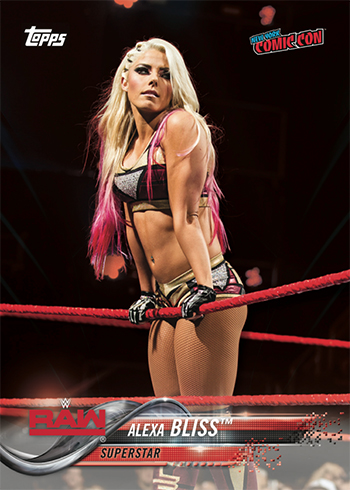 Here's the schedule for daily promo cards:
Thursday – Star Wars
Friday – WWE
Saturday – Garbage Pail Kids
Sunday – Stranger Things
There's also a 2018 Topps Clash Royale promo card that is available in limited quantities on Friday, Saturday and Sunday. Each day, 100 copies of the card will be given out at the Topps booth.
Autographs and Sketch Cards
On Friday and Saturday, the Topps booth has a handful of autograph signings, as well as an opportunity for a small number of collectors to get original sketch cards.
Topps has three different signers scheduled: Ashley Eckstein who was the voice of Ahsoka Tano on both The Clone Wars and Star Wars: Rebels. Eckstein kicks things off on Friday (10 AM). Space is limited to 50 people.
WWE Hall of Famer, Ivory, has a pair of signings, one on Friday (12 PM to 1 PM) and another Saturday (11 AM to 12:30 PM).
A couple of artists are also appearing at the Topps booth. Joe Simko, who has worked extensively on Garbage Pail Kids over the years, has a Saturday signing (1:30 PM to 2:30 PM). Darrin Pepe, who works for Topps Digital and has done art for several card lines, is doing 30 sketch cards during a Friday session (4 PM to 5 PM).
The Topps blog has a full lineup of their New York Comic Con activities.
The 2018 New York Comic Con takes runs October 4-7.