Top 10 Matthew Stafford Rookie Cards
If you're looking for something in the hobby that's overlooked, the Matthew Stafford Rookie Card lineup is certainly one of them. After more than a decade with the lowly Detroit Lions, the quarterback now finds himself on a much stronger Los Angeles Rams squad.
Here's a look at 10 of the best Matthew Stafford Rookie Cards.
Top 10 Matthew Stafford Rookie Cards
1. 2009 Playoff National Treasures Matthew Stafford RC AU JSY #121 /99
Staff ord's top Rookie Card has nearly doubled from last year, with recent sales reaching $2,000. That's still a fraction of the price of National Treasures RCs of elite young QBs such as Mahomes, Herbert or Jackson. This is the No. 1 card for those who think Stafford can finally land a title.
Buy on: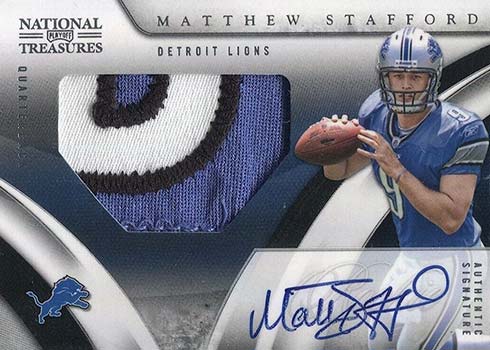 2. 2009 Exquisite Collection Matthew Stafford RC AU JSY #183 /99
The monumental Exquisite Collection brand changed the hobby when it debuted in the mid-2000s. Like National Treasures, this one is limited to 99 and has also seen a significant value increase in the last year. There is a Silver parallel numbered to 25 and a 1/1 Holofoil version.
Buy on: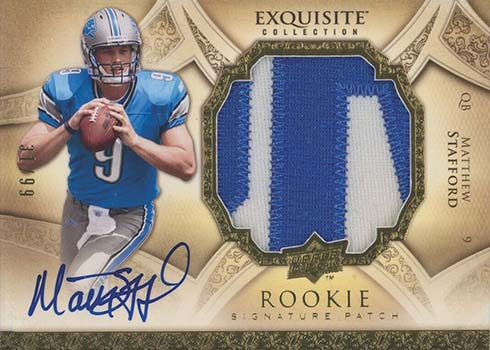 3. 2009 SP Authentic Matthew Stafford RC AU JSY #403 /499
With 499 copies compared to 99 of the National Treasures and Exquisite, this SP Authentic is a strong value. It has an on-card signature, and most have a patch swatch. It's also from the final SP Authentic NFL product. The Gold parallel is numbered to 25.
Buy on: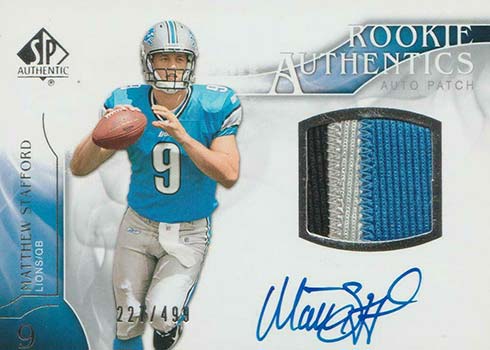 4. 2009 Playoff Contenders Matthew Stafford RC AUTO #101
Rounding out Stafford's top-tier Rookie Cards is this Contenders with an on-card autograph. The brand remains one of the most popular in the hobby, so this is a terrific option for collectors who don't have the cash for his two most valuable. This one doesn't have so many different photo variations and parallels that can make current Contenders RCs confusing. It has a print run of 540 copies.
Buy on: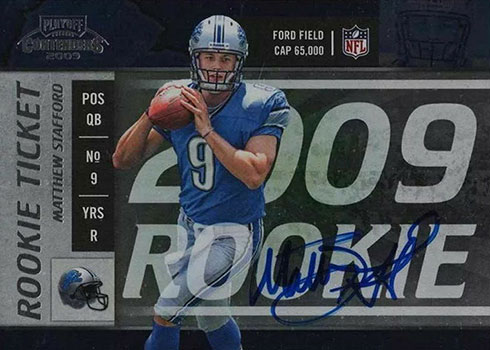 5. 2009 Limited Matthew Stafford RC AU JSY #233 /149
There are plenty of quality Staff ord RCs you can pick up for less than $400. This Limited RC has a sticker autograph but is limited to 149 copies. It also has a cool die-cut for the memorabilia swatches selling out "LIONS."
Buy on: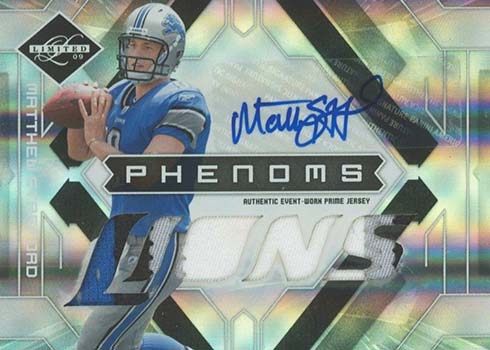 6. 2009 Topps Triple Threads Matthew Stafford RC AU JSY #115 /35
Like SP Authentic, Topps Triple Threads is another defunct brand but was highly popular during its run. There are several versions of this card numbered to different quantities, but the base RC is numbered to 35. There are three die-cut memorabilia areas and a sticker autograph.
Buy on: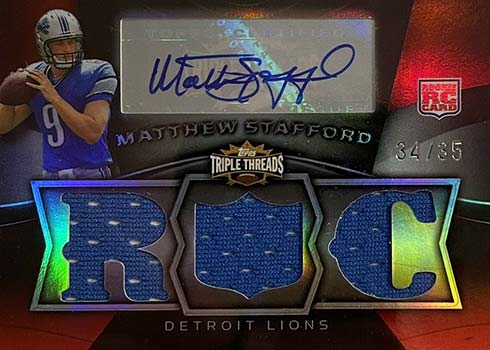 7. 2009 SPx Matthew Stafford RC AU JSY #91 /275
Sticking with the theme of multiple memorabilia die-cut windows, SPx brings the same along with a sticker autograph. This one is numbered to 275 so it can be easier to find than the Limited or Triple Threads.
Buy on: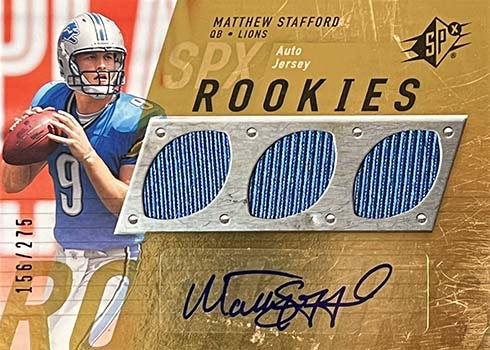 8. 2009 Topps Chrome Matthew Stafford RC #TC210
The Topps Chrome is Stafford's best non-autographed Rookie Card from one of the strongest brand's in hobby history. The Refractor parallels continue to bring significant prices as well.
Buy on: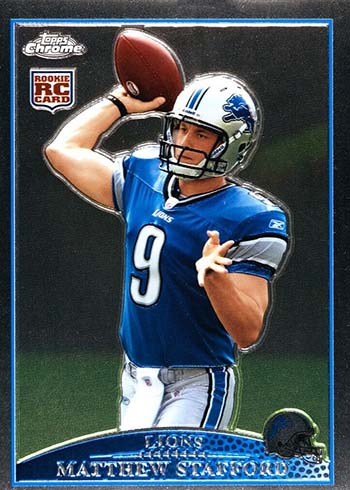 9. 2009 Ultimate Collection Matthew Stafford RC AUTO #201 /99
This Ultimate Collection might be the toughest on this list to gauge value. It's limited to 99, so it's already tough to find. With an on-card autograph, this might be the best sleeper option on this list.
Buy on: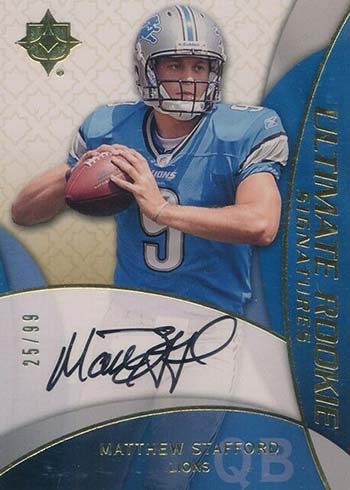 10. 2009 Bowman Chrome Matthew Stafford RC #111
Similar to the Topps Chrome RC, this Bowman Chrome is a basic option and affordable for just about any budget. Both have a simple border with a large action photo. Like Topps Chrome, there are also Refractors for those looking for something more valuable to chase.
Buy on: