5 Cool Matthew Stafford Cards You Don't Want to Overlook
Here are five Matthew Stafford football cards worth considering when looking for cornerstones outside of his Rookie Cards.
2009 Topps Chrome Rookie Autographs Matthew Stafford #TC210
This is arguably Stafford's most popular rookie-year autograph. Unlike some prior Topps Chrome releases with on-card signatures, this one has a sticker autograph.
Buy on: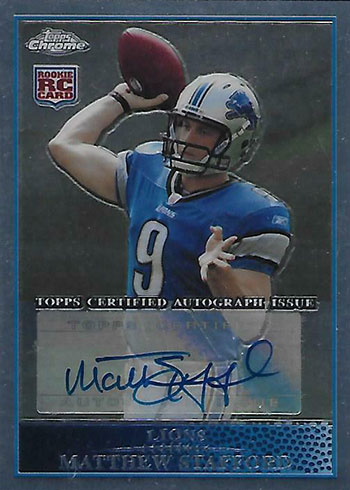 2009 Topps Rookie Premiere Autographs Matthew Stafford #MST
The long-running and popular Topps Rookie Premiere Autographs that are created and signed at the NFLPA Rookie Premiere were some of the most sought-a er rookie signature inserts every year. is one has blue ink with a red ink variation
Buy on: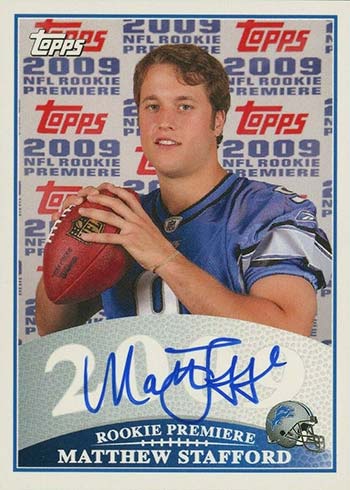 2009 Upper Deck Heroes Autographs Silver Matthew Stafford #117
A tribute to the Upper Deck Heroes insert of the early '90s, this on-card autograph has a similar design with the familiar "Football Heroes" logo in the bottom-left corner. It's numbered to 50 and pictures Stafford in his Georgia uniform.
Buy on: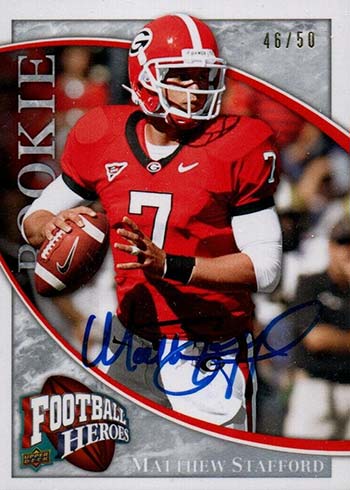 2015 Topps Football 60th Anniversary Matthew Stafford #T60MS
Topps produced an insert featuring past Topps football set designs celebrating its 60th Anniversary of making football cards. Stafford's card features the 1987 Topps design. It's an easy pick-up for a couple dollars, but still a cool insert.
Buy on: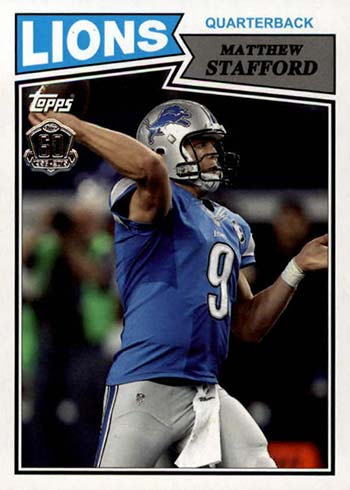 2021 Donruss Downtown Matthew Stafford #DT29
2021 Donruss features a case-hit Downtown card of Stafford in his Rams uniform. The backdrop illustration depicts part of the Los Angeles skyline with tropical trees and dragons highlighting Chinatown.
Buy on: