The Sudden Fall of Kareem Hunt Cards – Beckett Pricing Insider
Just a couple of weeks ago, Kareem Hunt was one of the top rushers in the NFL. In just his second season, he was at almost 900 yards and seven touchdowns. He was a key part of one of the favorites to win the Super Bowl.
Then a video surfaced and changed everything. By now everyone knows what was shown on the video, and we don't need to relive it in this article. It was horrible and inexcusable. Hunt was placed on the Commissioner's Exempt List and promptly cut by the Chiefs. No one has claimed him and he's a free agent.
Hunt was drafted in the third round in 2017. He had an explosive rookie season, starting every game for the Chiefs and led the league in rushing with 1,327 yards and eight touchdowns. He was named to the Pro Bowl and made the playoffs in his rookie campaign.
Needless to say, collectors chased after Kareem Hunt cards more than almost any other player in 2017. His autographs routinely sold for over $100 and he appeared on the Beckett Hot List consistently.
As with most hot rookies, he cooled off a little in the offseason. His values were still some of the best in his class though and it looked like his values would get stronger as the season wore on.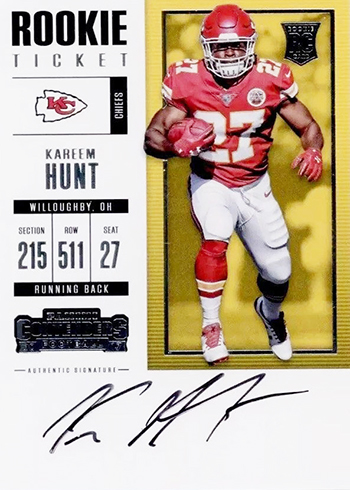 That has all changed now. Ever since his release by the Chiefs, his card prices have, understandably, plummeted. For example, his Panini Contenders Autograph card was valued with a $80 high book and the value is now at half that. And there's a good chance those values will drop some more.
If Hunt manages to get signed next year his values could recover a little but only time will tell. That will also require fans and collectors to forgive. No matter what the future brings, things will never be the same again.