Rookie Kareem Hunt Explodes in NFL Opener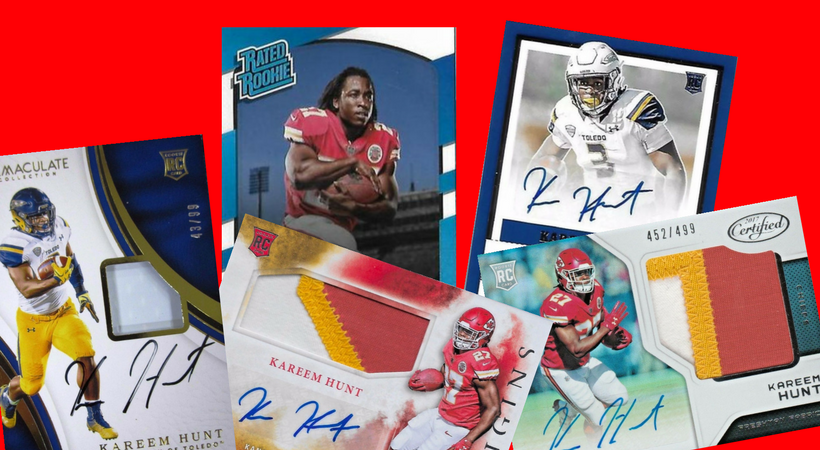 by David Lee | Beckett Football Editor
Chiefs rookie running back Kareem Hunt began his NFL career with a fumble. But this morning, he's suddenly at the top of collectors' want lists.
After that fumble on his first carry, rookie third-round pick from Toledo set a record for most yards from scrimmage (246)  in an NFL debut. And he did it against the reigning champion New England Patriots. He also scored three touchdowns.
Hunt finished last night's NFL opener with 148 yards rushing and 98 yards receiving. If you want to get really geeky, that puts him on pace for 3,936 yards from scrimmage this season.
Collectors quickly responded by flooding in bids for his cards on eBay. His 2017 Panini Origins #116 JSY AU RC is a hot choice, as is his 2017 Panini Origins Rookie Autographs Silver Ink #23. The 2017 Panini Contenders Draft Picks Bowl Ticket #148B AU9 (blue or white jersey) reached more than $130, and bids on his 2017 Certified #223 JSY AU/499 RC are topping $50.
Most of the attention on rookie runners has been focused on Leonard Fournette, Christian McCaffrey and Dalvin Cook this off-season. But collectors will go where there is production, excitement and winning. The Chiefs certainly earned the attention and respect last night. With Spencer Ware injured, Hunt could solidify the starting job for good with a few more solid performances.
It's a great start for the 2017 NFL rookie class. Comment below with the rookies you are most looking forward to watching this season. Who is your sleeper rookie?
Kareem Hunt Rookie Card Checklist
2017 Absolute #226 Kareem Hunt JSY AU/299 RC
2017 Certified #223 Kareem Hunt JSY AU/499 RC
2017 Classics #258 Kareem Hunt RC
2017 Donruss #332 Kareem Hunt RR RC
2017 Elite #172 Kareem Hunt RC
2017 Elite Draft Picks #184 Kareem Hunt RC
2017 Panini #119 Kareem Hunt RC
2017 Panini Contenders Draft Picks #148A Kareem Hunt AU RC/white jsy
2017 Panini Gold Standard #226 Kareem Hunt JSY AU/99 RC
2017 Panini Majestic #118 Kareem Hunt JSY AU/199 RC
2017 Panini Origins #116 Kareem Hunt JSY AU RC
2017 Panini Pantheon #114 Kareem Hunt JSY AU/149 RC
2017 Panini Unparalleled #315 Kareem Hunt JSY AU/199 RC
2017 Prestige #300 Kareem Hunt RC SP
2017 Score #423 Kareem Hunt RC