Last week's Pricing Insider, What's the Deal with the Columns in the Price Guide?, generated quite a bit of discussion and collector feedback. From this feedback came a couple more questions that I thought we could address this week.
What do arrows really mean in the Price Guide and what do they show?
Like the true meaning of the columns, some dealers and collectors seem to be confused as to what the up and down arrows mean in both the print and online Price Guides.
The most common misconception is that the arrows mean that the card "is going up" or "is going down." Some have use this logic to purchase cards with the thinking that next month, the card will be even more valuable (in the case of up arrows), only to be disappointed.
What the arrows actually mean is that the card "has gone up" or "has gone down" since the last print publication or within the last 30 days in the Online Price Guide. There's no minimum or maximum change in value that will warrant an arrow. If the card changed in value at all, an up or down arrow is shown.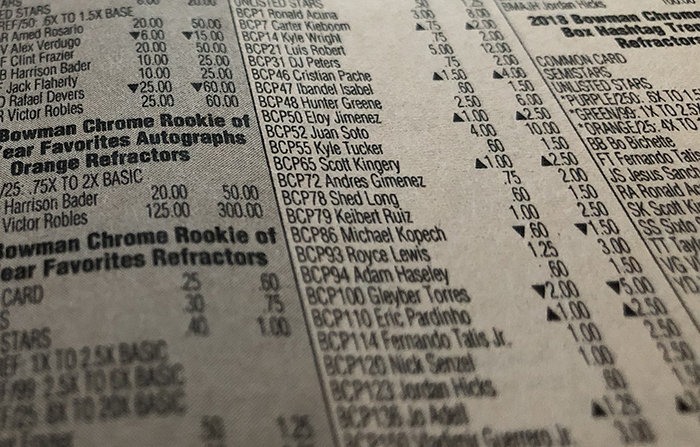 What's the deal with Beckett never making any price changes?
As I mentioned last week, our pricing is far from perfect. However, we are constantly doing our best to stay on top of pricing for the hobby's hottest and coldest cards, players and products.
Believe it or not, the pricing team welcomes criticism of the pricing in the guide. It's through this criticism that we're able to continue to improve the Price Guide for dealers and collectors alike.
While we accept the fact that we're not 100 percent accurate all the time, to say that Beckett "never" makes price changes is flat out wrong. In the last month alone, the pricing team has made 193,810 price adjustments to new and existing cards, both raw and graded.
The reason it may appear that we're not making as many price changes as we actually are is because a lot of these changes don't show up in print. We're raising a Common player to a Semistar or lowering an Unlisted Star down to the Common. Because we only have room in the print Price Guide to show the "listed" players, it sometimes appears that very few changes have been made, when that's hardly the case.
Do you have a question about the Price Guide or any aspect of the pricing process? Feel free to reach out to me at bfleischer@beckett.com and maybe we'll cover it in a future edition of the Beckett Pricing Insider.