Super Bowl LI Spotlight: Matt Ryan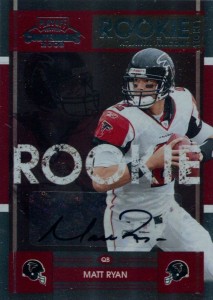 Check every NFL MVP candidate list and you'll see Matt Ryan at the top of most. The nine-year veteran has started all but two games of his career, and has had just two losing seasons. Now he finally has his team in the Super Bowl.
This season was his best, completing 69.9 percent of his passes for 4,944 yards, 38 touchdowns and just seven interceptions. His 117.1 passer rating led the entire league. Even with such success, his standing in the hobby hasn't changed much. That could be due to the focus on rookies, or the fact that he entered the NFL as a No. 3 overall draft pick. So, there has always been high expectation for him.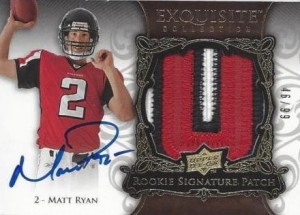 Ryan and his top-scoring offense will face the NFL's No. 1 scoring defense this Sunday. A Super Bowl victory over Tom Brady and the current kings of the NFL would certainly increase collector interest in his cards. Most of his top Rookie Cards are priced at $100-$150 right now. His most valuable is the 2008 Exquisite Collection #168 JSY AU RC for $500. The 2008 Playoff National Treasures #111 JSY AU RC is limited to the same number of copies (99) but is $350 cheaper.
The 2008 Playoff Contenders #179 AU/246* RC is priced at $150, but some online sales have been up to $300-$350 leading up to the Super Bowl. Others are 2008 SP Authentic #300 JSY AU/499 RC (which recently bumped up to $120), 2008 Ultimate Collection #204 JSY AU/99 RC for $120 and 2008 Donruss Gridiron Gear #230 JSY AU RC for $100.
Ryan has five autographed Rookie Cards currently priced at less than $100. They are:
2008 Donruss Elite #101 AU/199 RC
2008 Absolute Memorabilia #269 RPM AU RC
2008 Leaf Limited #331 JSY AU RC
2008 SPx #185 JSY AU RC
2008 Topps Triple Threads #101 JSY AU RC