That's One Way to Ruin a 2008 Upper Deck Exquisite Matt Ryan Rookie Patch Autograph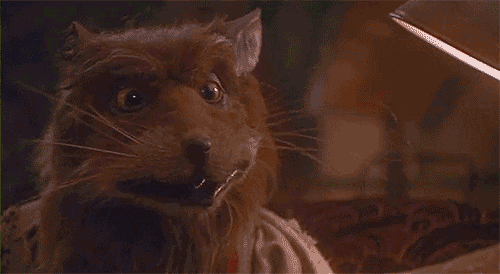 By Ryan Cracknell | Hobby Editor
Just before signing off last night, I did a quick scroll down Facebook. A picture of a 2008 Upper Deck Exquisite Matt Ryan Rookie Autograph Patch card jumped out among the various cat videos and other ramblings. At first I was in awe. That feeling quickly turned to disgust.
The Facebook post pointed to a thread on the Blowout Cards forums detailing the 2008 Exquisite Matt Ryan card. It closed on eBay on January 24 for $3,000. Upon first glance, it's about as good as it gets. The patch has the head of the Falcons' logo and takes up nearly the entire memorabilia window.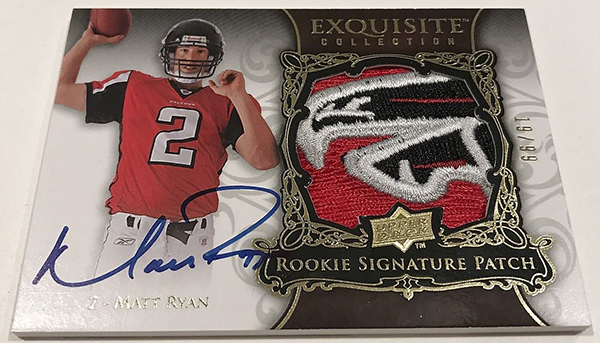 The problem is, the patch has been altered.
Here's the same card with the same 19/99 serial number. I found it by doing a Google image search for "Matt Ryan Exquisite 99." It was one of the first hits in my search.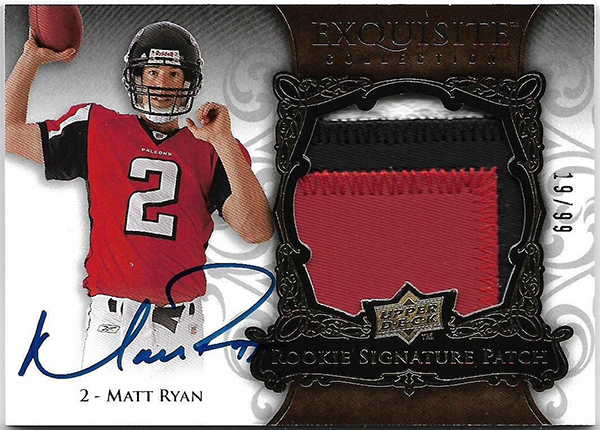 Comparing the size and placement of the signature, it doesn't look like the issue arose at the factory level when the card was made. It's the same card only with the patch swatches switched out. From a collectible standpoint, it's all but ruined in most eyes.
This isn't about placing blame on who did what to the card. It's almost a decade old. It's possible it has had a few different owners, one of which switched out the patch. But since that happened, it may have been sold multiple times since.
I spoke with Ted Straka, the seller this time around. He said that he wasn't aware that the card had been altered until less than 12 hours before the auction's end. By eBay rules, it couldn't be cancelled so the bidding had to play out but the sale was not completed.
Straka was selling the card on consignment and did what he could once he realized the issue. Straka returned it to the person he was selling it for. He said that it came from a long-time consignor who he has done lots of business with in the past without issue, either.
What this card does do is highlight a problem in the hobby. This isn't the first time a jersey swatch has been switched out. It won't be the last, either.
How to Help Protect Yourself Against Altered Patch Cards
Protecting ourselves against this type of thing isn't easy. Except for a couple of rare instances, high-end cards like these haven't been documented en masse at the manufacturer level. Leaf has done it with some of their cards. More recently, Upper Deck took a photo of all the 2015-16 The Cup Connor McDavid Rookie Cards together and posted it to social media. At the 2014 Industry Summit, Panini said they were working on database to document their high-end patch cards but it has yet to materialize.
All of the public ways to check patches come from the secondary market. That means that it's possible a swatch could have been switched before it appeared for the first time. It's also near impossible to gather everything in one place. Completed eBay auctions are only up for a few months. There's also Sortsof, but items there are not archived forever, either. Worthpoint is another option for deep image searches, but it can be difficult to search and is far from complete. These all help, but it's a lot of work in a lot of different places.
The best approach for collectors is probably common sense. If you come across a memorabilia card that has an amazing swatch but is part of a common tier, proceed with caution. For example, it looks like a lot of the 2008 Exquisite Matt Ryan cards /99 use pieces of letters. But this isn't a foolproof method. I was only able to see a handful of the 99 cards.
Thankfully, a lot of today's sets are open about using certain types of swatches for certain parallels. Again, not foolproof, but it can help.
Another thing to look for is any sort of damage to the area around the swatch window. A questionable patch paired with some dings can be a sign of trouble.
Of course, there's the biggest piece of common sense out there — if it's too good to be true, it probably is. If you're thinking of spending a lot of money on something and you think you've found an amazing deal, wonder why that is. Use it as a sign to be even more diligent.
It's sad that scams exist in the hobby. That's what happens when there's money to be made. Maybe one day there will be a way for every card to be documented. Until then the best we can do is watch out, look for clues and be as cautious as possible.
Comments? Questions? Contact Ryan Cracknell on Twitter @tradercracks.