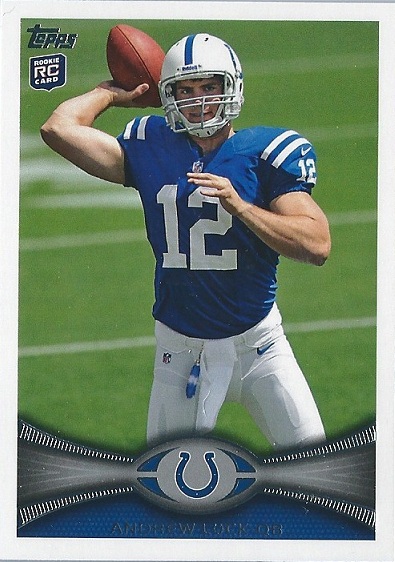 By Susan Lulgjuraj | Beckett Football Editor
Collectors may have felt 2012 Topps Football seemed to be more popular than past sets. They aren't wrong about that.
In the first couple of days of release of the product, Beckett Football price guide analyst Dan Hitt noted there were more than 30,000 completed listings for the cards.
Think about that … 30,000 completed listings, which Hitt noted is a huge number for any football product.
All that research and work has led to early pricing of 2012 Topps on Beckett's online price guide. All the base cards and inserts have been priced based on market research using different aspects such as completed eBay sales.
One of the most popular and sought after cards in the set is a base card variation of Andrew Luck, the one with the horseshoe in Luck's name and a rabbit's foot dangling from his belt.
"You might be surprised to hear that there is a card in the base set valued at $100 or that many of the most highly prized insert cards feature neither an autograph nor a memorabilia swatch," Hitt said. "A surprise third photo variation for Andrew Luck was slipped into packs and has become, perhaps, the single most important card in the entire product. It's selling at an incredibly high price for a base football card and is an early candidate for card of the year."
Some of the popular cards in the set that aren't autographs or memorabilia cards include many of the short print photo variations of the base set, the camouflage parallel cards and Field General Medals.
(Related post: Photo guide to 2012 Topps Football variations)
"This appears to be another trend on the upswing as scarce basic style (and some with modest bells and whistles) inserts have been hot for several years in hockey and baseball," Hitt said. "They are not new to football either for that matter, but 2012 Topps is a product that takes full advantage of the coin, badge, plaque, plastic, and medal gimmick with surprisingly strong secondary market reaction. For many players featured in those sets, their insert out paces a comparable autograph."
To see pricing of 2012 Topps Football cards and how many of these cards compare, click here to sign up for the online price guide.
Susan Lulgjuraj is the editor of Beckett Football magazine. You can email Susan here with ideas, comments and questions. Follow her on Twitter here.